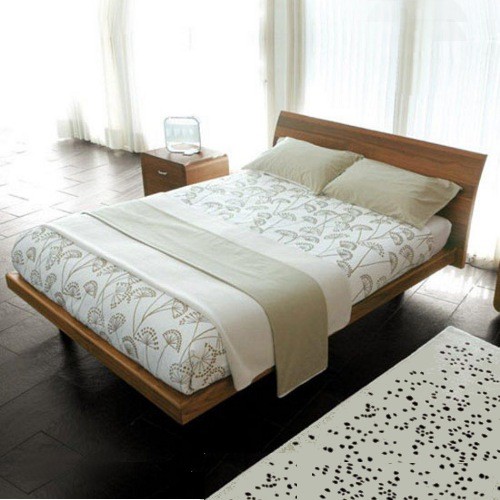 Wooden bed s offer a unique, sturdy alternative to those made from metal. The traditional wooden bed frames come in multiple sizes and styles. It is important to buy a bed frame that fits the space requirements as well as one's personal style. Just about every shape and size of bed comes in a wooden version, from twin bunk beds to king-size captain beds. Most bed frames are available individually, without the inclusion of mattresses or box springs. Consumers add these components, as well as linens, pillows, and canopy sheathing, separately following the frame purchase. The bed size and style are the primary criteria for selecting the ideal wooden bed frame for a room.
Buying an Appropriate Size of Wooden Bed Frame
The first step to buying a wooden bed frame means choosing the appropriate size frame for one's space. Common size options include single, double, queen, and king. Most beds are 203 cm in length. The size difference typically refers to the width of the bed. Some beds are extra long, with 10 cm or more added to the length. Consumers should know that linens, pillows, and replacement mattresses are more expensive for larger beds. The frugal shopper often sticks with as small a frame as possible to avoid the additional fees.
Single Bed
Single beds, also known as twins, comfortably accommodate only one person, usually a child. The typical single bed is 92 cm in width and 188 cm in length. The extra-long twin bed comes in at 203 cm in length and 107 cm in width, bringing it up to par with the average.
Double Bed
Double or full-size beds accommodate two average-size adults in relative comfort. Most single adults and older children prefer a double bed, as it provides more room for rolling around in the night without imposing too much on space. Despite the name, these beds are not literally double the size of a single bed. They are only about 46 cm wider and about the same length as the extra-long single.
Queen Bed
Queen-sized beds offer just a bit more width than a full size bed. They are a good choice for couples, seeking a bit of additional comfort and space to move about. Queen beds , like the single and double, are 203 cm long. The difference is in the width, with the queen measuring 153 cm.
King Bed
The king size bed is the biggest mass-produced size of bed available. These beds are good for people who have trouble sleeping with someone right next to them. When space allows, parents also prefer this size, if they have small children who may be sneaking into the bed at night. The beds and accompanying linens are expensive. The king size bed offers a massive width of 183 cm and a length of 203 cm.
Selecting a Preferred Style for Wooden Bed Frame
There are different types of wooden bed, and the popular styles include sleigh, captain, canopy, and platform. The popular wooden bed frames accommodate standard-issue mattresses. Waterbed frames, which are exclusively wooden, require special design features, though the sizes and many of the styles are still roughly the same.
Sleigh Bed
Heavy, wooden sleigh beds feature an extra-tall headboard and footboard. Traditionally, these end boards curve out dramatically, making the bed resemble a very large snow sleigh. Sleigh beds frequently have ornate designs cut into the sloping curves of the ends, another favourite feature.
Captain Bed
The captain's bed functions like a platform bed while featuring extra storage for small spaces. What sets the captain's bed apart is the addition of drawers conveniently located right beneath the mattress. These beds sit high off the ground, providing space underneath for dresser drawers. Available in single size, these beds make a great space-saving option for small rooms.
Canopy Bed
Canopy beds feature four posts that culminate at the top, with a frame connecting each individual piece. This frame holds ornate curtains or mosquito netting, which swoops down covering the bed on all sides. These dramatically stylised beds have long been a favourite and are available in different sizes.
Platform Bed
Minimalist-style platform beds feature simple wooden rectangles, squat low to the ground. They do not have a headboard or a footboard, offering an advantage for the extra-tall sleeper. Often, the platform functions as both a frame and box springs, requiring only a mattress.
Four-Post Bed
The four-post bed looks a lot like the canopy bed. It features four posts, one on each corner of the bed, reaching into the sky. Unlike the canopy, there is no connecting frame at the top to hang curtains. These beds often feature special designs and expert craftsmanship. The posts are often all the same size, though some models may feature slightly taller head posts.
How to Buy a Wooden Bed Frame on eBay
To buy a wooden bed frame on eBay, simply enter a search term, such as " wooden bed frame" in the site's search bar, available on any eBay web page. From there, it is possible to narrow selections to fit your preferred criteria, which can include size, style, and even the type of wood. Checking in the eBay Deals page ensures you do miss out on any special promotions.
Frames typically arrive in pieces, with no mattress or box springs. One must therefore carefully put the pieces together for a perfect, sturdy sleeping area. Timeless and durable, the ideal wooden bed frame looks great in a room. Choosing the right size ensures a great fit, and selecting one's preferred style guarantees a fabulous look.