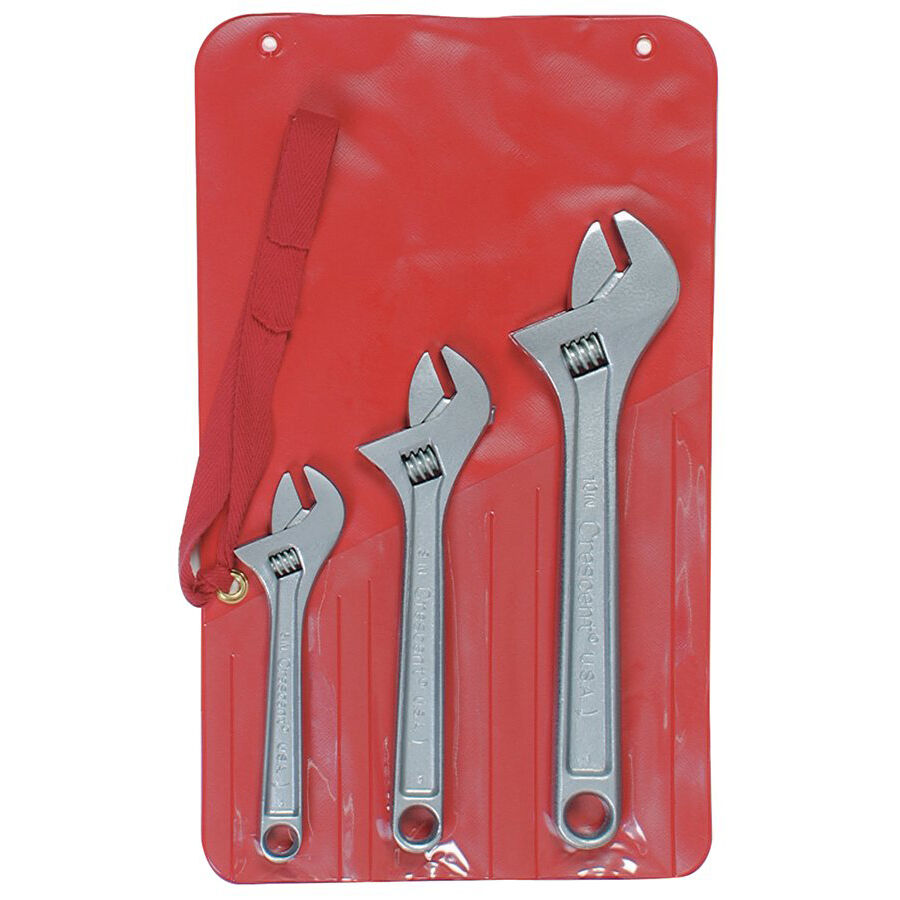 Wrenches are available to buy in different styles and sizes, and it's a good to idea to have a few variations when renovating or completing DIY work. Many people today choose to buy wrench sets because these products contain multiple wrenches and ratchets covering all the rotary fastener sizes. The following guide shall examine the different types of wrench available to buy as a set, and explain how to find a set on eBay. The site has a large selection of new and used tools for sale at very reasonable prices.
Wrenches
A wrench is a small handheld tool that applies pressure to a handle to turn rotary fasteners, such as nuts and bolts. Wrenches are one of the most common of all hand tools, and are used for DIY, mechanical work and engineering.
These tools come in a number of different designs and sizes, so buyers need to be aware of what type of wrench is needed. The best way for buyers to ensure they have the correct wrench size is to buy a wrench set. However, buyers should note that the majority of wrench sets contain multiple sizes of one type of wrench, as opposed to various styles and sizes.
Types of Wrench
It's important to use an appropriate wrench when tightening or loosening a fastener, as an incorrectly sized or style of wrench could cause damage to both the fastener and the buyer. Below are the most common types of wrenches available to buy in sets:
Open-End Wrench

Open-end wrenches are easily the most common type used, and sets that contain multiple sizes of this type of wrench can be bought for very low prices. Open-end wrenches have two non-adjustable ends set at different widths, and as the jaws are fixed, buyers do not have to worry about applying too much pressure.

Using an open-end wrench can speed up the tightening and loosening process, as the jaws do not need to be readjusted for each fastener.

Socket Wrench

A socket wrench comprises of a handle and a number of different sockets that can be used on fasteners of various sizes. Socket wrenches are primarily used for vehicle maintenance, and buyers that have a lot of fastening to do should consider buying this type, as it can tighten and loosen very quickly.

A socket wrench set will come with a number of different sized sockets, and the most commonly used measurement is a half-inch socket with a six-point hex. However, it's important for buyers to consider the amount of space they have to turn the tool, as socket wrenches are not suitable for use in very small spaces.

Adjustable Wrench

Also known as a crescent wrench, this type is very popular due to its adjustable jaws that allow buyers to use it on a number of fastening sizes and shapes. The jaws of this type of wrench are usually angled between fifteen and twenty-two degrees to the handle, which means it can be used in very small spaces.

Sets of this type comprise of wrenches with different handle lengths and max jaw openings, and buyers using an adjustable wrench should rotate the tool slowly and evenly, as too much force will cause it to slip.

Box Wrench

A box wrench comprises of an enclosed opening that is placed over the fastener and rotated to tighten or loosen the nut or bolt. The opening is generally six-point or twelve-point, but there are also eight-point box wrenches available to buy. Box wrenches are usually double-ended and tend to have offset handles. Box wrench sets comprise of wrenches with different opening diameters and a number of handle lengths.

Combination Wrench

Combination wrenches have both an open wrench end and a box wrench enclosed opening, making them very practical for use around the house. These are generally made with both ends fitting the same sized fastener. Combination wrench sets contain wrenches with different end sizes and different handle lengths.

Pipe Wrench

These utilise the same design system as the adjustable wrench, but the jaws are toothed to provide extra grip when in use. Pipe wrenches are ideal to use on very tight fasteners that require a lot of strength to loosen. They can also be used to make sure a fastener is as tight as possible, and the adjustable jaw and teeth ensure the wrench stays in place regardless of how much pressure is applied.

Sets of this type of wrench contain models with varying max jaw sizes. Pipe wrenches are predominately used for plumbing work, and buyers interested in purchasing one for this type of work should search for a set containing a fourteen-inch model.
Wrench Sets
As mentioned previously, most wrench sets contain a number of the same style of wrench with different jaw or opening sizes, as well as various handle lengths too. It possible to buy sets that contain different types of wrenches, and the best way to do this is to search for Mixed Wrench Sets.
Buyers are advised to check the 'Description' box on the item page of a 'Mixed Wrench Set' listing for details on what types of wrench are included and their specific sizes. If this information is missing then it can be requested by using the 'Ask A Question' feature, located at the bottom of the item page.
Wrench Advice
· Always make sure that the wrench jaw size is appropriate for the fastener, and that the jaws are in complete contact with the fastener before applying pressure.
· It's better to pull the wrench handle rather than push it, as this will reduce the risk of rapping knuckles against a wall if the wrench slips. If pushing the handle is the only option then push using the heel of the hand.
· Never hit the wrench handle with a hammer, as this can both damage the wrench and the fastener. Some wrenches are equipped with special pads that allow for this, but avoid doing so unless the wrench is designed to withstand such blows.
· Avoid using wrenches with damaged or crooked jaws.
Buying Wrench Sets on eBay
This is a relatively straightforward process, and will only take a few minutes to complete. The first thing to do is head to the eBay homepage, found at eBay.com.au, and click on the 'Shop By Category' tab, followed by the Home & Garden heading. The next thing to do is click on the Hand Tools link that is found in the Tools tab. Type Wrench Set into the search bar and press enter. Buyers looking for specific types of wrench sets should enter this information into the search bar, e.g. Box Wrench Set. All buyers should check the item page for information regarding wrench measurements.
Buyers may find less expensive wrench sets on the 'Deals' section of the website. To locate the appropriate area, first click on the eBay Deals link found at the top of the page, followed by Handyman title in the Tools tab. The wrench sets can be found towards the bottom of the page, below the generators.
Conclusion
Wrenches are hand tools that can be used to tighten and loosen fasteners, and are available in a number of styles with different sized endings. It's important for buyers to use an appropriately sized wrench, as using one larger than the fastener can damage the wrench, the user and the fastener. Because of this, it's a good idea for buyers to purchase sets, as these contain multiple sizes. Buyers can choose sets containing the same type of wrench, or sets with different models. All buyers are advised to search for their wrench sets on eBay because the site has a large selection, and at very reasonable prices.