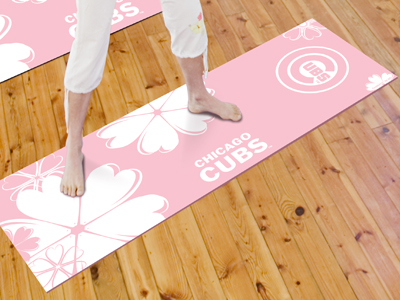 When buying yoga mats there are a lot of aspects to consider. Yoga mat users will need to think about the thickness of the mat, the material, and any other accessories needed to be bought along with it, depending on its intended use. Users will also need to think about setting a budget so that they end up with a yoga mat that suits them best.
No matter what someone specifically wants out of a yoga mat, whether it is a simple inexpensive wooden mat, or something more luxurious or comfortable, most if not all, of these can be found on eBay.
How Much Will it Cost
Although there are cheap mats out there for a couple of dollars, it may be better to splash out on a more expensive mat made of higher quality material, if the intention is to use it for a long period of time.
Another thing that affects the cost of the yoga mat is the thickness. The standard thickness for a yoga mat is about a quarter of an inch (6mm). It may however be beneficial to buy a thicker, or maybe even a thinner mat, depending on the way the user feels while sitting or posing on the mat. Someone who is experienced in using a yoga mat will have an idea as to what thickness of mat they prefer. An inexperienced user, however, may want to find someone who owns one, preferably of average thickness, and see how comfortable they feel on it before looking to buy their own.
A user that sweats a lot may also need to buy a skidless towel to put over the mat so as to avoid slipping. There are also non-slip yoga mats available on the market so a decision should be made based on what seems the most appropriate and comfortable.
Things to Consider Before Buying
Just as there are different types of yoga there are different types of yoga mats. Certain mats may be better suited to a particular yoga exercise. Take into account things such as:
· Travelling distance – Yoga mats come in different weights as well as different sizes and if walking a long distance it may be preferable to have a lighter mat for easier transportation.
· The price of the mat – As previously mentioned, cheaper mats are likely to wear away a lot faster and so it is better to go with a well-known brand, as these tend to be more durable and could save money in the long run.
· Thickness of the mat – The thicker the mat, the more padding the user has. This makes it less likely that they will feel any pain if exercising for long periods of time. Make sure, however, that a thicker mat is made with a material that is not too soft. Sinking into the mat could cause bony parts of the body to come in to contact with the ground. Moreover, this kind of mat may not stay as stable when performing exercises.
· Pattern and material of the mat – People often find themselves drawn to a mat with a pattern that they like, however, these mats are often of bad quality and may be distracting from the important factors that need to be considered when buying the mat. The material of the mat is also very important. Buying a mat made from natural materials is better for the environment and also tends to last longer. They will also not have an unnatural smell, such as of rubber, which many people find off-putting.
· Non-slip mats – These types of mats are marketed to people who sweat a lot during their exercise. If the type of yoga being performed is likely to cause the user to sweat a lot then this type of mat may be beneficial. They also may not be one hundred percent effective in being non-slip. If taking part in a highly challenging style of yoga which involves sweating a lot; it may be more beneficial to buy a good mat and a skidless towel or something similar to prevent slipping during the exercise.
How to Buy a Yoga Mat on eBay
Now that you know what you want out of a yoga mat, you can find it quickly and easily on eBay. While you shop, give thought to skidless towels.

To start shopping, go to the sporting goods category, followed by fitness, then other exercise equipment.

Categories
The categories list on the left side of each page will help you narrow down your listings by item type.

Product Finder
Use the yoga mat Finder to quickly narrow down item listings by brand and condition (new or used).

Keyword Search
Search eBay listing titles for specific words. For example, if you want to find new yoga mats, type the keywords "yoga mat new" (without quotation marks) into the search box. Click, "Search title and description" to expand your results. Visit eBay's Search Tips for more tips on searching with keywords.

If you can't find exactly what you want, try browsing eBay Stores or tell the eBay Community what you're looking for by creating a post on Want It Now. Alternatively, use the save a search option on My eBay and eBay will email you when a matching item becomes available.


Remember also to check out eBay's Deals page to hunt for bargains.
Buy a Yoga Mat with Confidence
Make sure that you know exactly what you're buying and understand how eBay and PayPal protect you.
Know Your Item
Read the details in the item listing carefully.
Remember to add delivery costs to your final price. If you're buying a high value item, check that the seller will insure it until it is delivered to you.
If you want more information, click the "Ask seller a question" button on the seller's profile or the "Ask a question" link at the bottom of the item listing page.

Know Your Seller

Research your seller so that you feel safe and positive about every transaction.

· What is the seller's feedback rating?

· How many transactions have they completed?

· How many positive responses do they have?

· What do buyers say in their feedback?

· Do they offer a money-back guarantee?

· What are the terms and conditions?

· Are buyers positive about the seller?

· Most top eBay sellers operate like retail shops and have a returns policy.

Conclusion

Knowing which mat is the best fit can be difficult and so the best thing to do is to try some out before buying. If possible, discuss with friends or a yoga instructor to see which kind of mat they prefer. Try out some poses on this mat to judge the level of comfort felt using it before proceeding to buy. Even if this particular type of mat is not a perfect fit, it should give the user a starting point as to what type of mat they will prefer.

.