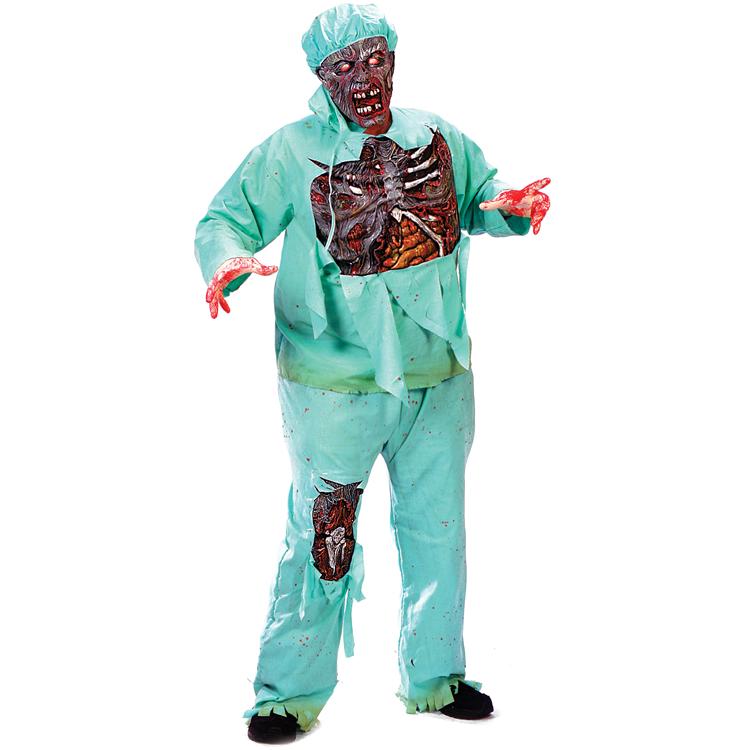 Getting ready for Halloween or a masquerade party can be a fun and exciting experience that calls on someone's creativity, imagination, and innovation. One popular costume that has been gaining a lot of steam in pop culture is the zombie costume. With many movies and television series dedicated to zombies, more and more people are leveraging this fun idea when the need for a costume comes around. For those trying out this type of costume for the first time, they may be looking for some helpful tips that can aid them in putting together the most realistic and imaginative costumes possible.
Consumers putting together zombie looks may also want to explore some of the retail options available to them. While traditional vendors offer some opportunities to assemble zombie looks, online retailers, such as eBay, often offer a one-stop shopping experience for all the make-up, accessories, and clothing needed to put together one of these costumes.
The Components of a Zombie Costume
Putting together a zombie costume is a simple matter of assembling some key components. For those who have never designed a zombie costume, understanding what these components are and how they can work together can be helpful. Everything from picking out the right clothing to leveraging Halloween makeup can make a zombie costume authentic, fun, and scary.
Buying Used Clothing
The signature look of a zombie typically involves tattered and torn clothing. Rather than tearing up clothing out of their own closets or buying new clothes to tear up, consumers can invest very small amounts of money in used clothing. Plain white shirts or tank tops, jeans, and trousers all make good options for a zombie ensemble. These used items can be ripped and torn as desired. Consumers can also go for a used pair of canvas sneakers and rip them across the top to finish off the look. Women who want to go for a sultrier look might find used mini dresses and pair them with pairs of tights or leggings that have been torn. Combat boots or military-style boots are another great idea for finishing off zombie looks for women.
Finding Zombie Makeup
Creating the makeup look for a zombie costume can involve a lot of experimentation and can be executed in many different ways. One of the most common techniques is to use a white base to wash out the complexion and create a 'dead' look. Black Halloween makeup can be used under and around the eyes to hollow them out or under the cheekbones to create a cadaverous appearance on the face. Consumers can also find zombie makeup kits that are designed to give them all the makeup and effects they need.
Another important makeup component of a zombie costume is mimicking wounds and scar tissue. Consumers can find pre-made scar tissue created for Halloween costumes. These can be self-adhesive, or they may need to be applied with a separate adhesive. Costume blood can also be used to dress the wound, or it can be worn around the mouth for added drama. Fake zombie teeth can add a lot of detail to a look and can slip easily over the wearer's own teeth.
Using Masks
If those who want to put together zombie costumes do not want to wear makeup, they can also choose from a number of zombie masks in the Halloween marketplace. These can be plastic masks worn on the front of the face and secured with an elastic that is worn behind the head. Other options include full, latex masks that fit over the head and half masks that just fit over the top half of the face. The designs of these masks vary widely, from classic zombie looks to really wild creations. There are even character-themed zombie masks available, such as pirate zombie masks or clown zombie masks.
Accessorising a Zombie Costume
When building a zombie costume, consumers may want to build characters with their looks. For example, the zombie created might have been a rocker before 'changing' into a zombie and could carry a guitar. A zombie can pretty much come from any walk of life, so consumers can experiment with a number of accessories to finish off a look. They could be zombie rugby players, for example, and pair their core zombie looks with rugby balls and jerseys. A zombie doctor might wear a lab coat and carry a stethoscope. There is simply no end to the available possibilities, so consumers should leverage their creativity and create ensembles that work for them. Another alternative is creating a celebrity zombie costume. Plastic celebrity masks can serve as the core of this look.
Zombie Costumes for Kids
Zombie costumes for kids are typically a bit cuter and a bit less scary than adult alternatives. Parents of children who want to look for zombie costumes can find pre-assembled looks in the Halloween marketplace. These options may come with accessories, an outfit, and even makeup. Sometimes makeup needs to be purchased separately, so consumers should confirm whether or not makeup comes with one of these ensembles.
Kids' zombie costumes are often character-based. For example, a boys' zombie costume may be a pirate zombie or a rocker zombie. Girls' zombie costumes might include maiden zombies or even bride zombies. These selections range from the not so scary to the very scary, so parents should make sure their children are prepared to take on this extra creepy costume.
Sizing Children's Zombie Costumes
Children's Halloween costumes typically come in Small, Medium, and Large, but they are also sold at times under standard kids' sizes. The following table illustrates the standard measurements for kids' clothing sizes.
| | | | | |
| --- | --- | --- | --- | --- |
| Size | Height (cm) | Chest (cm) | Waist (cm) | Hips (cm) |
| | 92 - 100 | 58 | 55 | 59 |
| 4 | 100 - 108 | 60 | 56 | 62 |
| 5 | 108 - 114 | 62 | 57 | 64 |
| 6 | 114 - 120 | 64 | 58 | 66 |
| 7 | 120 - 125 | 66 | 59 | 69 |
| 8 | 125 - 130 | 68 | 60 | 72 |
When shopping for costumes, parents should always take the time to confirm the size of a costume. Just as with clothing, costumes can vary in size from one brand to the next. The above is a general reference that parents can use as a guideline when conducting a search for zombie costumes for their children.
Buying Zombie Costumes on eBay
The online marketplace eBay offers a wealth of opportunities when it comes to putting together a zombie costume. You can find everything from used clothing to Halloween makeup and masks to pre-made zombie costumes. After considering how you want to assemble a zombie costume and what character you might like to build a look around, you can run a search for any of the needed items using the search interface found on any of eBay's pages. Describe the item you are looking for, such as 'Halloween makeup' or 'zombie mask', and then click on search.
Vetting the Sellers on eBay
Whenever you shop on eBay, it is a good idea to take a bit of time to get to know the sellers on the site. As you click through listings, click on the names of any sellers that are offering interesting items. On the page that loads, you are able to look through past listings and read the feedback that other consumers have posted about that seller.
Conclusion
Wearing a zombie costume on Halloween or to a masquerade party can be a really fun way to dive into the spirit of the holiday. These spooky ensembles can create a great effect and make party participants really stand out at any gathering or Halloween event. Putting together one of these looks is easy if consumers know the components that go into zombie costumes. Items such as masks, adhesive scars, costume blood, and torn clothing all come together to create the ultimate zombie look.
To access all of these items in one place, consumers should consider the benefit of shopping on an online aggregator site, such as eBay. A retail site like this can give consumers an easy way to get everything they need to make zombies costumes in one convenient location. Some cities may also have local costume shops or other retailers that offer the components for building the perfect zombie costume.