Graber Bargain Guide to a Better Fitting Bra.
It has been established both here in Australia and Internationally that an amazing 80% to 90% (depending on survey and sample size) of women are wearing the wrong sized bra. They wear bras that have wires digging into them, and straps that fall off their shoulders, or they spend a lot of time adjusting their bust, or bras riding up at the back, or straps falling off. That is not a well fitted bra no matter how much sales people tell you that it is. Remember that they will try to sell you what they have in stock even if this is not in your best interest as they work for the store and not for you. Yes, bras may stretch and distend to be more comfortable over time but that is "making do" and "close enough", it is not a good fit and never will be. Poor fit can lead to neck and back problems, skin irritation, soreness, and will also make your clothes sit funny over the bust area, making you less confident.
I hear all the time the statement "I have always been a 14D, all my bras that fit are that size". This is a very common misconception of those that have given up trying to get a proper fit. Breast size changes all the time due to hormonal changes, water retention at different times of the year, ageing, use of the pill, menopause, pregnancy, weight loss/gain etc. etc. So something that fit 6 months ago may no longer fit so well. Please check your measurements using our guide before ordering to ensure you get the best possible fit. Whilst it is true that no system is 100% effective due to the fact that no two breasts are exactly alike and the various manufacturers sizing means that there is variation both in the same manufacturers sizing and between manufacturers in the same country and between manufacturers in different countries (not to mention the variations caused by different styles - like balconette vs full versus plunge bras). All this can cause bras to not fit you even though technically they are in 'your size'. Add to this the online aspect that you can not try before you buy and you may think it is all too hard. Now if factor in that you have to drive to the stores (petrol, time/parking/snack/coffee etc) and search through them (lots of time and no guarantee they will even have what you want) and then pay full retail price (as hard to find bras in larger sizes are hardly ever discounted), then it does not seem so hard anymore. At least online shopping, you know the item (and range) is there to be purchased, and it is delivered to your door. Compare the savings and it is definitely more time and cost effective to shop online (as more buyers worldwide are finding).
You can definitely improve the odds of getting a good fit by using some of the guidelines we have outlined here. Especially larger figured girls will also find the stores can be quite intimidating and judgemental, and you will find their range rather limited beyond the humble D cup. Given the world wide trend seems to be that D is now the average, this leaves an awful lot of women being 'left out in the cold'.
This is why Sheila Graber started this business on eBay and slowly increased the lingerie component so that now more that 65% of products are bras from 10A to 32G and we can custom order larger sizing as required (some sizes to K). She got tired of getting that same lack of help and choice in most of the larger department stores and being ripped off price-wise in the boutiques.
So if buying online how do you make sure you get a good buy?
Firstly, check the sellers RETURN POLICY..no matter how well you measure yourself, there is no such thing as a standard fit in bras..
Do they have a size guide for the styles/brands they sell?
Can you ask questions before you buy?
Can you ask them to suggest bra sizes or styles if you give them your measurements? Will they help you find a good fit?
Is this bra a low, medium or high cut cup? How is this likely to affect the fit?
Can you return purchases if it does not fit? Do they exchange or refund or offer a store credit? (buying something you cannot return is not a good idea unless it is a specific style and brand you have previously purchased and you are happy with). If the supplier has a return policy it may be worth buying a few bras in similar styles around the same sizing and just return the ones you did not find comfortable. A 'professional' bra fitter in the UK can charge $50 for a fitting and you still can only choose from their range in their store. May be worth $10 or so to try a few brands and styles with the intent of returning those that do not fit. A 3KG Express satchel cost about $10 and holds up to 10 bras so return should not be too expensive and is traceable. Then you can keep buying the style and size that fit you or try another lot!
We wrote this guide to let you know : -
How to measure yourself properly for a better fitting bra.
What does a good fitting bra feel like?
What are the signs of a bad fit and how to fix it.
How to put on a bra for best fit (yes there is a right way).

1) How to measure yourself properly for a better fitting bra.
This is the method we use and most recommend.
Bras have 2 measures, Band and Bust (Cup size). We are using inches as most of the world still uses this for bra measurements but you can convert this to centimeters by multiplying the inches by 2.5 to get approx conversion to CM.
To determine Band size, measure yourself under the bust where your bra band would normally sit. If odd number then round up to next even number. eg. 41" becomes a 42".

To determine Cup Size, measure yourself as for the band but this time over the fullest part of the top of the bust. Cups size will be the difference between these 2 measures.
Difference in Inches (Cup Size)
0.0" to 1.5" A
1.5" to 2.5" B
2.5" to 3.5" C
3.5" to 4.5" D
4.5" to 5.0" DD
4.5" to 5.5" or E
5.0" to 5.5" DDD (USA size) or E in (Aus)
5.5" to 6.5" F
6.5" to 7.0" FF
6.5" to 7.5" G
7.5" to 8.5" H
8.5" to 9.5" I
e.t.c.
Australian sizing is 22 less than the Band measurement in inches for Band calculation purposes e.g. a UK 42 DDD is equivalent to the Australian (42-22) 20 E (as we do not have a DDD sizing).
2) What does a good fitting bra feel like?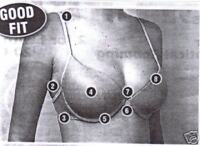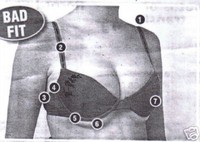 Once you have your purchase, this is the best way to see if it is a good fit. First pic shows a good fit..Second shows a bad one..this is the guide to good fit..
1. Shoulder straps are snug, do not fall down or cut into your skin.
2. Side 'wings' enclose breasts with no bulges near armpits.
3. Under band is snug enough to not shift around, and will not allow more than two fingers to fit under hooks. Back of underband is level with front (band sits horizontally, not at an angle from back to the front - use a mirror and stand side on).
4. Mid point of breasts sits on chest halfway down upper arm. Breast are not squashed together or moved apart.
5. Underwire closely encases breast at side, middle and bottom. Bra stays in place when arms lifted or if you tilt forward to touch toes the breast do not pop out. Jiggle a bit to test this (it may sound funny but it can save embarassment later)...
6. Front under-band pulls wire in snugly but fingers can fit under it.
7. Wire at front sits flat on chest. (may not be possible for F + Cups)
8. Cup material sits smoothly on breast and encloses breast tissue at top (no bulging, or 4 breast look [your two breasts and two smaller bulges]).
3) What are the signs of a bad fit and how to fix it.
Bad fit is as shown, pretty self explanatory..some things that are most important is ..
If the straps are slipping, they may not be the correct style for you...try ones that join the cup in the middle or use an accessory that allows you to reposition the straps.
Breasts should never have underwires ON them, always around and under.
Back hooks should fit comfortable on the middle setting..if on the tightest hook setting, then go up a back size...If on loosest, go down a back size. If you are at either extreme you will have no where to go if breast size changes even an inch...Bras will stretch in the Band with use so if at looses setting may still be OK later.
Don't forget too, that the size may not necessarily be wrong, just the style..i.e., you may like a higher cut cup,. or lower, straps in a different starting position on cups, or wire free instead of with underwires...
What is the best way to tell a bad fit? If it is not comfy STRAIGHT AWAY, then it is probably not right...
4) How to put on a bra for best fit (yes there is a right way).
So how do you ensure the bra is put on correctly for maximum comfort?
Whether you clip at front and spin to back, or tuck under bust from front and then do up in back, the key to fit is to gently lean your breasts into the cups without mashing them in against your ribs. This way the breast should be centered and fully filling the cups (correct with your hands as required). Once the bra is on remember to move around a bit before donning clothing, swing arms and 'jiggle' around to ensure there is no movement that is being restricted. Start the bra on loosest Band setting and loosest strap setting and adjust until comfortable (not tight and painful). It should be tight enough that it does not ride up but you still need to be able to breath easily. There should be no spillage, pinching or wrinkles in the cups and the back strap should be horizontally aligned with the front under strap when standing straight. If your straps are digging in and leaving marks then your Band is way too loose and not supporting you.