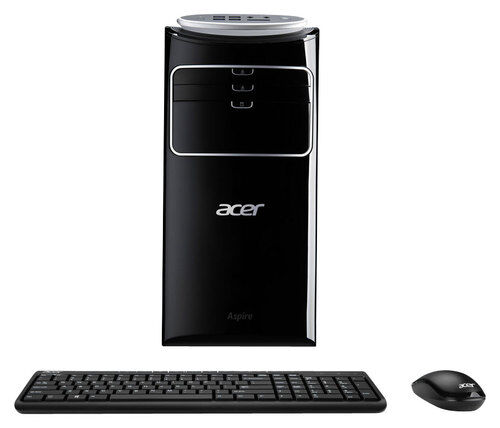 Tablets and laptops may be the most popular type of computing device right now, but they can't offer the kind of power and versatility of desktop PCs, which make them the ideal family computer.
Acer has a stellar reputation for manufacturing high quality and reliable desktops at an affordable price and the vast array of models means that every home can benefit from an Acer desktop.
The following buying guide identifies the different types of desktop computers on the market, the best way to buy a bundled version and how to complete a purchase safely and securely using eBay.
What is an Acer Desktop Bundle?
Buying a desktop PC usually means being offered some kind of deal that gives the buyer a large number of added extras. A typical bundle that comes with a desktop tower PC will be a monitor,keyboard, mouse, all the wiring to connect it together and a library of software to get the buyer started.
Obtaining a bundle saves the buyer money whilst at the same time limiting choice when it comes to the monitor, mouse, keyboard, or software as the buyer is forced to go with what's in the box.
Acer Desktop Bundle Contents
An Acer desktop bundle can be expected to come with a wide range of different contents. The following list outlines some of the common contents of an Acer bundle.
Mouse
Software Suite including Operating System, Productivity programs like Microsoft Office, Anti-Virus software.
Printer
Support and Device Warranty
Forms of Acer Desktop
Most modern desktops come in a variety of different forms and Acer desktops are no exception. The following bullet points explain the different Acer desktop form factors in some more detail:
Tower – The most common type of desktop computer is a tower. They stand tall and contain the most power of any desktop
Tower desktops are easy to expand upon thanks to the additional space inside the case.
Ideal for gamers and anyone looking for optimal power.
Mini Tower – Shorter version of the tower that usually packs just as much power under the hood.
When space is at a premium these come highly recommended.
Expansion can be tricky due to the lack of space.
All-In-One – Everything is housed within one unit with the computer sitting behind the screen.
Only limited expansion is available.
Don't require an additional screen so are easily stored.
Small Form Factor – Computer that is usually horizontal although can also be stored vertically.
Little space for expansion and are mainly suited to document creation and home office work.
Understanding Acer Desktop Specifications
Acer manufactures a wide variety of different styles of desktop computers and understanding the different specifications will give the buyer a better idea of the right desktop for them.
Specification

Description

Processor

· These are measured in GHz and give an idea of how fast a desktop will be able to deal with information.

· For example, heavy gamers or web users will want this number to be higher than someone that is just using it to create documents.

Operating System (OS)

· A large piece of software that runs the computer and every Acer desktop will have one.

· Most if not all Acer desktops will run on a version of Microsoft Windows.

· The older the desktop is, the earlier the version of Windows that will come bundled with it.

· Some of the common versions that buyers will find on Acer desktops are: 95, 98, 2000, XP, Vista, 7 and 8.

Memory (RAM)

· This is measured in megabytes (MB) or gigabytes (GB) and influences the speed at which a computer can process large pieces of information.

· It's easily expandable on most models and upgrading the RAM will be the best thing to do to boost performance.

Storage Space

· Stands for how much space the hard drive has for programs and software, with the number measured in either GB or terabytes (TB).

Graphics Card

· This is a critical component as a graphics card controls what is displayed on the monitor.

· More powerful graphics cards give a better output on the screen and are favoured by gamers and film viewers.

Optical Drive

Most desktop computers come with either a CD-ROM or DVD drive.
Allows games and films that come on disks to be played easily.

Ports

· External devices connect to the computer using either wireless connections or ports.

· The most common ports found on desktop computers are: USB, VGA, DVI, and some new models will have an HDMI port.
How to Buy an Acer Desktop Bundle on eBay
There are hundreds of Acer desktop bundles available to buy online with eBay home to one of the most extensive collections. The site has a trusted group of knowledgeable sellers that are always ready to help buyers with every step of the buying process. Here are a few buying tips:
To find Acer desktops on eBay first go to the Electronics category then choose Computers & Tablets from the options that appear.
On the following page, go to Desktop PCs on the left hand side and when the next page appears, select Acer from underneath brand on the same side of the page.
· The item listings can be narrowed down using the parameters that include 'Processor Speed', 'Memory', 'Bundled Items' and 'Condition'.
Some of the best deals on computers can be found on the eBay Deals part of the site with plenty of Acer desktop PCs available. Every item on this section of the site also benefits from free postage.
Conclusion
Buying an Acer desktop bundle is an excellent way to get a complete PC for a fraction of the cost of buying everything separately. There are hundreds of options available on eBay and the guide above is an excellent way to decide on the type of desktop PC that is right for you, the buyer.
Once ready to complete a transaction remember to use PayPal to be sure everything goes through as safely and securely as possible.