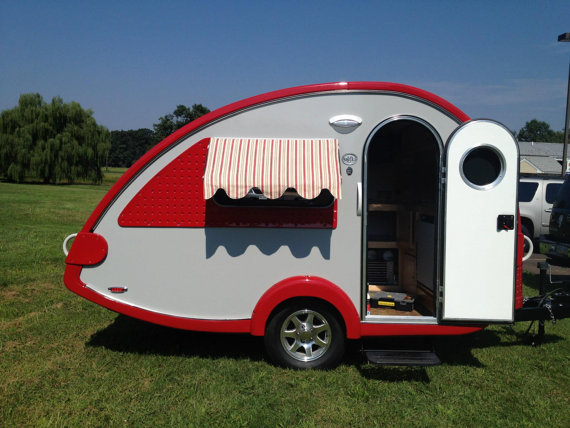 Families who enjoy outdoor activities may benefit greatly from getting their own caravan. However, since these motorhomes often have very limited space inside, owners quickly find out that they would do better with a caravan awning. This type of caravan accessory allows users to build it up like a tent outside the caravan in order to benefit from additional space. As caravan awnings may be expensive, buyers should learn more about the essential characteristics they should look for in such a product to buy one that suits their needs and budget. Shopping around is a good way to find affordable caravan awnings, which are available in specialised brick and mortar stores as well as on eBay.
What to Look For When Shopping for a Caravan Awning
Caravan awnings come in various designs and not all of them are suitable for all kinds of caravans. For this reason, some of the most important elements to consider when it comes to choosing a caravan awning are shape and size. The process of choosing a caravan awning is quite similar to that of choosing a tent. Buyers should consider the material of the awning, which could be PVC coated canvas, polycotton canvas, nylon, or polyester, the number of poles required for installing it, as well as whether they would need a groundsheet or not.
How to Choose the Right Type of Caravan Awning
There are three main types of caravan awnings to choose from: the full awning, the porch awning, and the canopy awning. Buyers should consider the characteristics of each of them prior to making a purchase. One of the most popular options is the full awning, which can double the living area of a caravan. This type of caravan awning is very similar to a tent, and comes in various sizes. Buyers can opt for a full awning featuring removable panels or extra sleeping cabins.
Those who are looking for a smaller caravan awning may opt for a porch awning, which is a good choice for those who want quicker installation. Porch awnings do not offer as much living space as full awnings, but they are a suitable option for those who are looking for a solution to store their bicycles out of the rain. Finally, a canopy awning goes on the side of a caravan and it is a suitable option for caravan owners who are just looking for the shade.
Choose a Caravan Awning in the Correct Size
The size of a caravan awning is an important factor to consider. A good way to determine the correct dimensions is by taking accurate measurements of the caravan itself. This way, buyers can find out how a specific awning they are looking to buy is going to fit when in use. Buyers can choose from caravan awnings that come in pre-set sizes or customised ones. Either way, buyers should make sure they take into account the positioning or vents and windows on their particular caravan prior to deciding on a specific caravan awning. As for pricing, it goes without saying that a caravan awning in a smaller size tends to be more affordable than a bigger one. This depends, however, on the material used and the brand of the awning.
Tips for Buying a Used Caravan Awning
When buyers are looking for an affordable caravan awning, there are several ways to save money and still get a high-quality product. One of the best ways to get a quality caravan awning without breaking the bank is opting for a pre-owned item. The good news is that buyers can easily find a used caravan awning online.
Consider Pricing
Before making a purchase, buyers should however ask themselves how much can they save by opting for a used caravan awning. Many people choose to go for a used caravan awning when they purchase their first motorhome, mostly because the latter is expensive enough. This is why saving money on caravan extras such as the awning makes sense. One tip for finding a used caravan awning at a good price is to shop for it outside the main season, because this is when prices tend to drop.
Check the Condition of the Caravan Awning
Prior to buying a used caravan awning , consumers should make sure the item is in good condition and a good fit for their particular kind of caravan, too. Those who shop for a caravan awning online should make sure they read the product description carefully in order to be able to determine the condition of the product and any faults it may have. Having a look at the pictures may also prove to be of help when shopping for a used caravan awning.
How to Buy a Caravan Awning on eBay
Opting to shop for caravan awnings on eBay, you can take advantage of a large selection of new and used products. This means that you can compare multiple models prior to making a decision. Caravan awnings are available on eBay in all sizes, colours, materials, and prices, so there is something for everyone on the website. To start the search for a caravan awning on eBay, type these terms into the search bar of the website and simply browse through the results you get. By choosing to shop for affordable caravan awnings on eBay, you can also take advantage of the offers in the eBay Deals section of the site.