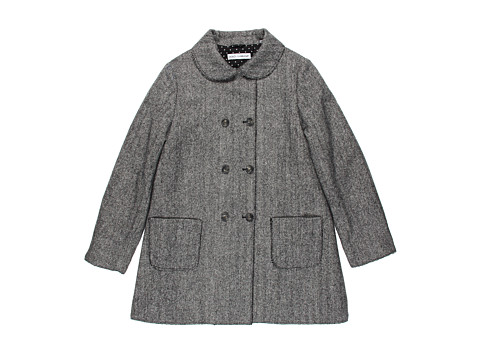 Once the seasons change, it is time to purchase a coat. Kids grow so fast that buyers may not want to spend too much cash on a coat for their child because he or she needs a new one the following winter. Kids' coats vary in style, colour, design, and materials, so buyers should compare the various coats before choosing the right one.
The perfect coat for a child keeps the child warm and comfortable throughout the coldest part of the winter, and protects the kid from snow, ice, and rain. Consumers do not have to purchase an expensive children's coat; there are ways to save money by purchasing the right coat for the right price that contains the necessary features.
Set a Coat Budget
The first step in saving money on a girl's coat or a boy's coat is to set a budget. Setting a budget allows buyers to easily stay within the necessary price range without going over. For consumers purchasing coats for more than one child, setting a budget is even more important. Consider other necessities kids need such as hats, gloves, scarves, boots, or other winter items when budgeting for winter wear.
Purchase a Used Coat
Buying a pre-owned coat is less costly than purchasing a new coat. Since kids essentially need new coats each year, it is possible to purchase a like-new coat for a kid at a lower price. Purchasing a used coat for a child saves money, especially on name-brand coats. For consumers purchasing more than one coat, or one lighter jacket and a heavier winter coat, buying pre-owned items is the most cost effective way to purchase this outerwear.
Buy a Larger Size Coat Than Needed
Make a child's coat last another year by purchasing one size up. Buying a coat a size bigger allows a child to get more than one winter's wear out of it, and saves the parents money on buying another coat next year in a larger size. Roll the sleeves up or use hem tape to alter the coat temporarily until the child grows into it properly. Sometimes kids' coats come in flexible sizes that last for two winters regardless, so check the sizes and measurements to see if the coat lasts for more than one season even if a child grows a bit.
Purchase a Versatile Coat
Some coats offer more than one function. Coats double as light jackets with layering, or reverse for a different design. Get more use out of a coat which offers multiple features such as waterproof so it doubles as a raincoat, or an inner lining worn without the heavy overcoat on chilly but not freezing days.
A coat doing double duty saves money for parents purchasing a variety of coats for kids. One coat does it all, so parents save cash on a more versatile jacket such as a padded windbreaker worn in spring as well as winter, or a stylish denim jacket perfect for the fall and winter months, which layers under a heavier coat for cold days.
Get a Brand-Name Coat for Less
Shop for a brand name and pay a lower-than-retail price for a child's coat. Look for good deals on popular brands like Target and Zara, as well as high-end brands like Ralph Lauren or Juicy Couture . Alternately, purchase a bargain brand for a less expensive coat such as Old Navy or OshKosh. Kids love character coats, which cost less than designer name-brand coats and come in styles such as Hello Kitty , Tinkerbell, and Spiderman .
Zara
Girls' Zara coats offer stylish designs and comfortable fabrics such as cotton and padded down coats. Zara coats come in cute styles such as classic, double-breasted flared coats and coats embellished with flowers, lace, and bright colours. Coats have details like fur collars, hoods, faux fur, and animal print designs. Zara coats for boys include overcoat styles, warm parkas, padded, quilted coats for cold weather wear, and thick ski jackets.
Pumpkin Patch
Pumpkin Patch makes affordable coats for boys and girls both. Girls' coats range in styles from silky, dressy coats to casual, quilted, and lined, water-resistant coats with hoods. Pumpkin Patch offers light windbreakers, hooded sweatshirts and jackets, and stylish faux fur and denim jacket with embellished appliques.
For boys, Pumpkin Patch makes lined sweatshirts, quilted coats, and outdoor windbreakers for rainy, chilly days, and fleece lined coats made of soft materials such as corduroy and cotton. Vests layer well and combined with an overcoat create a stylish and warm look that is easy to wear all fall and winter.
Ralph Lauren
Made for girls and boys, designer Ralph Lauren coats and jackets create a stylish winter look. The high-end coats come in many traditional styles such as trench coats, quilted puffer style coats, hooded styles, and skirted coats for girls. Down filled quilted coats keep kids warm throughout the winter, and a faux fur leopard coat injects pizzazz into a girl's wardrobe.
Boys choose between styles like bomber jackets, hooded parkas, pea coats, and wool coats with toggle closures. Ralph Lauren makes warm letterman style jackets for boys that are sporty and comfortable for fall and winter wear. Invest in a high-quality jacket by Ralph Lauren for a long lasting and durable coat.
Kids' Coat Sizing Chart
Sizing kids is simple. Take a tape measure and take the child's measurements. Boys and girls measurements are the same unless otherwise specified. Sizes accommodate kids for a year or two, so size up for a larger coat a child wears the following winter.
Child's Age

Height

Chest

Waist

Hips

Leg Length

Coat Size

98 cm

55 cm

52 cm

57 cm

40 cm

XXS/3

3 to 4

104 cm

57 cm

54 cm

60 cm

45 cm

XS/4

4 to 5

110 cm

60 cm

56 cm

63 cm

50 cm

XS/5

5 to 6

118 cm

63 cm

58 cm

67 cm

55 cm

S/6

7 to 8

128 cm

67 cm

60 cm

71 cm

60 cm

M/8

9 to 10

140 cm

72 cm

63 cm (girls)

64 cm (boys)

77 cm

66 cm

L/10

11 to 12

152 cm

77 cm

66 cm (girls)

67 cm (boys)

83 cm (girls)

82 cm (boys)

72 cm

L/12

13 to 14

164 cm

82 cm

69 cm (girls)

70 cm (boys)

89 cm (girls)

87 cm (boys)

78 cm

XL/14
Take into account the child's age and if a growth spurt is on its way. Other considerations include the climate and how cold it gets, whether the child needs a padded, down coat or a simple lightweight jacket, or if water-resistant outerwear is a necessity along with the proper size.
How to Buy an Affordable Coat for a Child on eBay
Purchasing a coat for a child is sometimes frustrating. It may be difficult to find the right size and style you desire, and to find something your child likes as well. Instead of trudging to a bunch of stores, turn to eBay for convenient shopping andgreat deals on coats. Key in "kids' coats", and then filter your results by colour or brand, such as Target.
When winter comes, keeping your child warm is your first priority, but it is also important to stick to your budget. Keep your kid cosy in a new or pre-owned coat. Purchase an affordable coat that is easy to care for so when your child drops her hot cocoa on the jacket, the coat is easy to toss into the washing machine for the next day.