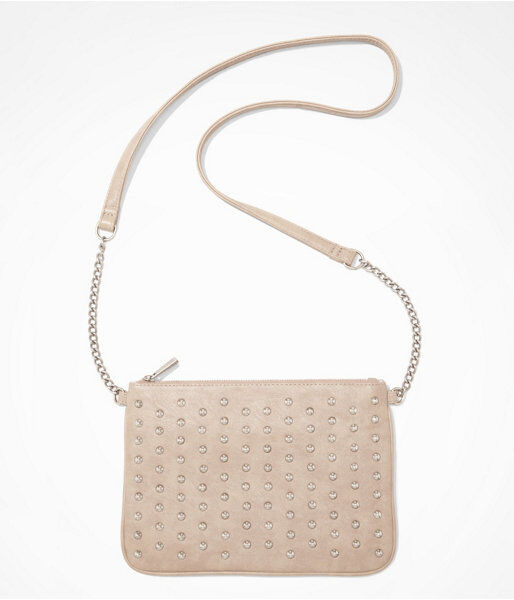 Cross-body bags make using handbags convenient and simple. The bags fit easily across the body for hands-free use, and most cross-body bags are small and stylish. Cross-body bags work well for carrying just a few necessities, and come in a wide range of brands, materials, sizes, and styles. For buyers on a budget, purchasing cross-body bags is affordable. These smaller styles cost less than their larger handbag counterparts, and the convenience of carrying the bags makes them even more priceless.
Women may think all cross-body bags are casual in style, but this is not true. There are bags for all occasions in this style. For buyers on a budget, finding affordable cross-body bags is easy according to material and brand of the bags.
Choose an Affordable Material
Buyers on a budget stick to affordable materials that cost less and look great. Avoid costly bags made of real leather and suede, and also avoid high-end designer brand bags, which always cost more than simpler styles. Cost-efficient materials include faux leather , nylon, canvas , cotton, and patent leather. Anything made of real animal that is not synthetic costs more than the faux versions. Faux materials require less care to stay beautiful, which is also more cost effective in the long run.
Purchasing affordable bags allows consumers to buy more than one cross-body bag to create a wardrobe of bags for various occasions. Cost efficient, cotton, nylon, and canvas bags do not force consumers to limit themselves to just one bag, and if budget allows, may purchase several to switch the bags out according to wardrobe or occasion.
Select an Affordable Brand
High-end brands cost more than less expensive brands, and buyers on a budget pay more for a Louis Vuitton bag than they pay for a Fossil bag. Brands vary in cost due to the materials used as well as the brand name itself. There are plenty of affordable options offering high-quality bags for less costly prices, such as Animal , Calvin Klein, Mimco, Radley , and Paul Frank .
Stay Small
Small in size, affordable cross-body bags hold important items such as keys, money, credit cards, lipstick, and compacts. Larger cross-body bags hold more, but price increases as bags get bigger. For buyers with a bit of flex in their budget, larger cross-body bags offer the option of using handles or longer cross-body straps. This makes the purses multifunctional, which is worth the additional cost in some cases.
Otherwise, small bags cost less and hold the necessities. Small bags offer features such as zippered pockets on the outside or inside of the bags, adjustable or removable cross-body straps, snaps, toggles, zippered closures, or drawstring designs. Small bags do not limit styles and designs. There are plenty to choose from such as polka dotted bags, floral printed bags, metallic bags, and shaped bags such as circular cross-body bags or envelope styles.
Purchase a Pre-owned Bag
Another way to save money is to purchase a used or pre-owned cross-body bag. Gently used bags save money and make it possible for buyers to purchase more costly bags for less, such as a designer Coach or a Louis Vuitton . Buyers on a tight budget wishing for high-end bags choose pre-owned bags to get great deals on luxury bags.
There are also bags which are new but do not have tags on them. Purchasing a new without tags cross-body bag also costs less than a brand-new with tags cross-body bag. There are many options for consumers on a budget that do not always include brand-new cross-body bags for the lowest prices.
Buy a Day-to-Night Bag
Combine form with function when purchasing a cross-body bag. Consider the bag's uses and purchase a cross-body that goes from day to night easily. Using bags for double duty increases their usage and therefore gets consumers more for their money. A cute black cross-body bag is perfect for day use and complements nighttime attire as well.
A simple bag with a fun design like animal print is fashionable for day or night, and a solid-coloured statement bag works for any time of day or night. Faux leather, patent leather, or cotton look best for nighttime, but canvas is more casual and works well for daywear.
Pick the Right Cross-body Bag Brand
Choosing a bag brand is confusing, but consumers on a budget should pay attention to brand names. While sometimes it is possible to purchase a brand name bag for a lower price, it helps to stick with certain brands to remain within the allotted budget. In the chart below, $ represents $20 to $30, $$ represents $40 to $60, and $$$ represents $60 to $100.
Bag Brand

Materials Available

General Cost

Leather

Oil cloth

Calf hair

Suede

$$-$$$

Paul Frank

PVC

$-$$

Mimco

Leather

Wool

$$-$$$

Animal

Canvas

Leather

$-$$

Radley

Canvas

Oilskin

Leather

$$
Consumers who desire more luxurious cross-body bags should check pre-owned bags for the best prices on designer name bags. Otherwise, bags made of durable materials should last and come in many different colours and styles to choose from.
How to Buy an Affordable Cross-body Bag on eBay
When it comes to handbags, cross-body bags offer flexibility, convenience, and hands-free use, which is important for women loaded down with a briefcase or diaper bag and juggling it all. Instead of paying a high price for a cross-body bag , get a new or pre-owned bag for a great deal on eBay. Search bags according to colour, material, or brand, or key in your price range so sticking to your budget is simple while shopping.
Cross-body bags offer the ultimate in ease. Using a long strap which fits over your shoulder, the bag hangs by your hips for easy access. Cross-body bags come in multiple styles, such as bags with removable straps, colours like bright orange or simple black, and brands such as Juicy Couture, to add whimsy or style to your look. The bags range from affordable to high end.