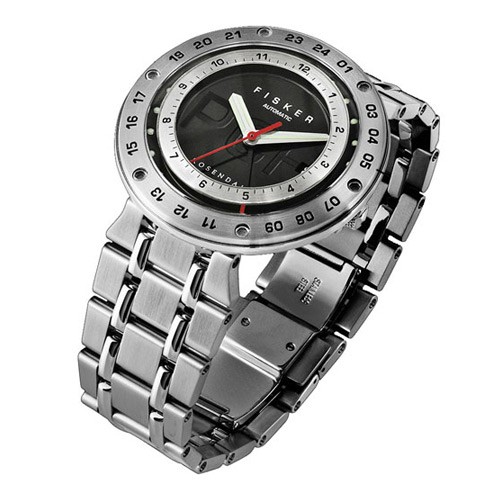 A wrist watch is not only a practical timepiece, but it also functions as a stylish accessory and complements the wearer's style. In the modern world, where people often use their phones for telling the time, the watch often plays the role of jewellery rather than of a timepiece. Therefore, choosing a wrist watch needs some careful attention. Designer wrist watches from renowned designers all over the world are more expensive than fashion watches, but many people, both men and women, prefer them because they indicate a certain status and good taste. When buying designer watches from boutiques or sites such as eBay, it is worth knowing the watch features as well as the main components.
Designer Wrist Watch Features
More complex watch designs may have multiple additional features, such as chronometer and date. However, size and water resistance apply to all kinds of watches.
Designer Wrist Watch Size
The size of the watch determines how attractive the watch looks on the wearer. Women's designer watches are usually 34 mm or less in diameter, while men's watches can be over 35 mm. Smaller watches are more elegant and suitable for women. The band or strap length, from the last hole in the strap to the buckle, is 20 cm on average for men's watches and 18 cm on average for women's watches.
Designer Wrist Watch Water Resistance
Water resistance refers to the watch's ability to withstand exposure to water. On the dial, there is a number representing the depth to which the watch can withstand water, but as this figure is derived from tests in controlled conditions, reality may be different, especially because velocity and pressure are factors as well. The following chart, however, gives an idea of what the depth ratings on watches mean.
| | |
| --- | --- |
| Depth Rating | Watch Usage |
| | Safe for accidental wetting, such as splashes |
| 30 metres, 3 ATM, 100 feet | Brief immersion in water, splashes, rain; not for bathing or swimming |
| 50 metres, 5 ATM, 165 feet | Swimming in shallow water, dish washing; not for diving or bathing |
| 100 metres, 10 ATM, 330 feet | Dish washing, playing sports, swimming, poolside diving, snorkeling; not for scuba diving |
| 150 metres, 15 ATM, 500 feet | All uses, even scuba diving |
The chart lists depth ratings with three different units because watches may have them in one way or another. This greatly depends on the manufacturer and country of origin.
Designer Wrist Watch Components
On a designer watch, each part plays a significant role in the timekeeping. Watch makers craft the parts accurately, paying careful attention to each one of them in order to ensure quality. The main components of a wrist watch are the movement, dial, hands, crystal, and strap.
Designer Wrist Watch Movements
The movement is the mechanism inside the watch that runs the timepiece. The three types of movements are mechanical, automatic, and quartz. A mechanical movement features a mainspring that contains potential energy, which moves the gears of timekeeping. Although these watches need regular winding and are not very accurate, they can last for generations. Automatic movement is also mechanical, but has a self-winding mechanism as well. Such watches are durable. Quartz movement is the most precise type and is dependent on a quartz crystal included in the design.
Designer Wrist Watch Dial and Hands
The dial is the face of the watch and the hour and minute hands are on the dial, although a watch may have a digital display instead. However, most designer watches have an analogue display because it has a more classic, sophisticated look.
Designer Wrist Watch Crystal
The crystal is the transparent glass cover that protects the dial and the hands. The makers of designer watches do not use plastic, as the manufacturers of cheaper watches often do. A designer watch is most likely to come with a durable sapphire crystal that can withstand scratching and is resistant to shattering.
Designer Wrist Watch Strap
The strap or bracelet of the watch attaches it around the wearer's wrist. Leather or different metals are popular material choices for the strap, and they also contribute to the watch's style. High-quality watches often come with stainless steel casings that resist discolouration and tarnishing. Lightweight titanium is slowly taking the place of stainless steel, and the most luxurious watches even have straps made of gold or platinum. When it comes to the quality of the watch, the fastening and its ease of use also play a significant role.
Finding an Affordable Wrist Watch
Because of their design and careful structure, designer wrist watches are relatively high in price. Quality items tend to be expensive. Nevertheless, it is possible to find affordable designer timepieces. Fortunately, unlike many fashion watches, designer watches generally have timeless designs, looking stylish no matter how old they are. Therefore, it is worth looking at older designer watch models, as they may be more affordable than brand new models. Even used watches can be in excellent condition, as people tend to take good care of their designer watches.
How to Buy a Designer Wrist Watch on eBay
On eBay, you can best find a range of designer wrist watches and deals on them. You can search for the particular brand you are after by typing the brand name, with the keywords "wrist watch", into the search box at the top of any eBay page. After receiving the initial search results, you can sort them by price to find an affordable watch, or click on related searches if the first one did not yield the desired results. Check the item specifications from the detailed listings, where you can also view information on the different parts of the watchs. From the photos, you can determine whether the size fits you and what the watch looks like.