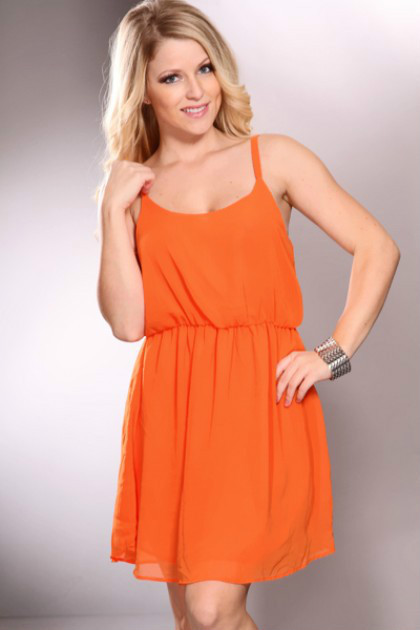 Dressing fashion-forward without spending a fortune can seem overwhelming at times for women of all shapes and sizes. For petite women, attempting to find affordable dresses can often cause them to sacrifice in fit or finances. While finding a properly fitting petite dress at an affordable price can appear daunting, it does not need to be. Researching and gaining guidance in how to buy an affordable dress can help petite women make an educated decision when determining what to buy. Determining what the consumer is willing to spend and what style options can benefit petite women, and learning what resources are available can help petite women to confidently purchase stylish and affordable dresses.
Choose an Outfit to Appear Taller
One of the biggest problems petite women run into when purchasing clothing is the length of clothing. Purchasing clothes in regular sizes can often contribute to petite women appearing shorter than they are. Petite women should seek out clothes that make their smaller frames appear longer. In terms of purchasing a dress, petite women should find a dress with a hemline no lower than five centimetres above the knee, as this helps legs to appear longer and thus allows petite women to appear taller than they are.
Choose the Right Accessories for the Dress
Wearing shoes with a higher heel can also help petite women appear taller than they are. High-heeled shoes with a five-centimetre heel are a great asset in a petite woman's wardrobe if a desired dress has a less than desirable hemline. If a dress comes with accessories attached, such as a belt or jacket , it is important to make sure those accessories also assist the woman in adding length to her petite frame.
Bulky accessories, like handbags andbelt buckles, can overwhelm the appearance of the dress and take away from its look. Cropped jackets can visually shorten the length of a woman's frame and petite consumers generally should avoid them. Narrow belts create a classic, lengthened look while also adding shape to a petite frame, while wider belts cut a frame at unflattering points and undo the lengthening effect of a petite dress. If the attached accessory is not desirable, removing it and finding an inexpensive replacement can keep the integrity of the style while not adding too much to the overall cost of the dress.
Pay Attention to Sizing
Finding a stylish and affordable dress for a petite woman requires a little creativity on the part of the buyer. Choosing dresses in junior sizes can be a great way to find appropriately sized dresses that do not require the assistance of a tailor, which can dramatically add to the overall cost of a dress. While the consumer should remember to weed out age-inappropriate options, if the consumer is looking for a common style or silhouette, like ablack dress or a dress with an empire waist, searching through the junior sizes can provide a variety of affordable options.
| | | | |
| --- | --- | --- | --- |
| Size | Bust (cm) | Waist (cm) | Hips (cm) |
| | 76 | 58 | 83.5 |
| 6 | 78.5 | 60.5 | 86 |
| 8 | 81 | 63 | 88.5 |
| 10 | 86 | 68 | 93.5 |
| 12 | 91 | 73 | 98.5 |
| 14 | 96 | 78 | 103.5 |
| 16 | 101 | 83 | 108.5 |
| 18 | 108.5 | 90.5 | 116 |
| 20 | 116 | 98 | 123.5 |
| 22 | 122 | 104 | 129.5 |
| 24 | 128 | 110 | 135.5 |
Note that petite sizes vary by manufacturer, but when in doubt know that any dress can be altered unless it is too intricate or delicate to cut into without damage.
Alter the Dress Size
Another asset to keeping a petite dress affordable is for consumers to make their own alterations. While that may seem intimidating, if a consumer finds an affordable dress with an undesirable hemline, some helpful tools from a craft store can provide a quick fix. Fusible bonding thread can swiftly aid the consumer in raising a low hemline without needing to break out a needle and thread or money for a tailor. To add length to a short hemline, simply adding ribbon or fabric in a similar colour or material can drop the hemline to a more appropriate length. For example, adding length to a standard black dress using sheer ribbon can add a contemporary touch for minimal cost.
Add Embellishments
For the consumer more comfortable with sewing, adding a flattering trim or pattern can be a great way to save money as well. As vertical lines greatly assist petite women in creating a longer look to their frame, consumers can customise this idea to their liking by doing it themselves and saving money in the end. Purchasing a basic dress and adding embellishments can offer women petite dresses with a designer look at an affordable price.
Find Affordable Petite Dresses
Searching for a petite dress online is a great way for consumers to determine quickly if a desired dress is an affordable option, or if a comparable substitution is a better purchase. Researching online also means there is no in-store shopping anxiety causing consumers to feel pressured to make purchases they later regret. An online global marketplace, like eBay, offers consumers a wide range of size and style options, as well as free shipping sometimes. If a buyer discovers a certain type or style of dress is to their liking, they can usually choose from varying options in colour, size, and even fabric, making the ideal dress just a few clicks away.
How to Buy an Affordable Petite Dress on eBay
You can quickly find affordable and stylish petite dresses on eBay by entering ' petite dress' into the search bar on any page. From there, you can filter the search results until you find fashionable clothing options while sticking to your budget. You can also look at a seller's page to review the feedback left by previous customers and see if a seller is a Top-rated seller. Many eBay Top-rated sellers offer free shipping. Check eBay Deals to see the best prices of the day for women's fashion. On eBay, you can shop for affordable petite dresses, accessories, and other desired clothing pieces with confidence and ease.