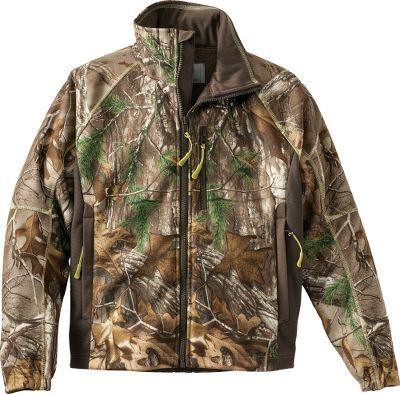 One of the most important pieces of gear for any hunting trip is a jacket. Manufacturers create hunting jackets from several different materials, and the style and price of a product can vary greatly from one to the next. Buyers on a budget can find many quality hunting jackets available for sale that improve or reduce visibility while offering protection from the elements. Sporting goods retailers and department stores offer these items, and sellers in the marketplace, like eBay, list them in new and used condition. Before purchasing a hunting jacket, consumers should know how to inspect quality, understand hunting jacket materials, and know what to look for in used jackets.
Quality and Price
The cost of a hunting jacket is often a reflection of the product's materials and craftsmanship. However, many high-quality jackets sell for reasonable prices, allowing buyers on a budget to stay protected without breaking the bank. The easiest way to determine the quality of a jacket in relation to its price is to read product reviews. Look for these reviews in hunting magazines and other publications in both print and online. Professional reviewers often provide ratings on specific aspects of a jacket's design, such as durability and overall value. Shopping sites list customer reviews of a product and hundreds of reviews may exist for a single jacket. These ratings provide an easy way to determine how a jacket performs in a broad variety of settings. Look for inexpensive jackets with high review scores for a positive buying experience.
Materials
Materials have a prominent effect on the warmth, weight, comfort, and price of a hunting jacket. Manufacturers use several different materials including tweed, waxed cotton, wool, and Gore-Tex to create jackets that perform well in a variety of weather conditions. The following table offers information of the characteristics of each material type.
Material

Description

A type of woven wool

Durable and resistant to moisture

One of the most common materials for hunting jackets

Warm and highly resistant to moisture

Can become heavy when wet

One of the more expensive materials

Lighter and cooler than wool

Absorbs moisture more easily, though waxed cotton is water resistant

Less expensive than wool or tweed

A highly waterproof material that also breathes well

The most expensive material
It is useful for hunters to have more than one jacket to match weather conditions. For example, a person may own a thin cotton jacket for dry days and a heavy wool jacket for cold, wet days.
Used Jackets
An easy way for buyers to save money on a hunting jacket is to shop for used items. Thanks to online marketplaces, like eBay, it is possible to obtain a high-quality used jacket that is still in excellent condition. However, there are several issues to consider while shopping for used hunting jackets to ensure a positive buying experience.
Condition
The first element to determine while shopping is an item's overall condition. When shopping in person, look over a jacket inside and out for tears or cuts. Even a small tear in the fabric can worsen over time, allowing moisture and dirt into the material and causing deterioration of the fabric.
When possible, buyers should also try on the jacket before buying. In addition to checking the overall fit, it is important to inspect all zippers, buttons, and clasps to be sure that the front of the jacket and all of its pouches close properly. Although a broken button may not be a big deal, it is best to avoid jackets with a faulty front zipper.
Sizes
Brands, such as Ridgeline and Browning , often use consistent sizing for the clothing products they produce. When shopping online, it is possible to avoid returns by buying from familiar brands. Buyers can also try on a jacket at the shop to get a feel for its size, and then purchase the item online from retail websites, such as eBay.
How to Buy an Affordable Hunting Jacket on eBay
Sellers list all types of hunting jackets on the eBay website, including those in new and used condition. The easiest way to locate items on the site is to type keywords into the search field found on any eBay page. For example, enter "waterproof hunting jacket" to see all items tagged with those terms. You may refine listings by adding new terms. Once you have located desirable listings, take a moment to review individual items. Be clear on the full price of the product as well as any associated delivery charges. Many sellers also have items for sale on eBay Deals, where consumers can find even more great discounts. Browse the listings to quickly find all of the items needed for your next hunting trip.