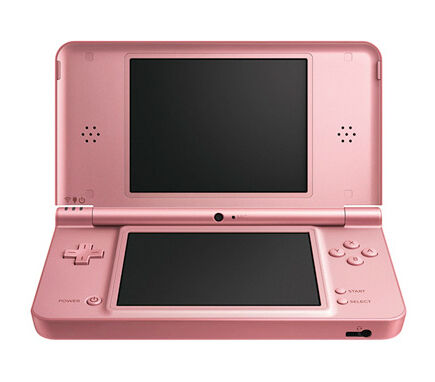 The Nintendo DSi is a widely popular handheld games console, and it offers a wide range of games and accessories. The DSi is an improved version of the original Nintendo DS console, offering more features, a longer battery life and a lighter design. DS consoles feature a unique two screen design, with touch screen capability. The Nintendo DSi, and other handheld consoles, can be found on eBay.
Nintendo DS Features
There are a number of key features which are offered by the different models of the Nintendo DS.
· The unique two screen design is a distinctive feature of the DS consoles. Both screens are used by games, while the lower screen has touch screen capability, enabling users to interact with their games with their fingers, or with the included stylus.
· The Download Play features is found on all models of the Nintendo DS, and allows gamers to enjoy multiplayer gaming, even if only one player has the game cartridge. This feature requires users to be within wireless distance of each other.
· PictoChat enables users to communicate with other Nintendo DS users within local wireless range. Users of the DSi and DSi XL , which features a larger screen, also have the ability to write messages in multiple colours.
· While the DS needs an accessory plugged in to function as a web browser, the Nintendo DSi has one built in, and ready to use.
· Nintendo DS and DSi consoles are available in a wide range of different colours, enabling users to choose a colour they prefer.
Nintendo DSi Specifications
The Nintendo DSi offers a number of differences and improvements over the older models of the DS.
| | |
| --- | --- |
| Screen | The DSi features a TFT LCD screen with 260,000 colours, the same as the DS Lite. The DSi screen is larger, at 3.25" across. |
| Size | The DSi measures at 137 x 74.9 x 18.9mm, larger than the DS Lite but smaller than the original DS model. |
| Weight | The DSi weighs 7.5 ounces, making it lighter than both the DS and the DS Lite . |
| Stylus | The stylus used with the DSi is slightly longer and thicker than that used with the original DS, giving users more control. |
| Battery Life | The DSi lasts for 9-14 hours on the lowest brightness settings. This is longer than the original DS, but is short than the DS Lite, which lasts 15-19 hours. |
| Charge Time | The DSi reaches a full charge more quickly than other models, requiring 2 hours and 30 minutes. |
| Memory | 256MB of internal storage is built into the device, and the DSi also supports external SD and SDHC memory cards, enabling users to expand available memory up to 32GB. The Game Boy Advanced cartridge slot, which enabled older DS models to play Game Boy Advanced games, is not featured on this model, however. This also makes the DSi incompatible with games which require peripherals to be plugged into this slot. |
| Camera | The DSi features two cameras, one on the front and one on the back of the device, enabling the device to take pictures to send to other users, or for use in games and applications. |
Finding an Affordable Nintendo DSi
There are a variety of ways buyers can find affordable consoles or bundles when looking to purchase a Nintendo DSi.
Looking out for bundles is a great way to save money on accessories and games, as well as to get some of the most popular accessories along with a new DSi.
· Bundles often include spare styluses, as well as some of the more popular games and accessories such as cases.
· Items can be arranged by price, making it easy for users to find the most affordable options available for a DSi, or other handheld console.
· The Auction buying option may give buyers the chance to get a DSi for a lower price.
Buying a used or refurbished DSi can be a great way to get the device for a lower price. Used devices offer the same functionality as brand new versions of the same model.
· Affordable Nintendo DSi consoles and bundles may be available in the eBay Deals section.
How to Buy a Nintendo DSi on eBay
A wide range of Nintendo consoles, including the DSi, can be found on eBay.
· The full listing of available Nintendo DSi consoles can be found under theNintendo DSi section of theConsoles category, in Video Games & Consoles.
· Items can be arranged by categories such as items included in a bundle, condition and price.
· Key information about an item, such as any games and accessories included in a bundle, will often be prominently displayed in the item listing, making it easy to quickly see if an item meets any specific requirements.
· More detailed information can be found on the item page. This includes information about the seller, such as item reviews and feedback ratings, which help to ensure that a purchase can be made with confidence.
· Don't forget to look out for any deals on the Nintendo DSi which may be available in Electronics.
Conclusion
The Nintendo DSi offers a wide range of features, as well as an enormous selection of games. A larger screen and stylus gives users more control when playing games or using applications, while the camera enables them to take pictures to share with others. Those looking for a larger screen can also opt for the DSi XL, which includes all of the same features. A wide range of games consoles is available on eBay.