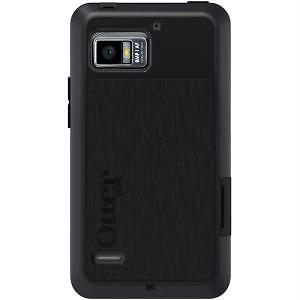 The first Otterbox phone case was a waterproof case designed for water sports enthusiasts, and today a wide range of Otterbox phone cases are available. These cases are designed to offer a great deal of protection to smart phones, and a number of different series are available which offer different features and different levels of protection. A wide variety of Otterbox phone cases, as well as other phone accessories, can be found on eBay.
Otterbox Phone Case Series
There are different series of Otterbox phone cases available, offering different designs and benefits. Each series is available to fit a range of different smart phones, including Apple, Samsung and HTC.
| | |
| --- | --- |
| Defender | The Defender case is among the more affordable Otterbox cases. This case protects the phone from shocks, bumps and drops using 3 layers; the built in screen protector, a polycarbonate inner layer and a silicone outer layer. Port covers are also included, which protect against dirt and dust. |
| Commuter | The Otterbox Commuter is a lighter and less expensive version of the Defender. It offers similar features, with two layers of protection, a silicone inner layer and a polycarbonate outer layer. Its thin profile makes it easier to slide in and out of pockets. |
| Reflex | The Reflex features a slimmer, two piece design which offers a good deal of protection. The case is designed to flex and rebound to its original form upon impact, while air pockets help to absorb blows. The thinner profile of this case makes it easier to dock the phone while it is in the case. |
| Prefix | The Prefix is a light, affordable case, with a combination polycarbonate and silicone structure which helps to absorb drops and bumps. |
| Impact | Otterbox Impact cases are the simplest and most affordable available. Encasing the phone, the case offers protection against bumps and drops, and includes a screen protector. |
| Pursuit | The Otterbox Pursuit is unlike more traditional phone cases. The Pursuit is a watertight drybox which can store a phone in an Otterbox case, or other items such as a wallet and keys. The case provides air cushioning, and features a secure closing latch. |
| Armor | The Armor case offers heavy duty protection, and is available for the iPhone 4, iPhone 5 and the Samsung Galaxy S3. A watertight design and port seals enable it to protect phones from water as well as crushing, shocks and drops. The Armor also features a built in screen protector. It also adds a great deal of bulk to the phone, and is among the more expensive Otterbox cases. |
Affordable Otterbox Phone Cases
When looking for an Otterbox phone case, there are a number of ways buyers can find affordable options.
· A key way of reducing the price of an Otterbox phone case is to opt for the more affordable models. The Prefix, Commuter and Defender offer more affordable options, while still giving the user a range of desirable features, and a high level of protection to the phone.
· Buyers looking for an affordable Otterbox case should also consider purchasing a used or refurbished case. These offer the same features as the newer cases, and can often be found in very good condition, for a lower price than new cases.
· When buying a used or refurbished phone case, it can be particularly important to read the information offered on the item page. This also often includes pictures of the item, meaning that buyers can get a good idea of what they are buying before they make a purchase.
How to Buy an Affordable Otterbox Phone Case on eBay
A wide range of phone cases, including Otterbox cases, and other accessories are all available on eBay.
· The listings of available phone cases, including Otterbox phone cases, can be found under Mobile Accessories, in the Cases, Covers, Skins section.
· Cases can be arranged by categories such as compatible brands, condition and price.
· Key information about an Otterbox phone case, such as which series it belongs to, is often prominently displayed in the item listing, making it easy to quickly see if an item meets any specific needs.
· More detailed information, such as information about a used or refurbished items condition, can be found on the item page. This also includes information about the seller, such as item reviews and feedback ratings, helping to ensure that a purchase can be made with confidence.
· When looking for a particular Otterbox case, it may be faster and more effective to make use of the search function which can be found at the top of every page. Entering keywords into the search bar will return results from across the site or from within a specified category.
· Don't forget to look out for deals which may be available on Otterbox phone cases under Phones.
Conclusion
Otterbox offers a range of high quality phone cases which can give phones a great deal of protection from an all manner of hazards, including dust, drops, shocks and even submersion in water. The cases can range from the light, affordable Prefix case to the bulky but tough Armor. A wide range of Otterbox phone cases, and other accessories, can be found on eBay.