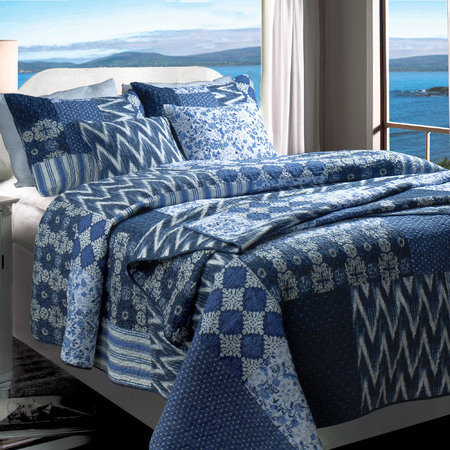 Many people focus entirely on the mattress when they set up their bed, but the cover also has a big impact on comfort. The cover is what people feel as they sleep, it is what keeps them warm, and it determines the appearance of the bed. Since the bed is the largest piece of furniture in the room, it is also the centrepiece so it determines the style of the bedroom. Quilt covers have a come in many designs and they are highly functional. The many layers of fabric retain heat so they keep people warm. They are attractive, and they are usually soft. To buy a quilt cover, shoppers need to select the style, type of quilt they have, and the proper size.
How to Get an Affordable Quilt Cover that Fits
Before shopping for styles and colours that they like, shoppers first need to figure out what size to look for. The size of the quilt cover depends on numerous factors such as the mattress size and whether or not there is a mattress pad or box spring.
Mattress Size
There are four common mattress sizes: twin, full, queen, and king. Usually quilts and other bed coverings have the mattress size listed in their product description. If not, use the measurements to determine if the covering fits the bed.
Single mattresses , also called twin mattresses, are the smallest available.They measure 92 cm wide by 187 cm long. Sometimes there are single mattresses available which are extra long for taller people.
Full mattresses , or double mattresses, are slightly bigger at 137 cm wide by 187 cm long. They can fit two small people comfortably.
Queen mattresses are better for two adults and they are typically 153 cm wide by 203 cm long.
King mattresses are the largest available and there are two different sizes made. The smaller version is 183 cm wide by 203 cm long. Basically, they are just wider than the queen beds. The larger version is square, at 203 cm wide by 203 cm long.
Mattress Pads and Box Springs
Since the quilt is supposed to cover up the bed entirely, how tall the mattress is may make a big difference. For example, some people add a mattress pad on top of their mattress for extra cushion and support. A pad is typically at least 5 cm to 10 cm thick, but they do vary.
In addition, a box spring doubles the height of the mattress. If the bed consists of a frame and has a box spring, mattress, and pad, then shoppers need a much larger blanket to accommodate for the extra height. Often people purchase a blanket that is a size larger than their mattress. For example, if they have a queen mattress, then they get a king-sized quilt. However, this only works sometimes because the king and queen mattresses are the same length. If this is the case, just find a quilt with larger measurements.
Types of Quilt Covers
Since quilts are basically pieces of fabric sewn together, there is pretty much an unlimited variety of styles of quilt cover available. However, shoppers are not limited to purchasing brand new quilt covers. There is also the option of buying used, handmade, or antique ones. People have been making quilts and quilt covers for centuries, so it is common to collect antique ones.
When shopping for a used or antique quilts it is important to check out the condition of it and decide if it is for someone to sleep with or not. As fabric ages, it gets brittle and weak, so a very old quilt is not ideal for a bed that is in use. Check for yellowing on the white portions of the blanket. Also look for worn spots that indicate overuse or machine washing. Frayed areas are also problematic because fabric tends to continue unravelling once it starts.
Antique quilts are hard to spot so it is a good idea to learn about the different eras in history and what sewing styles were typical for the time. For example, quilts from the Victorian area had multiple kinds of fabrics and embellishments such as ribbons and velvet.
Sellers often list the condition of the quilt as mint, near mint, good condition, worn, or cutter quilt. Most of the ratings are pretty self-explanatory. A cutter quilt is a blanket that is no longer fit for use or decoration, but it can be cut up for scraps.
Caring for a Quilt Cover
In order to maintain the condition of a quilt cover, shoppers must be prepared to care for it properly. First, do not store them in direct sunlight if they are not used on a bed because they can fade. If the quilt is brand new, read the product description to see if it is machine washable. Avoid using the washing machine if the quilt is used, antique, or handmade. Instead, opt for handwashing.
How to Buy
Quilts covers add character to a room's decor. Find one that has the style and colours that you want and make sure that it is the right size. Many sales are available daily on the eBay Deals page and there are thousands of sellers on eBay that have quilts for sale. Find anything by typing your query into the eBay search field. For example, you can look for " antique quilts". Read the product descriptions carefully on used items and be sure to check the seller's reviews from past customers. If you want to save time, you can just look for Top-rated sellers, who have a great reputation, and skip reading the reviews.