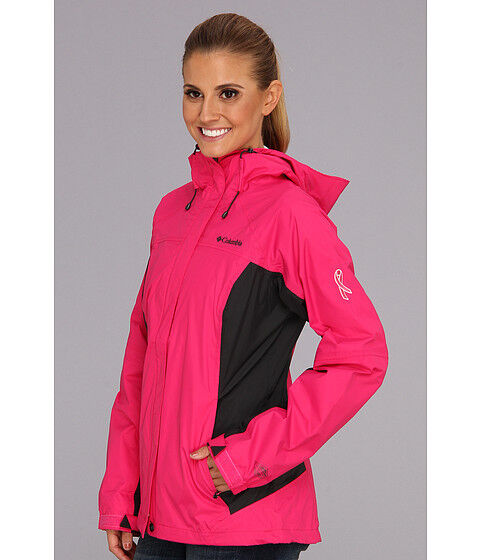 Rain jackets help keep users dry in wet weather. They may be waterproof, or water-resistant. Rain jackets have existed for years, but advances in technology have made today's rain jackets more comfortable, durable, and effective. Buying a rain jacket today can be confusing because of the sheer number of options available. Buyers can choose from durable "hardshell" rain jackets, or more affordable "rainshells". They can opt for breathable fabrics, or non-breathable ones. Buyers who understand the technology involved in a rain jacket can choose the best one for their needs. This helps them avoid spending more money on a rain jacket that does not suit their needs.
Fabrics Used to Make Rain Jackets
Rain jacket fabrics are either breathable or non-breathable. Most modern jackets use breathable fabrics, but some use non-breathable fabrics, as well.
Breathable Fabrics
Breathable fabrics let perspiration escape while keeping rain out. This is possible because of synthetic laminates with millions of microscopic holes. Body heat drives evaporated sweat out of the holes, but rain water does not come in. The first such laminate was Gore-Tex, but many other waterproof/breathable (WP/BR) laminates such as "eVent", "Sympatex", and "MemBrain Strata" are also common. The laminate adheres to the inside of the jacket. On the outside, all rain jackets have a durable, water-repellent (DWR) finish, so rainwater rolls right off.
Most rain jackets with breathable fabrics feature layers. Less expensive jackets feature two layers, with a mesh layer preventing skin contact with the coated outer layer. The lightest weight layered jackets feature 2.5-layer material. These have a low-weight outside layer, a membrane inner layer, and a thin coating on the inside of the membrane. They are also the most expensive type of layered jacket. Three layer jackets are the most durable type of layered rain jacket and feature an inner liner apart from the outer layer and the membrane.
Non-Breathable Fabrics
Non-breathable fabrics include traditional rain jacket fabrics such as vinyl. These jackets are waterproof, very cheap, and comfortable for low-level activities. Since they do not allow perspiration to escape, jackets made of non-breathable fabrics are not a good choice for vigorous activities.
Waterproof vs. Water-Resistant Rain Jackets
Buyers looking for rain jackets often encounter the terms waterproof and water-resistant. These are often accompanied by the terms softshell (or rainshell), and hardshell. In general, water-resistant jackets can withstand light rain, but not heavy rain. Most softshell jackets fall in this category. Waterproof rain jackets are meant to withstand heavy rain.
Softshell jackets are more flexible than hardshell ones, and are preferred by climbers and runners who can benefit from the extra flexibility. Softshells are capable of handling most situations. However, hardshells are more durable, and all of them are waterproof. They are excellent choices for those who travel in situations where the jackets take a beating, or for those who spend long periods outdoors. The extra durability of hardshells comes with a higher price tag.
Other Factors to Consider When Choosing an Affordable Rain Jacket
In addition to waterproofing and the types of fabric, buyers should keep several other things in mind when choosing a rain jacket. These include weight, size, and PSI rating. The sections below discuss each consideration further.
Weight
More durable rain jackets are often heavier. Buyers who do not anticipate the need for rugged rain jackets should opt for lighter weight ones. However, some performance lightweight rain jackets are more expensive than heavier equivalents.
Size and Fit
Buyers should choose a good fit, especially when buying online, where returns can take more time. The following charts help users choose the correct size.
Women's Size

XS (2)

(inches)

S (4-6)

(inches)

M (8-10)

(inches)

L (12-14)

(inches)

XL (16)

(inches)

32 - 33

34 -35

36 - 37

38 - 40

41 - 43

Sleeve

29 - 29.5

30 - 30.5

31 - 31.5

32 - 32.5

33 - 33.5

Waist

25 - 26

27 - 28

29 - 30

31 - 33

34 - 36

Hip

34 - 35

36 - 37

38 - 39

40 - 42

43 - 45
Men's Size

S

(inches)

M

(inches)

L

(inches)

XL

(inches)

XXL

(inches)

14.5 - 15

15.5 - 16

16.5 - 17

17.5 - 18

18 - 18.5

Chest

36 - 38

39 - 41

42 - 44

45 - 47

48 - 51

Sleeve

33 - 33.5

34 - 34.5

35 - 35.5

36 - 36.5

37 - 37.5

Waist

28 - 29

30 - 32

34 - 36

38 - 40

41 - 42
Buyers should take measurements correctly. The only requirements are a tape measure, a mirror, and a friend to help. Make allowances for extra layers of clothing beneath the rain jacket.
PSI Rating
Buyers should not pay extra for rain jackets with very high PSI ratings. Pounds per square inch (PSI) ratings go as high as 40, indicating that the jacket keeps water out, even if rain hits it with that much pressure. Rain falls at 2 PSI, and hurricanes reach close to 10 PSI.
How to Buy an Affordable Rain Jacket on eBay
Buyers seeking an affordable rain jacket should first decide what type they need, to avoid spending a lot of money on expensive items with unnecessary features. Buyers can find the rain jacket they need on eBay by entering a search phrase in the search bar found on every eBay page. For example, a search for "waterproof softshell rain jackets" returns all waterproof softshell rain jackets currently listed on eBay. Buyers can narrow the list by size, price range, and the condition of the jacket (new or used). They can also browse eBay for more deals on men's clothing and women's clothing.