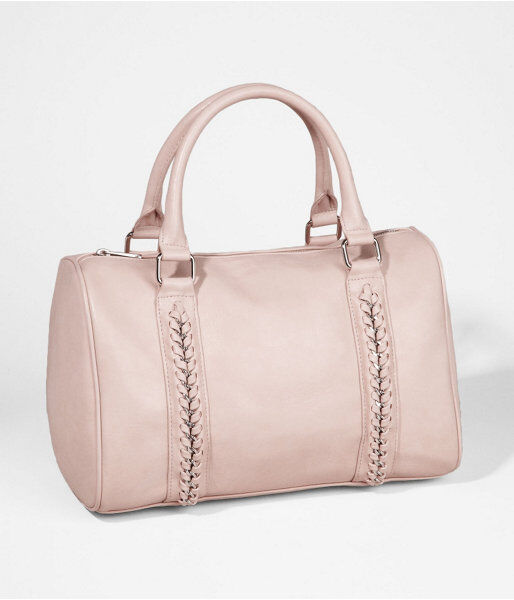 Satchels are among the oldest types of bags, as well as one of the most versatile. They are both practical and fashionable, and both women and men wear them, although some are distinctively women's satchels. And yet there is a lot of confusion about what exactly a satchel is. For some people, a satchel could be almost any handbag, or even some backpacks. Other people specify a small handbag while others think of satchels as large. Then there is the issue of price, since some brands and designs can be very expensive. Clearly, a buyer who wants a satchel needs some additional information on how to pick up a good satchel at a low price.
Buying an Affordable Satchel
Buying an affordable satchel is simple. The key is to have a budget and a clear idea of what characteristics the satchel must have. Check out second-hand bags, but if the ideal bag is hard to find, look for something in the right price range that has the high-priority characteristics. But first the buyer has to find out what exactly satchels are and what choices are available.
What Is a Satchel?
A satchel is a large bag with one or two long straps that cross the body so the bag rests on the opposite hip. Traditionally, men and boys used satchels to carry books and other equipment, and there still are men's satchels. Women's satchels are typically not super-feminine in design, reflecting the bag's history as practical men's accessories. Traditionally, satchels had a single large compartment and a flap that closed with one or two buckles, although many modern satchels have multiple compartments and pockets and close with snaps.
Satchels make practical book bags because of their large size and sturdiness. Unlike a soft bucket bag, satchels are stiff enough to stand up when set down, making them easier to search through. They are not hard, like a briefcase, though.
Satchels and Other Bags
The definition of a satchel is fairly fluid. There are multiple types of satchel and several other types of bags that overlap somewhat with satchels. A buyer really needs is a nice bag, never mind what it is called. However, knowing what various terms mean and how they overlap is useful for shopping.
Bag Type

Description

Differences From a Satchel

A style for carrying blowing balls

Often rounded

Has handles

A bag shaped like a bucket

Soft

Limp sides

No top closure

Traditional medical bag

Has handles

Has a ridged opening

A durable cloth bag for travellers

Has handles

Is cloth, not leather

A shoulder bag with a top that zips or buckles closed

Crescent-shaped

A large, durable shoulder bag

Sits at the lower back, not the hip
Note that all the bag types listed are large and have either handles or straps or both. Purses, clutches, and backpacks are also all obviously possible, but few people are likely to confuse them with satchels. Note that a satchel handbag is similar to a satchel but has handles, not straps.
Satchel Function
When buying a satchel, the first major decision to make is whether to buy a practical bag or a fashion accessory. Of course, a practical bag can still look good and a fashion accessory can still have a lot of practical value, but there is a difference in priority. For example, a buyer should decide on the size of a practical bag by determining how much stuff the bag should be able to hold. In contrast, a fashion accessory bag's size should depend more on the size of the wearer, since a little woman with a big bag could look silly.
When buying a practical bag, look for functional characteristics first, and then look among those bags for one that looks good. When buying for fashion, start with looks instead, then look for practical touches.
Satchel Fit and Form
A satchel should hang at hip level. Higher, and the satchel gets in the way of the wearer's arm. A lower-hanging bag knocks annoyingly against a leg. Whether single or double, the straps must be wide enough to carry the weight of the bag without digging into the wearer's shoulder, with wider straps for bigger bags. Do not carry so much that standing straight becomes uncomfortable as that could cause medical problems over time. Heavy loads require backpacks.
Traditional buckle closures are secure, but they take a long time to undo, which could be a problem for a ringing cell phone. A satchel with a subdivided interior helps keep track of small items, while the traditional open structure works better for people carrying a couple of large books or equipment.
Leather or Cloth Satchel?
Traditional satchels are made of leather. Leather is both beautiful and durable; however, some people object to leather for ethical reasons, and quality leather is expensive. Fake leather has almost the same look and is much more affordable, but most types are also much less durable. As a low-cost fashion item, fake leather works. For a practical bag, a heavy, durable cloth, such as canvas or duffel, works better.
How to Buy a Satchel on eBay
eBay is a good place to find an affordable satchel. To browse through the listings, start with a basic search simply for satchels, or check outeBay Deals to find the best prices of the day in any given category. Alternatively, try the Advanced Search option to look for something in a particularly brand or colour. Especially when buying used, be sure to communicate with the seller. Use the contact link on the seller's profile page for any questions. The seller's profile also lists his or her feedback score and return policy. eBay has a great selection, and no one ever knows what great finds may show up there.