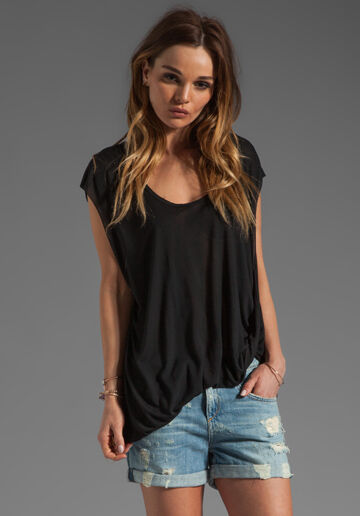 While there are many branded and designer tops available on the market, many buyers prefer to look at the price of a top before considering other criteria. However, buyers should also remember not to sacrifice quality in exchange for affordability. Since tops come in a large variety of styles and materials, it can be tricky for buyers to find what they want at reasonable prices. That being said, it is definitely possible to find affordable tops if buyers know how and where to look for these clothing items. Shoppers looking for a good top or two can often find affordable ones at department stores and online on eBay.
Looking for a Good Top
Buying cheap clothes is sometimes necessary and other times optional. Regardless of the reason they want affordable tops, buyers should also try to look at the quality of the tops when out shopping. A good-quality top not only helps buyers to feel and look good, but it can also outlast many cheap tops. A good way for buyers to get the most out of their money when buying tops is to purchase versatile items they can wear for various occasions.
Type of Top

Great For

Casual outings

Running errands

Working out at the gym

Casual outings

Parties or semi-formal dinners

Outing with friends

Work

Formal functions

Night out with friends

Casual or formal parties
A good way for shoppers to buy a top that is within their price range is to first set a budget. By sticking to this budget, buyers can surely find some reasonably-priced tops that they love. Consumers should also only buy tops that provide a good fit. Otherwise, a person might end up not using the tops or giving them away. However, sometimes buying a cheap top and altering it so that it fits properly is also a good way for buyers to save money and still get the lovely top they find at the store.
Tips for Buying Affordable Tops
Buying an affordable top does not only mean going around looking for clothing sales and promotional offers. While buying tops at a sale is a great way to save money, not all buyers find discounted tops affordable. Furthermore, sales do not come by very often. Besides buying tops at reasonable prices, buyers should also find a way to maximise the worth of the tops, so they get the most out of the items.
Buy Non-Branded Tops
There are many designer tops on the market, and they often cost quite a bit, even during sales. To find affordable tops, shoppers can look at generic brands. Most of these tops offer the same quality and comfort as branded ones, while costing much less. However, some non-branded tops may have small imperfections like a few loose threads. While these defects do not make a top unwearable, buyers should check the condition of a top before purchasing it.
Buy Tops Without Prints or Embellishments
Buyers can also purchase tops without prints or ornaments as these are often affordable. Although they may look very plain, basic tops often cost a fraction of the price of embellished tops. Buyers can decorate their plan tops with beads, buttons, and various iron-on transfers if they want the tops to become unique.
Buy Durable Tops
Buying affordable tops is all about cutting costs and making one's money stretch. Oftentimes, shoppers purchase cheap, thin tops that do not last beyond a few months before holes start to appear. In the end, consumers need to fork out more money to purchase new clothes. By purchasing good-quality tops, buyers can have clothes that last for many months, or even years. Therefore, consumers should always assess the quality and durability of a top before purchasing it. By looking at the top's seams, material, and thickness of fabric, buyers can judge whether or not an item can last long.
Buy Pre-Owned Tops
Buying pre-owned or used tops is a great way to find excellent tops at low prices. Besides unbranded items, buyers can often find designer items at affordable prices. Buyers should always examine a second-hand top for damages or stains before purchasing it to make sure the top is worth the money. Besides buying used clothing from thrift shops, yard sales, and vintage clothes shops, buyers can find many used tops on eBay.
Buy Tops in Bulk
Many shops and online retailers offer great prices to shoppers who buy in bulk. Buyers can often get discounts when they buy a minimum number of tops from some sellers. This number can be as low as three or five, depending on the seller. Some sellers even offer packages of affordable tops of the same design but in various colours. If buyers shop online for tops, they can visit eBay Deals to discover attractive offers on these items and other products.
How to Buy and Affordable Top on eBay
To find a good, affordable top on eBay, locate the eBay search bar and look up appropriate terms such as 'tank top' or even ' cheap top'. You can then browse the many available items and choose the one you like based on its price, material, and design. To further reduce the cost of your top, buy from local eBay sellers as many of them do not charge for packaging and postage. Check the eBay Deals section and the browse the items available at a discount. Buying affordable tops is quite an easy task if you set a budget and know where to shop.