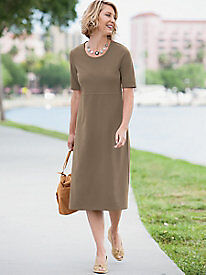 During the week, a woman finds herself limited to a work-appropriate wardrobe. Depending on where she works, her usual attire may consist ofscrubs, an official uniform, or a business suit. However, the weekends offer women the chance to break out of their typical, everyday wardrobe and enjoy something more casual. For some, the favourite weekend outfit of choice is a comfortable, casual, yet chic weekend dress. A woman requires a dressier look if she plans on going to nighttime events . No matter which kind of weekend dress a buyer needs, she can find affordable options on eBay and in local clothing stores. With a strategic shopping plan, women can score great deals on beautiful weekend dresses.
Consider the Purpose of the Weekend Dress
First of all, a buyer needs to open her closet or dresser drawers and lay out all the pieces that one would classify as weekend wear. She should make a list of the activities she normally enjoys over the weekend. Backyard barbecues, pool parties, drinks with friends, movie dates, and horseback riding may be a few things on the list. Some weekends may include fewer of the fun activities and instead incorporate duties such as yard work, home repairs, cleaning, or painting.
Next, a woman should compare her current weekend wardrobe with her list of activities. This matching session helps her identify any gaps that exist in her weekend wardrobe. For instance, a woman may find that she needs another party dress. She should look for an eye-catching dress with a short skirt. A woman may want a long, loose maxi dress for a trip up the coast. Once a buyer has identified her needs and decided on a type of dress that meets those needs, she can move on to the next step in the process of finding and buying an affordable weekend dress.
Check the Size of the Weekend Dress
Ensuring a trim, neat fit is essential, no matter what item of clothing a woman needs. If a woman plans to shop online for an affordable weekend dress, precise sizing is especially important. Some online sellers may include detailed size information, while others merely list a general size in the form of a number. If a buyer is familiar with the brand of dress, she may already know her size in that brand. However, some buyers may need to consult a sizing chart.
Sizing guides or charts typically list the brand's sizes as well as the correlating dimensions of the dress or other clothing item. A woman may need a friend or a professional seamstress to measure her bust, waist, hips, inseam, and length so that she can compare those numbers to the ones in the size guide. If the numbers match closely, the dress may be just right.
Consider Pre-Owned Options
Women can still enjoy beautiful clothing on a tight budget. Shopping online through websites such as eBay is one step toward finding fashion-forward weekend dresses at bargain prices. On eBay or in other stores, buyers often encounter a clothing in a variety of conditions, ranging from brand-new with the tags, to pre-owned or used dresses.
By broadening her search to include used dresses, a woman opens up many additional possibilities for her weekend wardrobe. She may find the perfect weekend dress with a designer label, marked down due to minimal wear or a minor flaw. Buyers should inspect such dresses carefully before buying them to ensure that the used item looks good from all angles and has no irreparable flaws or irremovable stains.
Use Mending Skills
Occasionally, a woman may buy a used weekend dress or a new dress that includes a factory flaw or minor damage caused by shipping. She can take the dress to a seamstress, or she can save herself the extra money and trying the repair herself. A missing button, a loosening hem, or a flawed seam is fairly easy to mend if a woman has the right skills and tools. In the quest for affordable weekend dresses, employing those skills is an ideal way to save money.
Purchase Extra Accessories
One way to make a weekend dress even more affordable is for a woman to assemble a multi-purpose piece. If a buyer can create several different looks with a single dress, she is more likely to wear it often and get plenty of use out of it. A woman who wants to follow this plan for an affordable weekend dress should select a dress with simple, clean lines and a silhouette that flatters her figure. Then, she can select different accessories to change up the look. For instance, she could wear the dress with espadrilles and a chunky necklace for outings with girlfriends. Or, she could also slip into flat sandals, sweep her hair into a ponytail, and accessorise with small, simple hoops for a stroll by the seaside. For the evening, a shawl, sparklingearrings, and a pair of high heels can create yet another weekend look.
How to Buy
On eBay and eBay Stores, you cansave your search, such as " weekend dress," if you want to keep track of all the listings for that type of clothing item. With a saved search, eBay emails you every time a new listing for a weekend dress appears. Once you conduct a search, you can filter the listings by selecting the price range, condition, and other search criteria from the refinements menu. If you want to be sure that you are receiving good value for your money, try purchasing from one of eBay'sTop-rated Plus sellers. These sellers boast high feedback scores from satisfied customers and should provide you with good customer service. Also be sure to note free shipping offers or package deals.