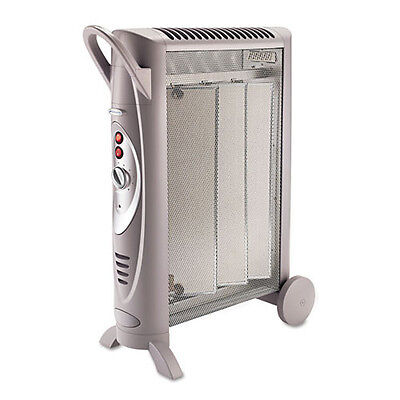 Micathermic heating is a modern and efficient way to heat a room or living area. Micathermic heater designs vary widely, so customers should choose according to their heating and space requirements. Many people like micathermic heaters for their efficient use of energy, slimline design, and quiet operation. With their lightweight build, customers can mount their heater to a wall or attach castors for portable use on the floor. Some models have a space efficient slim design that gives them instant modern appeal. Those who wish to purchase an affordable micathermic heater on eBay, should not only look for a heater with the lowest price tag but also one that boasts the best energy rating for its power output.
Micathermic Technology
A micathermic heater provides approximately 80 per cent radiant heat and 20 per cent convection. Unlike conventional filament heating, this technology uses a heating element that lies encased within several sheets of mica (a type of heat-conducting stone). The mica sheets heat up quickly and produce electromagnetic waves that radiate into the room, producing natural warmth in much the same way as sunlight. As heat rises, the warm air heats everything it touches and forces cooler air down towards the heater, where it is in turn warmed. This creates a heat convection effect that offers even heat circulation to an appropriately sized space. Micathermic heaters efficiently warm rooms up to 150 square meters, with the exception of the Bionaire BH3950-U which may be effective in rooms that exceed 200 square meters.
Types of Micathermic Heaters
Micathermic heating falls into the space heater category. There are many different models available, but essentially only two types; console and panel. The differences between them lie mostly in design rather than performance, because both use the same power-saving technology and include large heating surfaces to direct heat into a room. They consume considerably less power than most portable heaters. In most models, there is no need for a fan to efficiently circulate the air, and users have the convenience of a silent heater. Console and panel heaters vary in their power wattage from one model to another. The result is that some models perform better in larger spaces than others. Micathermic heaters are completely safe to use with virtually no risk of fire. However, some consumers have reported that the AC plug can become hot in some models. All micathermic heaters have built-in thermostat controls.
Console
Console micathermic heaters have a similar build to oil column heaters, but with no fins or moving fluids. The console format heaters are thicker in shape and highly portable with various wheel and stand arrangements. Their thermostat and setting controls are on the sides, as with an oil column heater. Unlike these heaters, however, micathermic heaters quickly reach their maximum temperature and provide radiant warmth to those nearby within a couple of minutes.
Panel
The micathermic panel heater resembles a flat screen TV, however, there are significant construction differences between them which can make this analogy very slim. The micathermic panel heater may be mounted to a wall for maximum space efficiency. Panel heaters run with the same power settings as the console variety, and design differences mostly reflect individual needs and tastes. Performance variations are mainly due to specific models that use different wattage or have additional features over another.
Advantages of Micathermic Heating
There are several advantages to micathermic heating for moderate to large spaces. Unlike gas and some other forms of heating, micathermic heating does not dehumidify the air, and thereby keeps the space pleasantly warm without the drying effect. As most models do not have fans, they provide a clean heat that does not stir up dust as portable fan heaters do. They are safe and do not present a fire hazard as do heaters with exposed elements. Micathermic heaters include an overheat protection switch to further increase safety and energy efficiency. Micathermic heaters warm the air very quickly compared to other portable heaters without a fan. However, the Bionaire BH1551-U model does include a fan, which makes it more efficient for large spaces. Another micathermic heater that performs well in large spaces is the BH3950-U.
Other advantages include a highly economical operating performance that makes it one of the cheapest portable heaters to run. It also has a very stable design that strongly resists tipping. Micathermic heaters operate silently, and their high portability and lightweight design ensures users can effortlessly move the heater from one room to another as needed. Micathermic heaters are safe for bathroom use, but users may find some models more suitable for larger, medium sized rooms due to their high heat output.
Disadvantages of Micathermic Heating
The only significant disadvantage to micathermic heating is that which is common to all non fan-based portable heaters: a warming limitation of between 150 to just over 200 square meters. Some micathermic heater models do not have a timer which is an inconvenience for some people. Customers should assess each model individually to ensure their chosen heater has the features they require. Overall, however, these heaters provide highly efficient warmth with low running costs that makes them a favourite.
How to Buy
If you wish to buy a micathermic heater on eBay, check availability by entering keywords into the search bar such as "micathermic heater". You may also wish to search for your item on eBay Deals to further extend your options. On locating your preferred item, carefully read all provided technical information to ascertain its suitability. Make certain that you fully understand the seller's terms of sale and returns policy. Ask the seller for further information if necessary. Before you make your decision, check your seller's eBay selling reputation. You can do this by noting their positive feedback score and by reading through comments left by previous customers. It takes a little time but is well worth the effort for peace of mind.