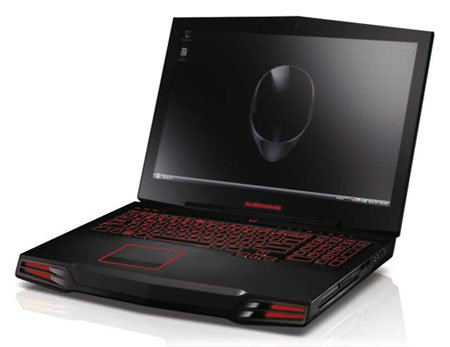 Purchasing a gaming laptop can be difficult if unfamiliar with the specifications surrounding the chosen laptop and whether it is suited to the function it is bought to fulfil. Dell's Alienware laptops are the most powerful gaming laptops available, with high-definition graphics, gaming-friendly specifications and customisable features. This eBay guide will take a detailed look at the Alienware M15x laptop, its specifications, functions, hardware and gaming capabilities, including how to buy the laptop on eBay.
Specifications
The Alienware M15x laptop is equipped with a 2.0GHz Intel Core i7 920XM Quad Core processor, which is 4 cores of intelligent processing power. This, along with the 4GB DDR3 1333MHz system memory designed to support the quad-core processors and bring faster speeds and higher bandwidths, makes the laptop extremely fast. The M15x runs on a 64-bit copy of Windows 7 Ultimate or Professional, whilst the high-frame-rate graphics is provided either by NVIDIA's GeForce GTX 260M or ATI's Radeon Mobility 5850, both with 1GB of dedicated video memory. The hard disk is 250GB which can be inadequate for some gamers, but its speed makes up for this, with the 7,200 rpm provided by Intel's Turbo Boost technology increasing the processing speed up to 3.2GHz.
Hardware and Exterior
The two inch thick and four kilogram M15x has a modern, minimalist design with relatively few flourishes on the keyboard tray compared to other Alienware models. However, the front edge has an angled, automotive-inspired grille look that is made complete with adjustable glowing lights.
The case is anodised aluminium and available in Metallic Red, Silver or Black (called Nebula Red, Lunar Shadow and Cosmic Black respectively). It has an illuminated QuickTouch System Control Pad which uses touch-capacitive sensors to access and manage power and volume controls, wireless connectivity and the Command Centre and Stealth Mode launch functions. A 2.0MP webcam and digital microphone allows for broadcasting when playing online. It has several connectivity options including VGA-out, a DisplayPort (as alternative to HDMI), 3 Hi-speed USB 2.0 ports including an eSATA/USB combo, an SD card reader, an 8-in-one multi-memory Media Card Reader, an ExpressCard/54 slot, an optional slot-loading Blu-Ray drive and integrated Gigabit Ethernet.
Gaming Performance
The following are a round-up of some features that may impact (positively or negatively) the gaming performance of the M15x:
· RGB back-lit LED glass screen and full HD display on 15.6 inch wide-screen with 16:9 aspect ratio, offering 1,920 x 1,080 pixel native resolution.
· Viewing angles retain fidelity on both the horizontal and vertical axis.
· Control Pad (or Track Pad) has a textured, matte surface whilst the keyboard is fairly spaced out.
· Fast frame rates during gaming.
· The lid and base, secured by a hinge, are sturdy, with a stiff, unyielding base even when twisted due to the laptop's one-piece wraparound backing.
· The nine-cell battery does not hold power for more than two hours, reducing the laptop's portability.
· The two large vents create noise when expelling heat, keeping the laptop lukewarm at its warmest.
Notable Extras
Some notable features of the M15x include:
· The Fusion FX lighting and settings control system makes the Control Pad, four separate lighting bays on the keyboard, the two front grills, outline of the keyboard, the interior and exterior Alienware logos all customisable for the ultimate personalised gaming experience. The system also offers a comprehensive power control suite, including security controls and facial recognition log-in software.
· The reliable facial recognition software AlienSense™ uses the built-in webcam to read and verify numerous biometric measures that cannot typically be faked or stolen as may happen with a typical typed password.
· The edge-to-edge glass overlay gives a seamless look, albeit with added reflection.
· One year warranty with choice of upgrading to "Tech Team" coverage.
How to Buy the Alienware M15x Laptop on eBay
Follow these steps to browse eBay's range of gaming laptops:
· Go to the Electronics tab on the left-most sidebar on the home page and mouse-over to find the Computers & Tablets category.
· Narrow down results by selecting the Laptops & Notebooks subcategory and browse the listings. It may help to write 'gaming laptops' in the search bar on the top of the screen at this stage.
· Narrow down results further by selecting Alienware from the brand subcategory on the left-hand side. Results can also be narrowed down by 'Format', 'Screen Size', 'Processor Brand', 'Memory (RAM)', 'Hard Drive Capacity', 'Processor Type', 'Features', 'Condition' and 'Price'.
· Alternatively, simply type in 'Alienware M15x' into the search bar from the home page, then select Computers from the categories on the left.
· Having chosen a preferred listing, make sure to read the product description for details of the product, including the seller's shipping instructions. Prioritise eBay's top-rated sellers who are generally more reliable.
· It may also be possible to use eBay's recommended deals section to find an Alienware M15x laptop. Simply find theeBay deals option at the top of each screen, then choose Electronics, Computers and scroll down to the Laptops section.
Conclusion
Although it can be difficult deciphering the specifications of a gaming laptop, it is necessary to be familiar with everything it can offer in order to make an informed purchase. Whilst this guide helps by outlining the important details of the Alienware M15x laptop including its software, hardware and gaming performance, eBay's range of Alienware gaming laptops give the buyer enough choice for picking the perfect gaming laptop to suit their particular gaming preferences.