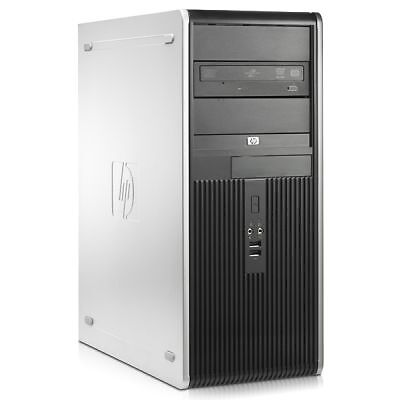 Whilst many of us may be used to laptops and personal computers, Business PCs are also a part of the desktop market. Computers such as the HP Compaq DC7900 are designed with different requirements in mind compared to personal computers, and as such have different priorities in its design and functionality. This eBay guide will take a look at the technical specifications, hardware and connectivity options, and particular factors that make the high-end HP Compaq DC7900 perfect for businesses.
Technical Specifications
The HP Compaq DC7900 is available in three sizes: Ultra-slim Desktop, Small Form Factor and Convertible Minitower. Although varying in size and weight, each is built to be small but powerful. The table below lists the technical specifications that make up the line, with a special focus on the models with a Core 2 Duo processor:
Feature

HP Compaq DC7900

Processor

Intel Core 2 Duo at 2.6-3.33GHz

(Also available: Intel Celeron; Intel Celeron Duo; Intel Pentium Duo Processors; Intel Core 2 Quad)

Operating System

Microsoft Windows XP Professional; Windows Vista; Windows Vista Business

Chipset

Intel Q45 Express chipset

Graphics

Integrated Intel GMA 4500 DirectX 10

(Also available: ATI Radeon and Radeon HD; NVIDIA Quadro NVS)

Memory (RAM)

4GB DDR2-SDRAM

Hard Drive

80GB (Available up to 1TB)

Optical Drive

DVD-RAM; SuperMulti LightScribe; DVD-RW

Modem

Agere 2006 PCI 56K International SoftModem

LAN

Integrated Intel 82567LM Gigabit Ethernet (RJ-45); Intel PRO/1000 CT Network Connection

Wireless

Wireless HP 802.11 b/g/n; Wireless card; Mini-PCI Wireless adapter

Power Supply

240W active PFC (SFF); 365W active PFC (CMT)
Connectivity and Hardware Options
Whilst business PCs are not necessarily designed with style in mind or with cutting-edge components, there are particular connectivity and hardware options offered by the HP Compaq DC7900 that make a unique front-runner in business PCs:
Feature

HP Compaq DC7900

Design

Designed to lie flat, it is a rectangular machine with black and HP grey, with silver accents.

Weight

Ultra-slim Desktop: 3.18kg (7lbs)

Small Form Factor: 8.50kg (18.75lbs)

Convertible Minitower: 11.89kg (26.2lbs)

Dimensions

Ultra-slim Desktop: 8.25 x 2.05 x 8.5 inches (20.9 x 5.2 x 21.5 cm)

Small Form Factor: 3.95 x 13.3 x 14.9 inches (10 x 33.7 x 37.8 cm)

Convertible Minitower: 17.63 x 7.0 x 17.8 inches (44.7 x 17.7 x 45.2 cm)

Optional Tower Stand

H x W x D:

Ultra-slim Desktop : 1.26 x 4.82 x 6.69 inches (3.2 x12.2 x 17.0 cm)

Small Form Factor : 1.05 x 6.95 x 7.83 inches (2.6 x 17.6 x 19.8 cm)

Keyboard

Available in bundle, native PS2 peripheral: generic keyboard with matching silver/slate colour scheme.

Mouse

Available in bundle, native PS2 peripheral: basic two button mouse.

Audio

Integrated HD audio with AD1884A codec; Multi-streaming capable; microphone and headphone line in/out ports

Speakers

HP Thin USB Powered Speakers; Standard Internal Speaker

Ports

Two front USB 2.0; Six rear USB 2.0; DisplayPort; front-facing audio 3.5mm; two rear 3.5mm jacks; mini-jack; VGA; serial port; SATA; PCI slot; two PCI Express 16x slots; one PCI Express 1x slot

Media Card Reader

HP 22-in-1 Media Card Reader; HP 22-in-1 Media Card Reader with 1394 port
Notable Features
· When managing a business computer fleet, it is sometimes necessary to open the chassis for repairs and to replace parts. The HP Compaq DC-range is designed to make this simple, and save valuable time: the top cover can be removed simply by depressing two buttons on either side of the chassis. The slightly larger size of these compact desktops also makes upgrading and replacing parts easier and cheaper.
· Intel's vPro technology is used for security, with an embedded Trusted Platform Module 1.2 chip enhancing security further.
· The provided LightScribe technology allows users to "burn" black and white images or text directly onto compatible optical media – useful for labelling CDs professionally.
· Some of the software included with the computer include: InterVideo's WinDVD, a trial version of McAfee's Security Suite 2008, custom HP apps such as HP Backup and Recovery and HP ProtectTools Security Manager.
· The HP Compaq is usually shipped with a bundle consisting of keyboard, mouse, power cable, Documentation and Diagnostics DVD and a warranty sheet – there is a three-year limited warranty with next-business-day on-site services with this range.
· HP also promises reduced costs due to the energy efficient, low wattage processors and software power management tools included in the HP Compaq DC range.
How to Buy the HP Compaq DC7900 desktop PC on eBay
Buying the HP Compaq DC7900 on eBay is simple and safe when following these steps:
· Use the search bar at the top of the home page to type in 'HP Compaq DC7900' and browse the listings. Narrow down search results as required by using the categories on the left hand side.
· Alternatively, search by category to begin with by going to the Electronics section on the left hand side of the home page. From, there go to Computers & Tablets and finally Desktop PCs and search the listings.
· Type in 'HP Compaq DC7900' in the search bar at this stage, or narrow down search results by using the sub-categories on the left hand side such as: 'Format, 'Brand' (choose Hewlett-Packard), 'Processor Speed', 'Memory', 'Processor Type', 'Bundled Items', 'Condition' and 'Price'.
· Ensure the processor type is a Core 2 Duo before purchase, either by reading the seller's product descriptions in every listing or by using the sub-categories to specify processor type. Always buy from reputable sellers (look out for a gold badge next to their name) for the most reliable service.
Conclusion
For start-ups, small enterprises or businesses moving away from laptops, the HP Compaq DC7900 is a reliable and efficient business desktop PC, perfect for the small to mid-sized business or enterprise. Having clearly understood the technical specifications, hardware and security options available with the range in question, it is easier to make an informed decision on whether the HP Compaq DC7900 is the perfect desktop PC to equip a business workforce.