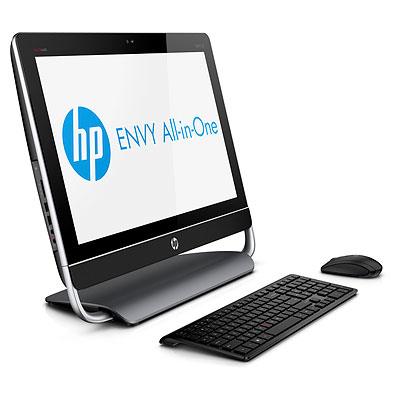 When choosing a home PC, there are several factors to take into account – family-friendliness, entertainment options and whether it can multi-task in a busy household. The HP Envy 23-1070a (product number H1Q24AA) has a space-saving, all-in-one design and delivers high performance, is well designed and has a focus on entertainment. This eBay guide will look into the specifics of the HP Envy series, including how to buy the HP Envy 23 on eBay.
Technical Specifications
The following table looks at the technical specifications that make up the HP Envy 23-1070a (product number H1Q24AA):
| | | |
| --- | --- | --- |
| Feature | HP Envy 23-1070a | Available alternative options |
| Processor | Intel Core i7 3770s at 3.1GHz | Intel Core i3 Dual Core; Intel Core i5 Dual Core; Intel Core i5 Quad Core; Intel Core i7 Quad Core; Intel Pentium Dual Core |
| Operating System | Windows 7 Home Premium 64-bit | Includes Service Pack |
| Chipset | Intel H61 | |
| Graphics | Integrated Intel HD 2000 | NVIDIA GeForce GT 540M |
| Memory (RAM) | 8 GB DDR3-1600 | Up to 16GB |
| Hard Drive | 2 TB SATA at 7200RPM | |
| Optical Drive | SATA Slot load SuperMulti Blu-ray Burner | |
| Networking | Wireless 802.11 b/g/n and on-board 10/100/1000Mbps Gigabit Ethernet | |
| Power Supply | 180W AC external power adapter | |
The table below lists the software that is typically included in the HP Envy 23-series:
| | |
| --- | --- |
| Software Category | Software Title |
| HP | HP Magic Canvas 5.1 |
| CD/DVD Burning | Cyberlink Power2Go |
| Entertainment, Music & Games | Cyberlink PowerDVD; HP Beats Audio; HP Games; rara music |
| Productivity | Microsoft Office Starter 2010; PDF Complete |
| Imaging, Photography, Video & Film | Cyberlink YouCam |
| Display | HP MyDisplay OSD |
| Security | Norton Internet Security 2012 (60-day security update subscription); Norton Online Backup (30-day trial) |
| Support | HP Help & Support Center; HP PC Hardware Diagnostics UEFI; HP Support Assistant; HP Update |
| Recovery | HP Recovery Manager |
| Networking & Internet Solutions | Microsoft Internet Explorer 9; Adobe Flash; HP Linkup |
Connectivity and Hardware Options
The All-In-One design of the HP Envy 23-1070a means the system's internal components and the display are integrated. It allows for easier portability and takes less energy to run, but it also means the system has many connectivity options, which the table below lists:
| | |
| --- | --- |
| Feature | HP Envy 23-1070a |
| Design | Gunmetal plastic base with curved metal bar to hold the display – a pivot point for adjustments forward and back. Soundbar above the stand has chrome HP logo and glossy finish. Edge-to-edge display with indent on top rear edge of display to serve as handle – easier to move it around. |
| Display | 23" (58.42cm) LCD high-definition panel display with WLED backlight, 1920 x 1080 native resolution and 16:9 aspect ratio |
| Weight | 7.7 kg (17.02lbs with integrated graphics and stand |
| Dimensions | Height: 17.9" (45.7cm); Width 22.8" (58cm); Depth: 8.3" (21.3cm) |
| Keyboard | USB interface for wireless keyboard with volume control and Beats key (turns on the Beats function – a bass sound quality for the speaker) |
| Mouse | USB port for wireless optical mouse with two buttons and a scroll wheel. Includes On/Off button on underside of mouse for extended battery life. |
| Audio | Integrated HD audio with speakers; includes Studio Quality Beats Audio Sound |
| Webcam | HP 1.0MP HD Webcam with built-in microphone |
| Ports | Two USB 3.0 ports; Four USB 2.0 ports; Memory card reader; Microphone jack; Headphone jack; TV tuner input; DC input power port; LAN; Subwoofer connector; Audio output jack; Wireless-N adapter |
| Media Card Reader | 6-in-1 Multimedia card reader |
How to Buy the HP Envy 23-1070a (product number H1Q24AA) desktop PC on eBay
Follow the steps below to buy the HP Envy 23-1070 on eBay:
· Using the search bar at the top of the home page, type in 'HP Envy H1Q24AA' or 'HP Envy 23-1070a' to browse the listings.
· Use the categories on the left to narrow down results. Categories to follow through will be Electronics, then Computers & Tablets and finally Desktop PCs. Type in the search terms again if necessary to narrow down results.
· It is also possible to narrow search listings by sub-category such as: 'Format, 'Brand', 'Processor Speed', 'Memory', 'Processor Type', 'Bundled Items', 'Condition' and 'Price'.
· When searching for the HP Envy 23-series, keep in mind to check the product number carefully to make sure it is the 23-1070a with product number H1Q24AA. Read the seller's product description carefully and check their profile to ensure they are a reputable seller with a good reputation.
· It may be possible to find the HP Envy 23-series H1Q24AA in eBay's recommended deals section. Go to the link at the top of the screen, then go Electronics and follow through into Computers to browse the deals.
Conclusion
When looking for a reliable All-In-One desktop PC for the home, the HP Envy 23-1070a (product number H1Q24AA) is the ideal design, delivering the required performance and with an entertainment factor to satisfy the whole family. Having understood the technical specifications and the functions the HP Envy 23-series can perform allows any buyer, novice or expert, to buy from eBay's range of desktop PCs with confidence.