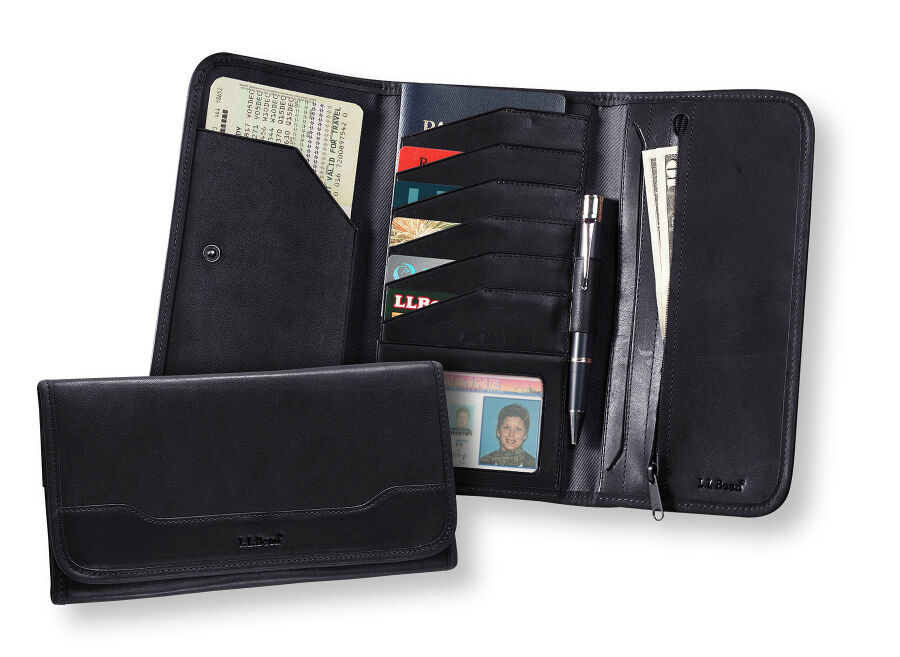 An identification wallet (or ID wallet) is a great investment for increased convenience when out and about. Being able to have at hand all the essential items that may be required when out of the house such as ID cards, credit cards, driver's license, cash, and even a phone in one simple wallet can save space and ensure one doesn't forget anything in a rush out of the house.
eBay's range of ID wallets can help buyers choose an identification wallet suited to a range of tastes and preferences, whilst this guide will take a look at the history behind wallets, and how to buy identification wallets on eBay.
What Are Identification Wallets?
A wallet in general is a foldable, small flat case, used to carry personal items. Some items that may be included in a typical wallet include cash, credit cards, photographs, gift cards, business cards and identification documents, such as a driver's licence, identification card, club cards and school ID cards.
Wallets used specifically for the display and carrying of identification cards are called identification wallets. This guide will take a look at wallets in general, with a brief attention to identification wallets.
History of Wallets
The original meaning of the word 'wallet' has meant a bag or knapsack for carrying articles. This term has been in use since the late fourteenth century, with the ancient Greek's usage of the word kibisis to describe a sack carried by the god Hermes, and a sack in which mythic hero Perseus carried the head of the monster Medusa, being translated as 'wallet'. Its modern usage dates to 1834, but the term 'wallet' has been used to mean many things from the 19th century onwards.
Now, wallets are one of the most common ways of carrying personal items, with men and women taking advantage of the versatility and convenience of these small, specially designed cases.
Materials and Construction
Wallets are made from a variety of different materials, including nylon, canvas, imitation leather, real leather and plastic. Many traditionalists prefer genuine leather wallets due to its superior durability, practicality and comfort, as well as the added style and prestige offered by the traditional wallets.
Wallets are usually bi-fold, meaning they fold into themselves once, across the middle. Multiple card slots for the housing of ID cards, credit and cash cards and driver's licenses were introduced in the 1950s after the invention of credit cards. Wallets typically have an opening that spans the length of the wallet for cash to be stored, and often some form of enclosed space for coins. Modern wallets can be Velcro-enclosed for extra security. Wallet sizes can vary, with the most popular being pocket-sized.
Types of Wallets
There are several varieties of wallets available to buy on eBay. The following is a short round up of the wallets that are available:
Breast Wallet: A breast wallet is long enough to carry banknotes so they don't need to be folded. They are stored in a man's jacket breast pocket, or a woman's handbag. They are also called 'secretary wallets' or 'chequebook wallets', as they often hold cheques and other monetary documents which are too large for safe storage in a trouser pocket.
Bi-Fold Wallet: The bi-fold wallet is the most common wallet design, and involves storing credit cards and identification cards horizontally or vertically in a separate section.
Tri-Fold Wallet: A tri-fold wallet is less common than bi-fold wallets, and often bigger; this wallet has two folds, with cards stored vertically in a separate section.
Front Pocket Wallet: The front pocket wallet, also called a money clip, does not have a currency compartment, and has very few pockets for cards. The folded banknotes are held to the wallet with a metal clip.
Long Wallet: The long wallet is usually worn with jeans and may be fastened to it using a chain, strap or leather rein. They are thicker than normal wallets, and typically have a purse for the secure storage of coins, whilst banknotes are placed flat in a separate section. They can often be tri-fold, with the folds occurring both vertically and horizontally. They are popular with motorcyclists for the secure carrying of money while riding, and with men in cash-based countries such as Japan.
Wallet Band: The wallet band is a continuous elastic band, made of fabric or rubber, is used to secure the cash and cards to the user. They are less bulky than a traditional wallet.
Wrist Wallet:Wrist wallets are often used by women. These can be secured to the wrist to keep the user's hands free.
Travel Wallet:Travel wallets are specially designed wallets for holding essential travel documentation, such as passports, tickets, boarding passes, foreign currency, travellers' cheques, itineraries, travel insurance, hotel booking information, and perhaps car rental information or a driver's license.
Identification Wallet, ID holder: ID holders are thin nylon or leather cases, with transparent plastic compartments for the easy display of ID cards. They are usually worn around the neck. Identification wallet, Identification wallets tend to be slightly bigger than ID holders and, as well as having space for the display of ID cards, also includes extra pockets for holding small items, such as a few bills and perhaps a credit card.
Jimi Wallet: This is a minimalist wallet constructed of hard plastic and is ideal for outdoor use. Some Jimi Wallets have one section to hold all items, whilst other Jimi wallets have compartments for easy separation of ID cards and credit cards.
Exercise Wallets:Exercise wallets are small wallets that attach easily to the body, often using Velcro, designed primarily for use during exercise.
Most wallets generally feature either a zip closure, Velcro closure or press-stud closure for the secure storage of items while the user is moving.
Wallets are typically coloured in a shade of brown due to the leather component used to make them, but modern wallets may come in any colour of the rainbow, with a variety of designs. Some wallets are also made of snake or crocodile skin, which affects the texture of the wallet, making it slightly marbled or patterned.
How to Buy Identification Wallets on eBay
Follow these simple steps to buy an identification wallet on eBay:
· If shopping for a particular brand of identification wallet, simply type in the details in the search bar at the top of the screen. Include the words 'ID wallet', 'wallet' or 'identification wallet' with the search for relevant results.
· The 'Shop by category' drop-down menu near the eBay logo, or the left hand sidebar can also be used to shop for wallets. Simply find the Fashion section, which turns automatically into 'Clothing, Shoes & Accessories', then go to Women's Accessories and Wallets.
· The listings can then be narrowed using the following options: 'Format', 'Colour', 'Brand', 'Size', 'Material', 'Product Type', 'Condition', 'Price' and 'Item Location'.
· Wallets may be found in eBay's recommended deals by going to the eBay deals page from the top of the screen, then to Fashion & Beauty, then to Accessories, and finally go down to 'Men's Wallets' or 'Wallets and Purses.
Conclusion
Buying an identification wallet is an intelligent step towards keeping important documents safe and to hand while travelling or simply going about one's day. eBay's extensive range of ID wallets, and the many varieties of wallets available, mean it is always possible to pick the perfect wallet to suit any buyer's needs. Whilst owning a wallet means keeping all essentials in the same, handy space, eBay's range of ID wallets mean the process of buying wallets can also occur on the same, convenient site.