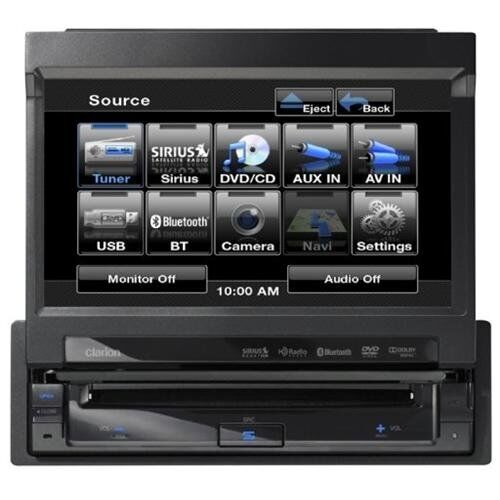 One of the best ways to add value and entertainment to a car is by upgrading a vehicle's entertainment system. While some people focus on the stereo and sound system, many consumers enjoy the option of installing in-dash DVD players into their cars. This addition can provide entertainment for riders, keep kids occupied on long drives, and enhance the value of a vehicle. For those consumers who are just starting the process of finding the right in-dash DVD players for their needs, they may want to first learn the ins and outs of these electronic devices as well as how they fit and install into dashboards. Consumers may also want to find out how to shop for one of these units using one of the better retailers out there, eBay.
Buying an In-Dash DVD Player on eBay
As an aggregator site, eBay provides a large array of car DVD players from which to choose. Despite the size of this catalogue, it is quite easy to search through and find the products you need. First, find the search interface on any page on the site. Next, enter a term that describes the type of unit you want. Before beginning the search process, however, you may benefit from first reviewing some of the basics involved in car DVD players, including their feature sets and fitting guidelines.
The Basics of In-Dash DVD Players
Understanding how in-dash DVD players work and the designs and feature sets they come with is an essential first step in the purchasing process. Knowing how to get the right fit is also important. Finally, understanding something of the rules and guidelines for these electronic devices is another factor to consider when shopping on eBay for an in-dash DVD player.
What Is an In-Dash DVD Player?
In-dash DVD players are flat, mid-sized devices designed to fit into the dashboards of cars, trucks, or vans. The screen takes up the front of the form factor of the device and typically installs flush with the dash itself. The component of the DVD player that installs into the front dash is known as a head unit. In many cases, this is the control unit for a larger, multi-zone system that may include monitors installed in the back row or rows of a vehicle. Head units often feature a range of other features for a driver, including a GPS.
Types of In-Dash DVD Players
In-dash DVD players are sized under an international standard known as DIN. In-dash DVD players can be either 1 DIN or 2 DIN systems. A 1 DIN system is similar to the average car radio with a long, thin form factor. The screen may be retractable and slip into the body of the player when not in use, or it may extend out from the component of the player that is integrated into the dash. A 2 DIN system is like a double-decker version of a 1 DIN system and resembles a tablet computer in scope and layout. This is a much larger and more seamless design, with the screen typically fitting flush into the dash.
Fitting Considerations
Before shopping for in-dash DVD units, consumers should measure carefully the amount of space they have available. A 1 DIN unit can fit well with many standard dash openings in a vehicle, while a 2 DIN unit may require some modifications. When shopping on eBay, consumers can communicate with their sellers to confirm the sizes and specs of units. They can also ask for advice regarding the suitability of various units for particular makes and models of cars and trucks.
Features Available on In-Dash DVD Players
There are a range of features available for in-dash DVD units. These features can enhance both the driver's and the passengers' experience in a vehicle.
Touchscreen Capabilities
The last thing a driver wants when operating a vehicle is to deal with a series of buttons and knobs. That is why many DVD players for vehicles leverage a touchscreen on the head unit. This allows for easy and intuitive navigation of the control interface. Just as on a tablet computer, a touchscreen-style DVD player utilises large icons that a user only has to tap to access various features within the player's system.
Support for Additional Media Formats
Consumers may also wish to enjoy media beyond movies on their DVD systems. For this reason, many people look for units that can handle a range of disc and media formats beyond DVDs. These can include CDs, VCDs, WMAs, MP4s, AVIs, MP3s, CD-Rs, CD-RWs, DVD-Rs, and DVD-RWs. The majority of car DVD players also provide an interface for listening to AM/FM radio.
Anti-Shock Stabilisation
Since a moving vehicle can encounter bumps and dips in the road at any time, it is usually best for consumers to seek out DVD players that feature anti-shock stabilisation. This feature allows the units to cope with small bumps in the road without skipping over video.
Bluetooth Capabilities
An in-dash DVD player can also function as a hands-free accessory for a mobile phone if it has Bluetooth capabilities. The Bluetooth feature allows the head unit to port with the mobile and then function as a speaker for the phone via a microphone built into the unit.
Remote Controls
At times, a passenger in the back seat may wish to operate the in-dash system. For this reason, consumers may want to have units that come with remote controls. With a remote control, a driver can concentrate on the road and allow the kids, for example, to fast forward to their favourite scenes in movies.
GPS Navigation
Many car DVD players can also double as GPS navigators. A GPS system provides maps and driving directions as well as traffic advisories and other necessary local traffic information. In a multi-zone setup, a driver could keep the head unit on the GPS setting while the passengers in the back enjoy the DVD function.
Reversing Camera
Some in-dash units in car DVD systems can also function as displays for reversing cameras on a vehicle. A reversing camera mounts on the rear of the car or truck and provides a view of the area behind a vehicle when a driver is in reverse. This can function as a great safety measure and help prevent accidents and fender benders. When in reverse, the image from the camera displays on the head unit so that the driver can safely operate the vehicle.
The Purchasing Process on eBay
Once you have settled on the range of features you want in your DVD player and the size of the player you want, you can begin the purchasing process on eBay and find a great deal. After you run your search, start reviewing any interesting listings in detail by clicking on their titles. Look for technical specifications on a unit as well as for purchasing information that can affect your decision, such as the shipping cost and methods used by a seller or the payment methods accepted.
Evaluating Sellers on eBay
It can be beneficial, as well, if you take the time to evaluate the sellers on eBay. As you review listings, also click on the seller's name and visit the seller's page. Look for feedback from other customers and past listings that the seller has posted. You can also communicate with a seller from this page, and this gives you the chance to ask any questions you may have about a unit.
Conclusion
Adding an in-dash DVD player to a vehicle is a way to enhance a car's interior and make car trips more enjoyable for passengers. These units come with a range of features that consumers might like to get to know before beginning the purchasing process on eBay. The possibilities include GPS navigation, Bluetooth capabilities, and the ability to play a wide range of media beyond just DVDs. Getting the right feature set can greatly enhance a consumer's satisfaction with a unit in the end.
Learning some of the basics of shopping on eBay, including learning how to communicate with and evaluate sellers, can also add value to the experience. By entering the purchasing process informed, consumers can easily leverage eBay to find the ideal in-dash DVD players they need for their vehicles.