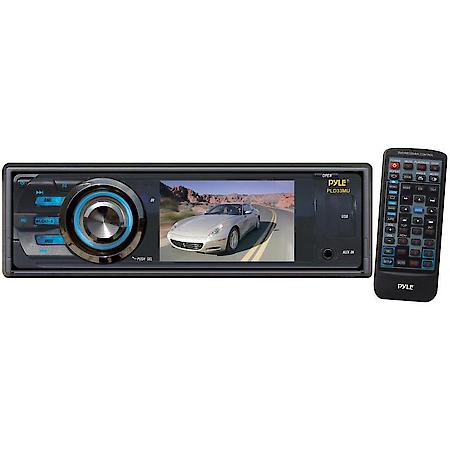 An
in-dash monitor
enhances the driving and the riding experience for many consumers who purchase a monitor for their vehicle. The monitor is useful for many functions, such as a rear parking camera, DVD and music player, or a GPS navigation system. Monitors are mounted conveniently in the dash for easy access, and many offer extra features such as touch-screen capability or a remote control.
Consumers can find a variety of features included with monitors, and can shop for monitors by the size of the screen, MP3 access, radio function, or touch-screen capability. While there are in-dash monitors available at retail electronics stores, buyers can find many affordable types of monitors when they shop for new or used in-dash monitors from the wide selection on
eBay
.
Shop by Monitor Size
Buyers shopping for a monitor on eBay may notice some categories they are not familiar with. In-dash monitors are characterised by the size of the monitor, as well as the make and type of monitor. Buyers who are seeking a monitor to fit in a specific area should shop by size to ensure the perfect fit for the space where they want to install the in-dash monitor.
Double DIN
A
double DIN
essentially refers to the size of the monitor. The double DIN monitor is larger than the standard monitor size, which is the single DIN. Consumers need to know before shopping which type of opening their vehicle has so they are able to purchase the correct monitor by DIN size. Larger vehicles have the space to accommodate a double DIN system, which may offer more features such as an integrated DVD player and radio.
Single DIN
A
single DIN
in-dash monitor is designed to fit into a single DIN space. This type of monitor may not have all of the features a double DIN offers, but offers a monitor along with the connections that create the options consumers need, such as rear camera or DVD player. The features just may not be included in the player due to space limitations.
Browse by Monitor Make
To ensure the monitor fits the vehicle, buyers are able to select the make of car they are purchasing the monitor for when they are shopping on eBay. Monitors are created to fit specific types of cars, such as a Honda,
Audi
, or
Ford
, and some are even created for certain models of cars, such as the Nissan Maxima. Buyers who purchase an in-dash monitor that is specific for their car are ensuring the best fit and easiest installation process for the monitor.
Look at the Different Monitor Types
Buyers are able to purchase different types of in-dash monitors from the options on eBay. Some monitors offer a wide range of features, and some only offer a couple of options. The features the monitor includes create a variety of price ranges, so for buyers on a budget, a basic monitor without too many features can be purchased for an affordable price.
DVD Player
One of the most common types of monitors is used in conjunction with a
DVD player
to keep passengers entertained on long road trips. Some of these monitors include features such as touch screen ability, high-definition viewing, and a detachable front panel, which is a good security option.
Newer models of in-dash monitors which include a DVD player often have additional ports so consumers are able to hook up an MP3 player or other peripheral devices. Some monitors also have Bluetooth capability for making calls while driving much more convenient.
Rear Camera
A
rear camera
is a good option for consumers who have a hard time parking a larger vehicle, or often need to parallel park and need some extra guidance. An in-dash monitor that features a rear camera, also called a parking camera, ranges from a basic model that is the rear camera only, to more loaded monitors that also have other features such as Bluetooth access and an included DVD player.
In some models that are available on eBay, the monitor is motorised and flips out easily from the dash when it is in use, and the thin monitor is easy to see and to use. Options may include a stereo, USB ports, or a touch-screen monitor.
Navigation/GPS
A popular type of in-dash monitor, especially for consumers who travel frequently, is a
GPS monitor
. These may display driving directions to a location to help drivers navigate to their destinations, or speak directions aloud for ease of travel. A GPS or navigation monitor generally has a touch screen and may offer other options for driving convenience, such as a parking camera or USB ports.
Combination Monitor
If consumers want to have it all, a combination monitor that has a rear camera, DVD player, GPS system, and radio is the perfect entertainment companion for trips. These in-dash monitors are the most expensive type, but the hours of entertainment they offer are priceless to consumers who want to stay entertained on the road.
Monitors vary in sizes and features, and while some offer smaller screens, others may have motorised, larger screens with high-pixel images that offer consumers high-definition viewing experiences. Some monitors also offer the ability to stream satellite radio, plug in smartphones or iPods, and have an included anti-theft device.
Considerations When Purchasing an In-Dash Monitor
When buyers are seeking a monitor for purchase on eBay, there are a few additional options to weigh. Some features may be more important than others, and some consumers may want a larger screen for their monitor.
| | | | |
| --- | --- | --- | --- |
| Screen Size Options | Added Features | Special Options | Security Features |
| 8-inch | MP3 capability | Ultra-thin screen | Inbuilt alarm |
| 7-inch | Bluetooth | Voice command | Removable face |
| 5-inch | Touch screen/remote control | AM/FM radio or satellite radio option | Flip screen |
Buyers should weigh the various features and costs to determine which monitor is right for their needs. Some consumers may enjoy more updated features such as iPod connectivity and Bluetooth access.
How to Buy an In-dash Monitor on eBay
Get a great deal on a new in-dash monitor on
eBay
, and find the user-friendly search box on any internal page to navigate your way to
in-dash monitors
. Filter the categories to zero in on your exact monitor by selecting the make of your car as well as whether or not you have a single DIN opening or a
double DIN
opening in your vehicle.
Once you have narrowed the selection down to a few in-dash monitors, comparison-shop by brand, size, price, and style of monitor. Another way to make sure you are getting a good monitor is by checking that you are purchasing yours from an authorised merchant who is also a
Top-rated seller
on eBay with many satisfied buyers to their credit.
Conclusion
Having an in-dash monitor in a vehicle is a worthwhile investment. Not only is it able to perform a variety of functions, such as play DVDs and CDs, help consumers parallel park, and navigate in an unfamiliar city, but it is also affordable and a great way to keep kids entertained. The new technology of in-dash monitors combines entertainment with convenience, and these easy-to-use electronics come loaded with features for a surprisingly affordable price.
In-dash monitors are built to fit in specific makes and models of vehicles, and some even have a removable faceplate for safety purposes, as well as other features such as an alarm. Whether or not consumers decide to get a fully loaded monitor or a basic style, it is a smart enhancement and addition to any vehicle.