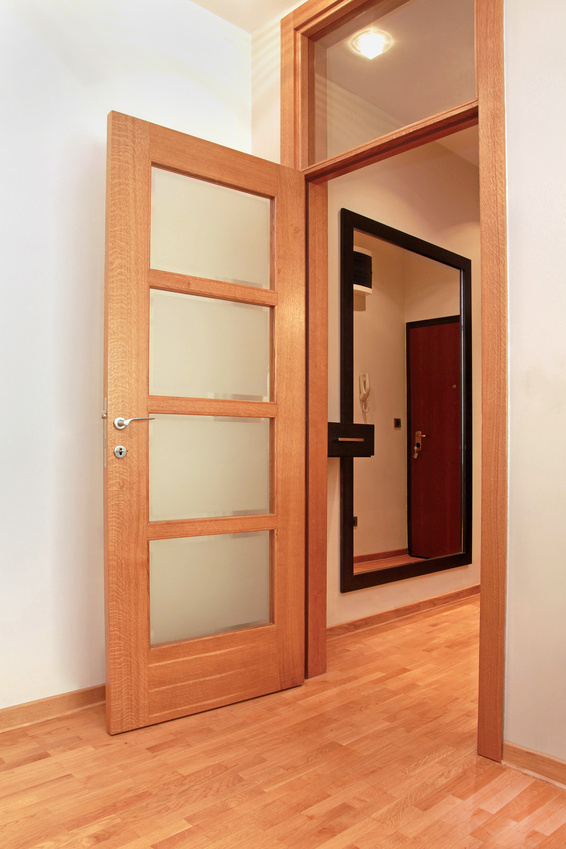 Whether a homeowner is building a new residence or remodelling an existing home, finding and installing interior doors are essential parts of the process. Consumers have access to a wide array of different products and it pays to take care when making the decision. The particular door chosen can have an influence on the style, comfort, and privacy of a home. Here are a few things for homeowners to keep in mind while looking for interior doors.
Interior Door Types
Interior doors are made of a variety of materials, and designs are available to suit nearly any taste. Choosing the right product depends on a home owner's goals and design schemes.
French Doors
French doors are distinguished by the fact that they have a glass face that is ideal for open areas inside the home. The products may be made with one pane or several panes of glass separated by wood panelling. French doors are composed of two panels, making them ideal for larger openings. They often serve as a transition from one room to another, such as a dining room to a living room.
Pocket Doors
Pocket doors are ideal for situations where space is at a premium. The doors slide back and forth along a track that is installed at the door frame's top, remaining hidden behind a wall panel when not in use. Pocket doors are ideal for closets or small laundry spaces.
Hinge Doors
Hinge doors are the most common type of door. They open inwards or outwards by moving on a hinge installed on the door jamb. Hinged doors may be made of wood or a composite material and are available in a range of different designs. Hinged doors allow homeowners to create private areas in their homes. They're an ideal option for bedrooms and bathrooms.
Sliding Doors
Much like pocket doors, sliding doors are available with two panels for large master closets or a single panel for smaller closets.

Interior Door Styles
Interior doors are offered in different patterns and designs, and consumers can shop for products that match their home's decor or use them to create a new look. Hardware, doorknobs, and finished appearance will all play a role in a room's feel. Here are a few of the different door styles that are available on the market.
Panelled Doors
Panelled doors have an exterior surface that may be composed of one or several raised areas. These types of doors lend a degree of texture to a home's interior decor. Panelled doors are often used between rooms, and sliding, pocket, and hinged doors may all feature panels.
Flush Doors
Flush doors have a surface that is completely flat. These are commonly found on all types of doors, like French, hinged, sliding, and pocket doors.

Interior Door Material Options
Consumers can choose from two major types of interior doors: hollow or solid interior. Hollow doors are lighter and may be more affordable, but they may not withstand heavy impacts as well as solid doors. Solid interior doors may be made from one piece of wood or have a composite material on the interior. While solid doors may be heavier than hollow doors, they also add an extra layer of insulation to a room.
Finding Interior Doors on eBay
On eBay, shoppers can look for pre-owned interior doors that could stretch a consumer's spending power or look for new products from local manufacturers. While shopping for interior doors, homeowners want to thoroughly measure their door jambs to ensure a perfect fit. By entering specific terms into the search bar, you can find general results that can be pared down by sorting through categories found on the left-hand side of eBay pages.

Conclusion
Homeowners can make big changes to their homes' style simply by changing the interior doors installed throughout their home. eBay makes this easy by providing a wide variety of door types and styles, as well as inexpensive options like second-hand doors.