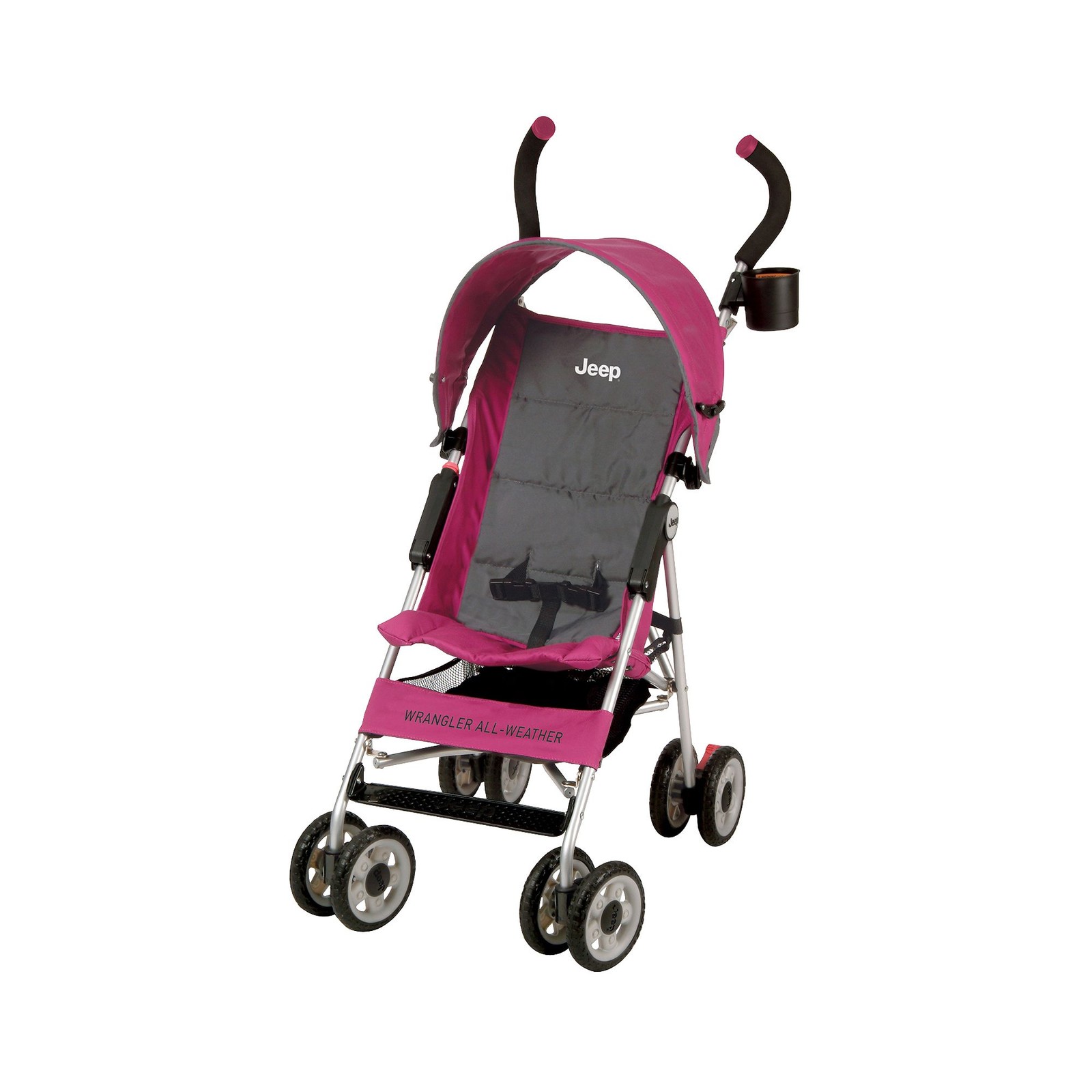 For the consumer who wants quality and a good value, there are places where an inexpensive yet reliable and useful umbrella stroller can be found. But first the user must be aware of the different features an umbrella stroller has, the different types of umbrella strollers available, and what age group this stroller is best used with. The buyer should also consider how long the stroller is used. If the parents plan on having more than one child, the stroller can be used multiple times. Additionally, the budget-conscious shopper should consider buying on eBay, one of the best places to find a new or used, but still high-quality, umbrella stroller at the price that fits his or her budget.
About Umbrella Strollers
The basic design of an umbrella stroller typically gives the user a lightweight, compact stroller that often includes a canopy shading the toddler from sun, rain, and other elements. It is advised that only toddlers six months and older are put into these strollers, as younger infants do not have good head and neck control. Most umbrella strollers can accommodate roughly 18 kilos, which lets parents use these strollers until their child is about four years old.
Features of Umbrella Strollers
Most umbrella strollers are fairly lightweight, with "lightweight" often translating to between 3.5 to 4.5 kg; however, larger, more expensive strollers can weigh up to seven or more kilos. Some important features to look for in this type of stroller are the safety features, ease of use, stability, amount of recline it allows the toddler, and the nature of the canopy. With safety features, five- or three-point harnesses with secure buckles are commonly seen on many strollers, regardless of type, to securely strap the child in. Another must-have safety spec is rear wheel brakes, though some strollers go the extra mile and have one-touch linked brakes for the rear wheels, which makes braking easier.
Regarding ease-of-use, a compact stroller usually can be opened and closed with one hand with locks that close automatically and a carry handle or shoulder strap for simple transportation. Additionally, a stable stroller is a safe stroller: stable strollers should not have wobbly wheels for any reason. Unfortunately, the compact nature of most umbrella strollers makes them unable to support much weight on the handles without tipping backwards. The user should test how much weight the stroller can support on its handles carefully before taking his or her child in it.
The next feature to look for is the amount of recline that is present in the umbrella stroller; since a child most likely naps in the stroller, the parent wants to buy a stroller that reclines at least somewhat. Finally, the defining feature of the umbrella stroller is its canopy, and while sizes of canopies vary from brand to brand and model to model, some strollers have UV-protected fabric or adjustable or removable canopies, so the user can look for this when shopping umbrella strollers. All of these features listed are not limited to big-budget strollers, and can be found on more inexpensive models that the user can afford.
Types of Umbrella Strollers
While still keeping to a budget, the buyer can explore the different types of umbrella strollers available. For example, one such type is the double umbrella stroller. Including seats for two children, these strollers often have all of the same features as a normal umbrella stroller, but with extra room for another toddler. There is also the all-weather stroller, which is ideal for parents who like to take hikes with their child. All-weather umbrella strollers include the defining canopy and compact design, as well as other features, such as all-terrain, shock-absorbing wheels, an adjustable seat pad, storage bag for hiking gear, and more. An all-weather umbrella stroller is recommended for users who live in snowy terrain or in neighborhoods with uneven sidewalks, as the all-terrain wheels give your toddler a smoother ride.
Between these two types, the all-weather stroller is only a bit more expensive than the regular umbrella stroller, and is still affordable to the user. If the parent wants a normal umbrella stroller, but one that is colourful and fun, there are many budget-friendly options to accommodate the user. For example, there are many Disney strollers available from stores and eBay, featuring characters like Mickey and Minnie Mouse, the Disney Princesses, and the characters from the movie Cars. There are also umbrella strollers in simple solid colours like red, black, and pink, or with fun patterns, like race cars or polka dots. Buying a Disney stroller or just a colourful compact stroller does not increase the price much, if at all, and can be a nice, colourful treat for one's child to look at while still remaining within the parent's budget.
How to Buy
Whether you choose to buy an all-weather umbrella stroller, a double umbrella stroller, or just a normal, regular umbrella stroller, you can look on eBay to find whatever stroller fits your child's needs as well as your budget. First, take a look at the daily offers on eBay Deals for great bargains. If what you are looking for is not there, go to any eBay page. Next, type keywords into the search box, such as " all-weather umbrella stroller." You can narrow down the search results that you find by specifying your search by certain categories, such as brand, price, colour, condition, and more. By searching through the thousands of sellers offering millions of products, you find the right stroller for your family while still getting a good value.