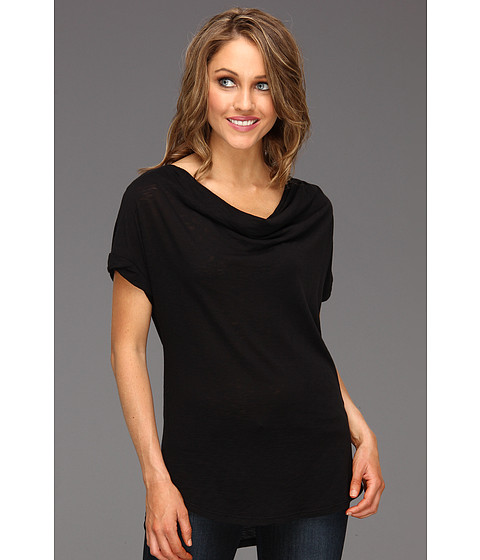 Jersey tops are a versatile component of every woman's wardrobe. They are constructed from a knitted textile that is made from 100 percent cotton or a cotton synthetic blend. The material is stretchy, making it a great choice for those that like form-fitting clothing. Jersey is also soft, light, and has insulating properties, allowing for greater comfort.
Jersey tops come in a wide array of colours and patterns. They can also be found in various sleeve lengths and neckline shapes. When purchasing a jersey top and considering how to wear it, buyers should understand the history of the fabric, familiarise themselves with the various fabric and neckline types, learn about proper sizing, and understand proper garment care. Jersey tops can be bought from fashion boutiques, department stores, and online at retailers, such as eBay .
The name of the fabric is derived from Jersey, the largest of the chain of islands known as the Channel Islands, located between England and France. Jersey is the first place where the fabric was produced. In addition to its long standing history of human occupation, the island is well known for its Jersey cows, which are raised for their rich, creamy milk.
Jersey tops are considered to be a form of casual wear and generally reserved for informal or relaxed settings. The fabric may be made from 100 percent cotton or a cotton synthetic blend. When purchasing a jersey top, buyers should consider the unique properties of each fibre and the amount of care required.
Jersey tops made of 100 percent cotton are preferred for their breathability, wicking away moisture and retaining some warmth when wet. Cotton is highly absorbent; it absorbs up to 1/5 its weight before feeling damp. It is resistant to static and pilling and stays cool to the touch. It is also considered to be hypoallergenic, meaning jersey tops made from the fabric are ideal for those prone to allergies or skin irritations.
Its silk-like qualities mean 100 percent cotton jersey tops tend to be more expensive than tops made from cotton synthetic blends. Although cotton takes natural dyes well, the fabric tends to fade over time, especially if exposed to direct sunlight. In addition, 100 percent cotton is highly susceptible to shrinking.
In order to reduce the cost of production, many manufacturers produce jersey tops made of a cotton synthetic blend. These tops generally contain some amount of polyester, so are less prone to wrinkling and shrinking than 100 percent cotton. They are colour fast and resistant to fading in sunlight. However, jersey tops made of a cotton synthetic blend are more susceptible to pilling. In addition they do not wick away moisture and lose their warming ability when wet. They also tend to be rougher and less breathable.
When searching for Jersey tops, buyers should keep in mind garment sizing. Jersey tops are sized according to bust and waist measurements as seen in the table below.
| | | | |
| --- | --- | --- | --- |
| Dual Size | Single Size | Bust (cm) | Waist (cm) |
| XS | 6 | 80-84 | 60-64 |
| S | 8 | 85-89 | 65-69 |
| M | 10 | 90-94 | 70-74 |
| L | 12 | 95-99 | 75-79 |
| XL | 14 | 100-104 | 80-84 |
| XXL | 16 | 105-109 | 85-89 |
All cotton tends to shrink when washed. This means that, before choosing the correct fit, it is important to consider whether the fabric is entirely natural or partially synthetic, as well as whether it has been pre-washed.
Wearing a Jersey Top
The neckline of the jersey top can change its appearance and the way it is worn drastically. When searching for a jersey top, buyers should bear in mind their body type and the influence that it has on the neckline chosen, as well as personal preferences.
Type of Neckline

Description

Boat

Wide neckline that runs horizontally from front to back, almost to the shoulder joints

Can make broad shoulders look broader

Ideal for offsetting wide hips

Also referred to as a bateau neck

Crew

Simple, high, round shape that sits at the base of the throat

Can emphasise a large bust, short neck, or double chin

One of the most common types of neckline

Also known as a jewel neckline

Scoop

Curved U shape

Depth of the U can vary, ranging from demure styles to plunging

Highlights a round, full face

Elongates a short or thick neck

Displays the collarbone beautifully

V

Neckline resembles the letter V

Depth of the V can vary

Fabric slopes to a point above or between the breasts

Universally flattering

More revealing

Skivvy

Rises above the shoulders and hugs the neck

Popular during the colder time of the day

Halter

Loops around the neck, leaving the base of the throat and shoulders bare

Top of the back is exposed

Straps can vary in thickness

Ideal for elegant evening wear

Strapless

Exposes the shoulders, collar bones, and neck

Tight around the bust to keep the garment in position
If searching for a conservative or more sophisticated jersey top, buyers should choose a boat neck. On the other hand, a top with a plunging V-neck is more revealing.
Caring for a Jersey Top
The care directions for a jersey top may vary slightly depending on whether the fabric is made of entirely natural fibres or is partially synthetic. In general, jersey fabric can be washed in warm water with like colours and tumble dried on a medium setting. To prevent the colour of the fabric from fading or unwanted shrinking, launder the jersey top on a cold setting and dry the garment on a low heat. Due to the porous nature of jersey fabric, it is best to avoid mixing bright colours with whites when washing in order to avoid colour bleeding.
Buying a Jersey Top on eBay
Purchasing a jersey top on eBay offers buyers a wide variety of choice in any price range to meet any budget. Buyers can search easily for jersey tops by using eBay ' s keyword search. Buyers can type in any related key terms such as "jersey tops". This is likely to render a large number of listings. For more limited search results, buyers should type in specific key terms such as "100 percent cotton jersey top".
Alternatively, buyers can use eBay's advanced search and the Deals function. This allows them to limit their search by features, like colour, price, or condition. Buyers can also limit the results to items sold by Top-rated sellers. Top-rated sellers are recognised by the eBay community for their high levels of customer service and good quality products. These sellers receive consistently positive feedback ratings from other buyers.
Conclusion
There are many aspects to consider when buying a jersey top to ensure that it is the right garment to wear. Buyers must first consider the nature of the fabric. Jersey is generally made of 100 percent cotton or a cotton synthetic blend. Since 100 percent cotton is known to shrink, buyers must pay close attention to sizing to ensure the jersey top fits perfectly. Also consider the top's style, including the shape of the neckline. The neckline can greatly alter the appearance of the garment, especially in relation to a woman's body type. V-necks tend to be universally flattering, while some women prefer the more conservative look of the scoop neck or skivvy. Buyers should familiarise themselves with the garment's care instructions for long lasting wear. eBay sellers offer a range of jersey tops.