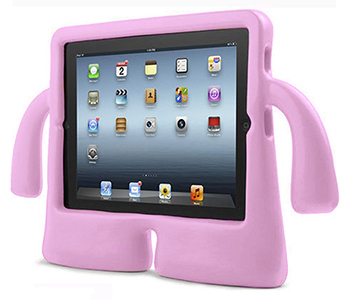 The iPad Minis are electronic tablets perfect for children. These days, kids of all ages -- as young as age six or seven and up into the teenage years -- are versed with using iPads.
The iPad Mini is portable and capable of handling the same tasks as the larger iPad counterparts. Minis are also ideally sized for smaller hands and to be stowed away in backpacks.
While all iPads are sensitive to the potential of breakage, an iPad Mini may be more vulnerable as a thinner device. As children tend to be active, purchasing a protective cover for an iPad Mini becomes more imperative.
Beginning the Search
The first factor in searching for an iPad Mini Case is budget. An iPad Mini case can run as steeply as AU $300 for a high quality leather case, or as minimally as AU $1.00 for a silicone rubber type. Mid-priced iPad Mini Covers are other options, ranging from AU $20 to $50. Once a buyer has set their budget, they can search for the iPad Mini Case tailored to the need of the user.
Apple sells its own iPad Mini covers, while most offered in places other than Apple retailers are aftermarket products, except in cases when a merchant is an Apple brand seller.
Materials for iPad Mini Cases
The outer material for the iPad Mini Case is one facet of the purchasing process.
In shopping with Apple resellers, Apple's Smart Case is perfect for all age groups. The case is made with dyed leather and slips over the iPad Mini, protecting both the iPad's back and screen. Once it is opened, the iPad automatically turns on, and then returns to sleep mode when it is closed. The case folds inward, forming a stand, and then folds back to transform into a keyboard stand.
For some kids, an aftermarket silicone case may be ideal, with a gel back for more cushioning, and with a wide choice of colours.
Rigid plastics and rubber covers are also durable, easy to clean and appropriate for younger and older kids.
An appealing possibility for a very young child may be foam iPad Mini Cases, which are often manufactured into different shapes, like trains and robots, plus come in many hues. While foam iPad Mini Cases are affordable, they may provide added insulation, which could heat up the device.
There are other materials as well that could be appropriate for a child, depending on age. Suede cases are stylish, along with faux suede, though probably not practical with small children due to the possibility of soiling the case. Aluminum is another type of case material, though likely not appropriate for smaller children. Canvas is another surface that could be a good material for an older kid's iPad Mini Case.
In leather, the quality can range from imitation to the supplest of leathers, some embossed and dyed in fashion colours.
Case Extras
There are extras that often come with iPad cases, to make the iPad Mini even more versatile. Some iPad Mini Cases allow the iPad to be slipped in, with an external keyboard as a part of the case package. In turn, the iPad Mini becomes similar to a laptop while in its case. Others are equipped with stands that have 360-degree swivel capabilities, to enable the iPad Mini to be oriented in either portrait or landscape orientations.
Other cases are equipped with built in carrying handle, such as the foam cases, which can facilitate a smaller child's ability to tote around their iPad. Some cases are pouch style with a handle and manufactured with neoprene, which is a rubbery fabric that helps to cushion the iPad Mini.
Some cases may come with screen covers, or this can be an additional accessory purchase, with sticker varieties for sale to place over the iPad to prevent smudging and to provide some water protection to screens.
Case Designs
After choosing a suitable exterior for iPad Mini Cases for kids next it is to choose a case design. There is a range to choose from in terms of design. With some cases, it is simply a matter of choosing a child's favourite colour -- which a selection as vast as the rainbow is available. Some manufacturers offer styles encrusted with bling, like rhinestones. Other iPad Mini Cases feature patterns, such as striping, or pictures like a child's preferred superhero or cartoon character. There are some stylish, but generic patterns with prints of animals or sports motifs, and even cases with the Eiffel Tower.
Final Selection
Once a person selecting a case for a youngster has ascertained their budget, case design, case material, desired case colour and any extras, then they will be ready to shop. Before finalizing purchases, buyers should review seller policies for returns, costs for shipping and money back guarantees.