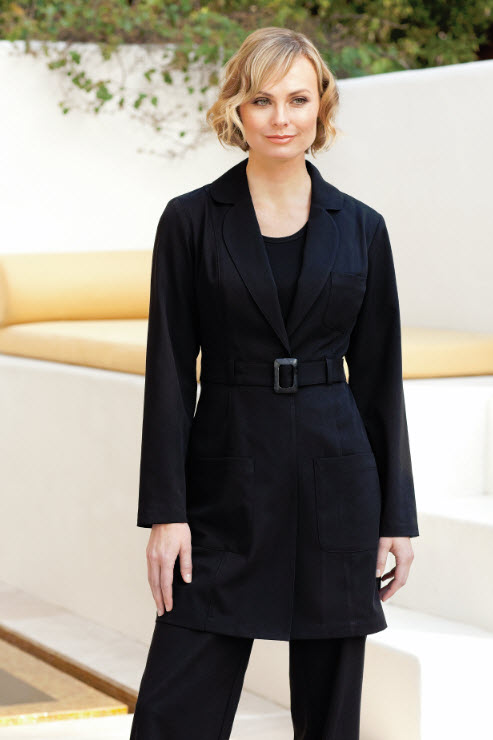 Jackets are the ultimate accessory. They provide an extra layer of protection from the elements, they look great, and they can go on and off to completely change the look of an outfit. Of course, not all jackets look good on all women. Aside from issues like colour and personal style, the shape of a woman's body determines how her jacket hangs on her and how the fabric shapes her profile. The jacket that looks cute and professional on one woman might look silly and strange on another. A major key to choosing the most flattering jacket is for a woman to know her body's basic shape and to learn how different jacket cuts are likely to look with that shape.
What Does Shape Mean?
There are many different systems for describing a woman's shape, but in general it just means her silhouette from shoulders to thighs. For closely fitting garments, getting the shape right is critical to getting the right fit. With jackets and coats, the issue is more one of overall look and how the garment hangs on the body.
How to Identify Body Shape
Identifying body shape can be confusing, in part because the best way for a woman to really see her own shape is to look at herself nude in a full-length mirror, something few women do very often. Then, too, there are as many woman shapes as there are women, and so most women fall somewhere between the described shapes. But these are just guidelines; focus on the relative size of hips, waist, and bust, and get a general idea of what style jacket might hang best on a particular frame.
Rectangle
Rectangle women are about the same size at the hips, waist, and bust, sometimes called a boy figure. These women have the flexibility to pull off either a classically feminine or an androgynous or even masculine look.
Inverted Triangle
Inverted triangle women are relatively large up top, either in the bust or across the shoulders or both. The hips are narrow. This shape is also called athletic, though that can be confusing because an athlete can include a variety of shapes. Like rectangle women, triangle women get to decide whether to go with a masculine look or to downplay their shoulders.
Apple
Apple shaped women have a more or less rounded appearance, even if they are fairly slim, because any extra weight at all is carried at the waist, not the belly or rear. The upper torso is usually larger than the hips, although the shoulders may be narrow.
Hourglass
Hourglass women have hips and shoulders that look proportionate to each other, like the top and bottom halves of an hourglass. The bust is full as well. In the middle, the waist is relatively narrow and well-defined.
Pear
Pear shaped women have narrow shoulders and a smaller bust, but with wide, curvy hips. The rear is often full. This is the exact opposite of the triangle shape.
Choosing the Most Flattering Jacket for Your Shape
Dressing for one's shape means both dressing in a balanced way and going for a particular and fashionable look. Fashion changes, of course. One year, having wide shoulders is an asset, the next year it is something to downplay. And of course, individual tastes vary, too. A boyish look or a prominent rear may perfect for some women. These are only guidelines; flattering a woman's shape means helping her look the way that makes her feel the most like herself.
Shape, Height, and Size
Torso shape is just one factor in how a jacket looks. Also important are weight and height. For example, some hourglass and pear women have rounded tummies, while others do not, and a rounded belly can interfere with the way some jackets hang. A single-breasted straight or A-line cut jacket flatters a woman with a tummy, while a fitted, double-breasted jacket does not. Short women should avoid very long jackets, as well as anything with wide lapels or other excess flourish, as too much jacket simply looks oversized on her. Knee-length, simple designs, especially those that are fitted or belted in the middle lengthens the appearance. Tall women should avoid roomy, loose jackets and go for something short that narrows at the waist.
Working with Body Shapes
The idea here is to accentuate assets. For example, a woman with an hourglass shape looks great in a jacket that cinches in the middle. A boxy jacket is a waste of a good opportunity to show off those curves, while a long, loose, straight-lined jacket might not hang properly over the full hips. A jacket that is wrong for a woman's shape can actually create a problem where maybe none existed before. For example, there is nothing wrong with being an apple-shaped woman, but an apple woman wearing a short puffer jacket ends up looking embarrassingly like an ice cream cone.
This table suggests jacket types that work for each of the major body shapes, plus jacket types to avoid. These are only suggestions. Dressing well is a creative process.
| | | |
| --- | --- | --- |
| Body Shape | Jackets that Work | Jackets that Do Not Work |
| Hourglass | Belted or fitted single-breasted jackets, with V-necks | Anything boxy or anything with large patch pockets |
| Pear | Belted or fitted jackets with either padded shoulders or epaulets | Unstructured sleeves or cuts that add volume at the hips |
| Rectangle | Tailored, cinched jackets give a more feminine look | Double-breasted or boxy jackets, unless looking like a boy is the goal |
| Inverted Triangle | Jackets with large pockets at the hips, which balance out the shoulders | Shoulder pads or anything boxy, unless looking masculine is the point |
| Apple | Belted trench coats that hang at least to mid-thigh | Anything puffy or too short |
Remember that feeling good is more important than achieving a certain look. Fashions come and go, and some people are very good at making fashions work for them. But a woman who feels confident and beautiful can pull off any look.
How to Buy Jackets on eBay
Shopping on eBay is a good bet. The selection is wide and the site is easy to search. Sometimes unexpected treasures turn up.
Finding Jackets on eBay
Just type'women's jackets' into the search box on the home page of the website. It may be necessary to use the menu options to narrow the field to jackets only. Then go ahead and filter the results by size, brand, colour, and other characteristics. The eBay Deals page lists the lowest prices available right now.
Buying Jackets on eBay with Confidence
Ask the seller any questions about a listed jacket, using the contact link on the seller's profile. The profile page also lists the seller's return policy, feedback score, and any other deals or incentives the seller may offer. Some offer free or fast shipping.
Conclusion
There are so many jackets and so little time. A woman cannot possibly find a good looking jacket by trial and error, but who wants to waste money on a jacket that does not fit either? They key is for a woman to know her basic shape. Of course, there are actually as many shapes as there are women, but it is possible to make certain generalisations. Certain cuts look good on curvy women, certain cuts flatter tall women, and some jackets look great on the petite women. Learning a couple of ground rules for shopping for a particular body type is easy. This way, a woman can narrow down the field to pieces that are likely to look and feel good and then let her natural sense of fashion take over.