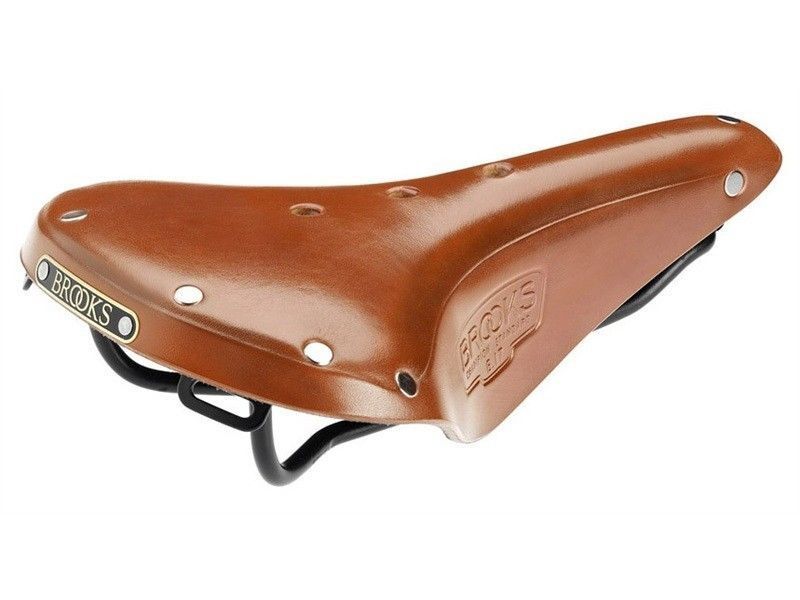 With good care and regular maintenance, a high-quality Brooks saddle can last for many years on any favourite bike. Made of natural leather material, Brooks saddles are durable and feel comfortable even after many rides and lots of regular use. But, like all genuine leather products, Brooks saddles need proper care and maintenance in order to retain their good looks, smooth feel, and high degree of durability through the years.
Breaking in a Brooks Saddle
Leather is often stiff when it is brand new, and a Brooks saddle is no different. Before the saddle reaches its ideal level of comfort and softness, it must be broken in. The best way to do this is to ride the saddle. Consumers may give up on a Brooks saddle early because it feels stiff, but through regular use, the leather begins to soften. Breaking in the leather unleashes its true flexibility and resiliency, qualities that natural leather has in abundance.
Riders who do not want to wait to break in a new saddle can always buy a Brooks saddle that has already been broken in. Many used saddles have already lost that stiff feeling, so the rider can enjoy them the way they were meant to be. A broken in Brooks saddle can last for decades, but only if it receives proper and regular care.
Leather Care
Brooks produce their own leather dressing and polishing cloths to make it easier for riders to care for their Brooks saddles. Brand-new saddles come with a maintenance kit included, but since the saddles typically last a long time, one kit is not enough. There are many different leather products available, but not all are ideally suited to caring for Brooks saddles.
Leather cleaner: Cleans leather, but may not remove all stains. Some cleaners do not condition, so additional product may be needed.
Leather conditioner: Softens and moisturises old leather. Be aware that a little goes a long way.
Leather oil: Moisturises leather; can repair small cracks. Test in an inconspicuous area, since oil can stain leather.
Leather restorer: Restores polish and shine to old leather. Leather restorer can take away the patina.
Depending on how frequently a Brooks saddle is used, it may need maintenance every one to six months. Conditioners and oils soften leather and remove tiny cracks, while cleaners and restorers make leather look like new again. Riders should always check the labels on such products to ensure they are using them in the correct way, because even a product intended for leather can cause damage if it is improperly used. It is best to use a small amount of leather treatment on a Brooks saddle. The company recommends using one dab of product at a time and gently rubbing it into the leather.
Regular Saddle Maintenance
With good maintenance and regular application of products, leather saddles can stay virtually waterproof. However, the rest of the saddle may not be as tough as the leather. Riders should examine their saddles at least every six months to ensure they maintain their tension. Owners should check the tension pin, rail, and backplate. Over time, the tension pin may need readjustment. To do this, riders must turn the tension pin nut clockwise to move it to the rear of the saddle. Riders should avoid over tightening the tension pin nut.
How to Buy a Brooks Saddle on eBay
Instead of going through the process of breaking in a new Brooks saddle, buy a used saddle from sellers on eBay. The site has an ever-changing selection of saddles to allow consumers to find exactly what they want. Search with the keywords "Brooks saddle" to find a wide selection. If you want specific colours or sizes, add this to the search string to narrow down the results. With good care and proper maintenance, a Brooks saddle can last for thousands of rides. Buying a Brooks saddle is not a normal purchase; it is an investment.