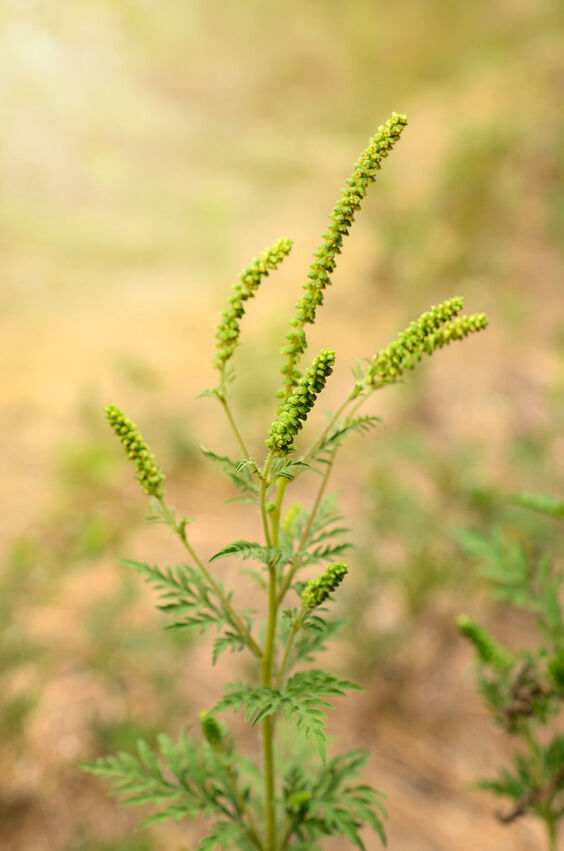 Ambrosia plants generally grow in the wild, but they can also be found in pastures and grasslands. Ambrosia Artemisiifolia is perennial, which means that ambrosia plants live for many years. Ambrosia also refers to specific varieties of melons and corn. These crops are annuals, which means that a new crop must be planted each year.
Ambrosia Artemisiifolia
Ambrosia artemisiifolia is known by many names: ragweed, bitterweed, carrot weed and wormwood. Pollen from the plant is dispersed during the dry season, causing serious discomfort to allergy sufferers. The plants generally grow to about two metres tall. Since the plant is technically a weed, all it requires to grow is enough water and sunlight.
This species of ambrosia is found mostly in sub-tropical and temperate environments, commonly in pastures, beside the road, woodlands, creek beds and waste areas. Domesticated varieties are also cultivated as house plants.
The plant has become widely naturalised in southern and eastern regions of Australia, especially coastal districts and eastern Queensland. It can also be found in New South Wales and parts of Victoria.
Ambrosia Hybrid Melon
The ambrosia melon is a heavily-netted, almost perfectly round fruit that weighs about two kilos at maturity. It has thick, juicy, sweet flesh and a small seed cavity. The plant is an annual that grows to about 30 centimetres tall.
Successfully growing the ambrosia melon takes care and maintenance. The soil conditions, water level and sunlight all need to be just right. Pests can also be a big problem. Strict feeding, weeding and pruning schedules must be adhered to for the plant to survive.
Planting
The melons can be started from seed, but starting with transplants is easier. Choose a spot where the plant will receive full sun. The soil should be loamy with a pH level of 6.1 to 7.5. Dig a hole and mix the garden soil with potting soil or compost before adding the plant. It can also be trained up a trellis to save space. Water moderately.
Care and Maintenance
Keep the area free of weeds and pests. Keep the soil damp, not soaking, especially on extremely dry days. Watering and feeding should be done at dusk and dawn, never in the full heat of the day.
Harvest
The melons are usually ready for harvest by late summer. Simply cut them off at the base when they reach the right size and have a hollow sound when tapped. Once the season is over, spent plants should be removed to reduce the potential for diseases to overwinter in the soil.
Ambrosia Sweet Corn
Ambrosia sweet corn is an annual vegetable. The sweet tasting ears grow to about 22 centimetres in length on a sturdy stalk.
Planting
Ambrosia enjoys loamy or clay soils with a pH between 6.5 and 7.5. Corn requires full sun and plenty of water. Transplanting is not recommended, so plant corn from seed about two weeks after the last frost. Sow the seeds about 5 centimetres deep and 15 centimetres apart. Corn is wind-pollinated, so plant in a large, wide block rather than a long row for best results.
Care and Maintenance
Ambrosia sweet corn is virtually maintenance free. As long as it has enough water and isn't overrun with weeds, it will grow and flourish. The biggest challenge in growing corn comes from pests like birds and small rodents, so consider planting corn in a fenced area. Bird netting can also help protect ears as they mature.
Harvest
The ears should be big enough to harvest by late summer. Simply pick off the ears and leave the stalk to allow any smaller ears to mature. At the end of the season, pull out the stalk and dispose of it with other garden refuse.