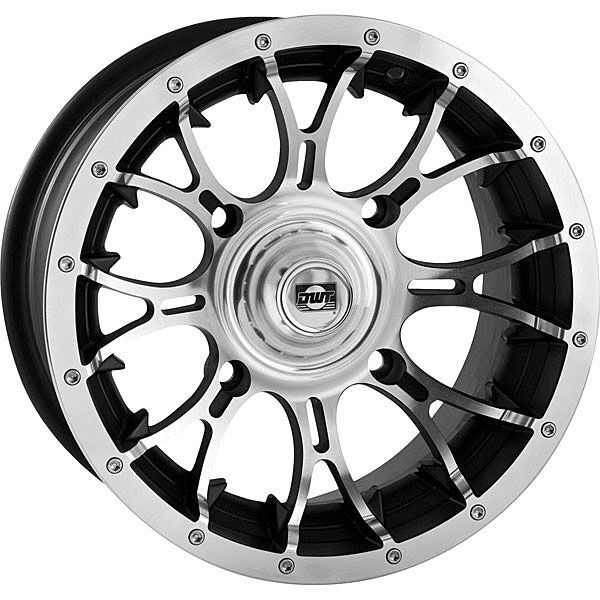 With a motorcycle, you get a sense of freedom as you squeeze through traffic jams. Thus, a motorcycle can be both practical and stylish, and more of a lifestyle choice than merely a vehicle or means of transportation. For a safe ride, you should maintain your motorcycle properly and regularly. The wheels of a motorcycle are the metal parts that support the rubber tyres, and they are responsible for moving the bike forward. Try to keep them in working order by cleaning them regularly and polishing them as necessary. As required, you can buy new ones from various motorcycle parts dealers, or conveniently on online at sites such as eBay . Cleaning and polishing products are also available.
Cleaning Your Motorcycle Wheels
The open design of a motorcycle does look attractive, but it also means that the vehicle is more prone to accumulations of dirt. Dried dirt may be quite hard to remove from the motorcycle wheels . Therefore, it is essential to clean the motorcycle regularly. Ideally, you should do a quick clean after each ride. Not only does the bike look better when it is clean, but it is likely to have a longer lifetime, because cleaning helps to prevent corrosion and rust.
Cleaning the Motorcycle Wheels After the Ride
After normal use, remove any dirt with warm water and mild detergent before you put the motorcycle back into the garage. Avoid wheel cleaners that are too acidic, because they may be too harsh, although they do work well on hard-to-remove dirt. Use a soft sponge to wipe the dirt off. Rinse with clean water. If there are any areas that are hard to reach, use a bottlebrush or even a toothbrush. If some dirt is already stuck, first cover it with a wet cloth for a few minutes to soak it off and then remove. If you happened to ride near the sea, in the rain, or on roads that were sprayed with salt, it is best to clean the wheels and the rest of the bike with cold water and mild detergent once the engine has cooled down. If you do not remove the salt, you risk corrosion.
Washing Your Motorcycle Wheels
Every once in awhile, you should carry out more thorough cleaning and wash your tyres and wheels. It is best to do it yourself rather than take it to a car wash, where the high-pressure water jets may harm your motorcycle.
First, prepare the cleaning fluid by adding a mild detergent to water. Apply degreaser to the motorcycle wheels , and then wipe them with a clean rag to loosen the dirt. With a sponge, wash the wheels thoroughly and then rinse off the degreaser. You can spin the wheels a bit in order to reach all the parts. Pay special attention to the hub and brake pads, as it may be difficult to remove the dirt from these areas. Dry the bike for five minutes, then wipe with a dry cloth to remove any moisture.
Polishing Your Motorcycle Wheels
Once your motorcycle is clean, polishing gives it the final touch and makes it shine. The wheels are important style and design elements, and many are custom cut. When choosing a polishing product for your wheels, determine the material they are made of. Aluminium surfaces may have a protective coating that requires a special polishing substance. To test whether there is a coating, rub a small amount of polish onto the surface. If there is no black residue, the wheels are coated. Steel, on the other hand, is much easier to clean, and most polishes work well on it. Polishing chrome surfaces is important to prevent corrosion, as it removes surface oxidation that would otherwise result in rust.
Applying the Polish
When applying the polish by hand, use a quality applicator. Lint-free microfibre is a good choice for this purpose. Black residue on the cloth is normal. After polishing, wipe the wheels clean with another towel. With a special foam ball that is attached to an air tool or electric drill, you can reach between spokes and crevices between components. In this case, apply the polish directly onto the wheels and then use the tool. Afterwards, wipe off the residue with a soft clean cloth. Generally, such foam balls can be washed and reused.
Protecting Your Motorcycle Wheels
Protection is primary, as it helps you to prevent any corrosion, rust, or other defects. There are various special substances designed for this purpose that you can apply to the wheels. You should apply the protective product after you have cleaned and polished the wheels. Some polishes may leave a protective film on the wheel, but you can further improve the protection if you add some other products as well. Study the package well to learn what it includes and how it protects your motorcycle wheels. Often, such products are in spray form, so they are very easy to apply, and you can even access hard-to-reach places between the spokes.
How to Buy Products for Caring for Your Motorcycle Wheels
Maintaining your motorcycle wheels is essential, as it not only contributes to the appearance, but also lengthens the lifetime of the bike. Clean your bike after each ride, especially when riding in rain or near the sea. Occasionally, you should do a thorough cleaning and then polish the motorcycle, applying a protective spray on the metal parts to avoid corrosion. When looking for a protective spray, a mild cleaning detergent, or a polishing substance on eBay, you can type your keywords into the search box at the top of any eBay page. You can then sort the search results by price or other parameter, or click on similar searches. You may be able to find deals on bikes and accessories, as well. Read the detailed item listings for more information, and feel free to contact the seller if you have any questions.