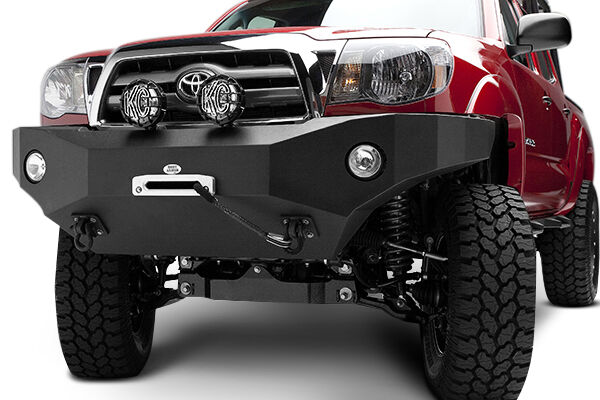 Buyers who own trucks can customise the appearance of their vehicles in a number of ways. In some cases, buyers are motivated to change the general appearance of their trucks because there were limited purchasing options available on the market when the buyers were shopping for their vehicles. Buyers may make slight alterations to their trucks, such as simply adding new windshield wipers or mud flaps, or completely alter the look of their trucks and engage in shows and competitions based on the truck's body work. Products devoted to a truck's exterior can be found at local automotive specialty shops or through online websites like eBay. Before shopping, however, buyers should know which types of body kits and individual accessories are available.
Apply Truck Body Kits
To change the exterior of a truck dramatically, buyers can purchase body kits that include a number of exterior parts. These parts are often finished in custom colours to match the preferences of buyers and are fashioned from fibreglass, polyurethane, or other synthetic materials to provide buyers with lightweight, yet durable, components.
Truck Compatibility
When choosing truck body kits, buyers must keep in mind that the components of the kit must be compatible with their truck make and model. For example, a body kit for a Nissan Navara may include side skirts that match the exact dimensions of a Navara's body. Having a perfect fit for exterior components is important for a number of reasons. First, the correct fit for body kit components increases safety when driving. If a body kit component fits the dimensions of a truck's body, it is less likely to become loose as it experiences the rough handling and high speeds of some driving situations. Second, precise fit minimises the risk of a truck's body experiencing damage when the body component is installed. Some components require drilling to be mounted to a truck. If a component does not fit a truck securely, water and chemicals can seep under the component and cause corrosion to form on the drill holes.
Add Exterior Truck Accessories
Exterior accessories can be added separately to a truck or in conjunction with a body kit to change a truck's appearance. Some exterior accessories are designed for purely aesthetic reasons, while others combine form and function to modify a truck's look and expand its capacities.
Guards
Guards are constructed of tubes that are welded together to create a cage-like device that fits over the front of a truck. These bars are used to protect the truck from damage during a collision. Before shopping, buyers should become familiar with the various styles of guards that are available on the market.
Guard Styles

Description

Full grill guards

Stretch in front of a truck from side to side and cover a truck's grill and headlights

Supply protection from some side impact collisions

Centre grill guards

Designed to protect a truck's grill but do not cover a truck's headlights

Rise almost to the bottom of a truck's bonnet

Protect the centre of a truck's front, like centre grill guards, but only rise about halfway up the height of a truck's grill

Designed to fit over the front of a truck's bumper and generally wrap slightly around the sides of a bumper

Protects the bumper from collisions with low-lying obstacles

Smaller grill guards that protect the centre bottom of a truck's front
In general, truck front guards are completed with either black powder topcoats or polished steel finishes, but buyers who are purchasing custom-made guards can often choose unique finishes for their guards. To increase the rugged look of truck grill guards, buyers can also outfit the guards with off-road lights or fog lights.
Truck Bed Rails
Like truck guards, truck bed rails are functional accessories that can change the appearance of a truck. Truck bed rails fit over the sides and tailgate of a truck's bed. By adding bed rails, truck owners can add visual contrast to a truck as well as an anchor for other accessories, like truck bed tie-down systems or mounted tool boxes. Finishes for these rails are typically black or silver.
Trims
Most truck models feature standard exterior decoration packages referred to as trim levels within the automotive industry. Buyers who want to expand on their truck's exterior decoration, however, can purchase additional trims that can significantly alter the look of a truck. Often made of polished chrome, truck trims include moulding that can be added around the body, windows, and lights of a truck. Trims can also encompass exterior hardware pieces, like handle or side mirror covers. Trims made of moulding are typically universal and can be used on any type of truck. Conversely, exterior hardware pieces are make- and model-specific, so buyers should remember compatibility when purchasing this type of trim.
Window Decals
Since a large part of a truck's exterior appearance is determined by its windows, buyers can make quick changes to a truck's look by adding some window decorations. Window decals can be applied quickly and do not use adhesives in some cases. If buyers want to change their decals frequently, they should limit their purchases to adhesive-free options.
Window Tint Sheets
For a more obvious change to a truck's window appearance, buyers can purchase window tint. This tint is typically sold in sheets that are applied to a window using water in a spray bottle. The plastic materials of the tint sheets react to the water, forming a tight bond to a window. Since the tint sheets are prone to bubbles forming between the sheet and a window's glass, buyers use a smoothing tool to prevent bubbles from forming as they apply the tint to the window. In addition to altering a truck's look, window tints are also beneficial for cutting down on damage drivers may experience from prolonged exposure to the sun's UV light.
How to Buy Exterior Truck Products on eBay
Whether buyers want to make subtle or drastic changes to the appearance of their trucks, shopping on eBay can provide them with unlimited purchasing options. To find products quickly, buyers can type descriptive keywords, like "Honda Civic body kit", into eBay's search field. eBay then generates a focused list of search results that match a buyer's keywords. Buyers can purchase new or used exterior accessories on eBay or visit eBay Deals' Automotive category for bargains on selected accessories. Although some exterior truck accessories are universal, buyers should make sure any potential purchases are compatible with their trucks before initialising a sale. Since some truck accessory products are meant to be added to both sides of a car, buyers should also check the quantities involved in any eBay purchase.
Conclusion
Buyers can be motivated to change the appearance of their trucks for a number of reasons. Before determining an appearance alteration plan, buyers should be aware of their options. Purchasing body kits provides buyers with a convenient method of making drastic changes to their trucks. Buyers must be careful when purchasing kits, however, because successfully applying the kit's parts relies on choosing kits that are compatible with the make and model of a buyer's truck. Individual exterior accessories can also be applied to a truck to create an appearance that matches the aesthetic tastes of a driver and increases the truck's functionality. Once buyers determine which types of exterior accessories can achieve the appearances they want, they can visit eBay to find a wide range of purchasing options.
Exterior Truck Part|Body Kit|Bull Bar|Bumper Bar|Window Tint