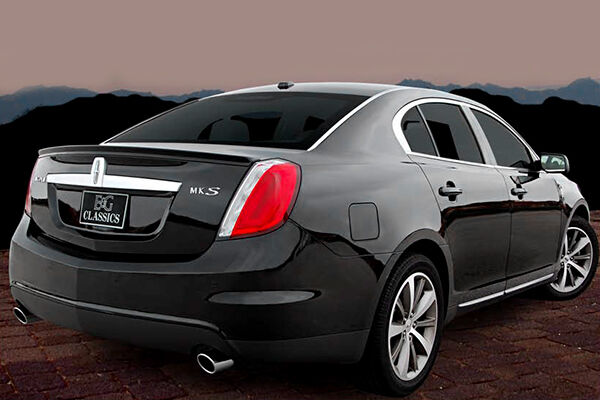 Owners of cars and trucks can personalise the appearance of their vehicles to better reflect the owner's individual tastes. Before starting an appearance overhaul on a vehicle, buyers should determine how much change they would like to achieve and which funds are available for the project. In some cases, vehicle owners can spend a large amount of money outfitting the exterior of their cars, but changes can also be made through inexpensive means. Exterior vehicle products can be found locally at automotive shops and through private sellers. Conversely, buyers who prefer the wide selection and convenience of online shopping can visit eBay to find a variety of exterior vehicle accessories. Before shopping, buyers should consider how painting a car and purchasing different types of accessories can help them reach their aesthetic goals.
Paint the Vehicle
Changing the exterior paint of a vehicle drastically alters the vehicle's appearance. Although most vehicle owners opt to have their vehicles painted professionally, buyers with experience in bodywork can purchase body shop supplies to paint their cars and trucks themselves. Painting a vehicle is a multistage process that requires time and space to get the best results. In general, the car painting process requires buyers to remove the old paint by sanding the vehicle down to expose its metal. An automotive paint primer is then applied. Once the primer cures, an automotive paint topcoat is added using a spray gun. After the topcoat is sanded, a polishing compound like wax is buffed onto the vehicle's surface to make the paint shine. To achieve the most professional results, buyers should purchase masking tape to cover the sections of a vehicle that should not receive any paint.
Install Body Kits Onto a Vehicle
Purchasing a body kit can help buyers change the look of their vehicles quickly. Body kits include exterior components like front lip spoilers, tail light garnishes, and bonnet scoops that can alter the general profile of a vehicle. Body kits can be purchased in the same base colour as the rest of a vehicle or in a contrasting colour to create visual focal points. To avoid adding too much weight to a vehicle, body kits are often constructed from lightweight, durable materials like fibreglass and polyurethane.
Vehicle Compatibility
To choose an appropriate body kit, buyers should base their purchases on vehicle compatibility. Vehicle compatibility means that the components of the body kit were manufactured to fit the dimensions of a certain vehicle. For example, a BMW X5 body kit is specifically designed for the X5 and does not fit the dimensions of other BMW models. Choosing compatible body kits ensures that buyers avoid any damage, like the formation of rust, that can result from installing ill-fitting exterior components. Compatible body kit parts are also safer because the tight fit that installers can achieve when adding the parts to a vehicle ensure the parts stay attached, even in hazardous driving conditions.
Add Exterior Vehicle Accessories
While painting a car and installing body kit parts can dramatically alter the appearance of a vehicle, adding exterior vehicle accessories allows buyers to make more focused changes. These options can be used independently or in combination with more extreme aesthetic changes to a vehicle, depending on the preferences of buyers.
Graphics
Graphics for a car or truck are ready-made designs that can be applied to a vehicle's exterior to add visual interest. Often made of vinyl, graphics are large enough to decorate a vehicle's doors, side panels, bonnet, or boot. In many cases, graphics do not need adhesives to remain securely on a vehicle's exterior because the graphic's vinyl reacts with water to create a tight bind on a vehicle's surface. Once the graphic is applied, it often takes a couple of days for the vinyl's bond to set. Because of this, buyers should make sure they add their graphics to their vehicles when no rain is forecasted for some time.
Lights
Because lights are a visible part of a vehicle's exterior, changing a vehicle's lighting scheme alters its appearance during the day and night. Before deciding which lights to purchase, buyers should know the types of lights available.
Types of Exterior Car Lights

Description

Positioned on the front corners of a vehicle

Generally added underneath the bumper of a vehicle but can be mounted to the top, depending on the design of the fog lights

Provide the most powerful illumination at the front of a vehicle

Generally designed in strips and can be added anywhere along the body of a vehicle

Positioned on the back of a vehicle

Can be added to the corners or stretch across the width of a vehicle

Generally found on the front and back corners of a vehicle

Can also be added to a vehicle's side mirrors
Most vehicles feature standard headlights, corner lights, tail lights, and turn signals, but buyers can purchase replacement lights to change the contour or illumination of these lights. Fog lights and neon lights, on the other hand, are typically not included as part of a vehicle's standard lighting package and provide buyers with a distinct way to change the overall appearance of their vehicles. Before purchasing any exterior lighting accessories, buyers should determine how the lights are installed and powered. In some cases, a vehicle must be modified before a specific type of light can be added, so buyers should be aware of the extent of the modifications before purchasing the lights.
Spoilers
Spoilers are mounted onto a car or truck and are designed in a number of different styles. A pedestal spoiler has two risers on the sides that lift the bar of a spoiler off of a vehicle's boot. Lip spoilers are low-level spoilers that run across the boot of a vehicle, often with no space available between the spoiler and the vehicle's surface. Roofline spoilers are attached above a vehicle's back window and extend across the width of a vehicle. Buyers interested in changing the look of their vehicles often choose to add a spoiler because spoilers create visual interest and supply aerodynamic benefits.
How to Buy Exterior Vehicle Accessories on eBay
eBay provides vehicle owners with a wide range of exterior vehicle accessories as well as the tools they need to change the appearance of their vehicles. Since eBay's selection is so broad, buyers can use eBay's handy search function to find specific items quickly. For example, typing "Honda Civic spoiler" into eBay's search field results in a selective list of search items that focus on those keywords. Buyers on a budget can opt to purchase used exterior accessories or browse through the offerings in eBay Deals' Automotive section to locate bargains. Once some potential purchases are identified, buyers should read the information that eBay sellers provide about their products to understand any special installation requirements. If an accessory is not universal, buyers should remember to opt for choices that are compatible with their vehicles.
Conclusion
Owners are often motivated to change the appearance of their vehicles as a means of expressing the owner's personal tastes. Although some aesthetic alterations are typically performed by car care specialists, experienced buyers can make extensive changes to their vehicles if they can purchase the correct products. Other exterior vehicle alterations are quick and easy, however, so even buyers with limited experience and small budgets can customise their vehicles. Since decorating a vehicle's exterior is a popular endeavour, manufacturers produce products like body kits and individual accessories to give buyers a wide range of purchasing choices to prepare for their vehicles' overhaul. Once buyers identify which products can help them achieve the desired look for their vehicles, they can shop on eBay to access a wide variety of exterior accessories and auto body products.
Exterior Vehicle Accessory|Body Shop Supply|Body Kit|Vehicle Graphic|Vehicle Light