A very important component of a wholesome Body Wrap experience is the Body Wrapping Bandage.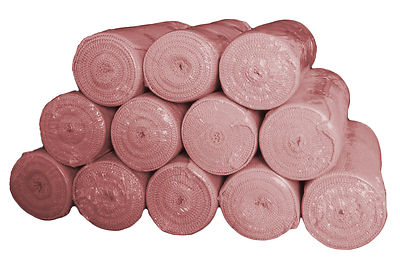 Since a body wrap is, methodically, a treatment where Elastic Bandages or Plastic Wraps are snuggly wound around the body, it is very important to secure high quality bandages and enough rolls of them to ensure optimum coverage of your entire body or areas you want to treat.
A full body wrap, where you wrap from your ankles up to your trunk and out to your arms, takes 12 to 15 pieces (depending on body size) of rolls measuring 1.5 metres when fully stretched. The wider the bandages, the better they are for body wraps because it means you'll have to roll them around less, which is more convenient.
2 Major Types of Body Wrapping Bandages
There are 2 common options for bandages: cloth/elastic bandages and plastic wraps. They both have their benefits and drawbacks, which will be further discussed below.
Bandage Type # 1 - Cloth or Elastic Bandages
Cloth/Elastic bandages are similar to regular ACE Bandages only that those custom made for body wrapping are wider. Because they are made of cloth material:
you can spare yourself from having to purchase wraps every time you want to have a body wrap treatment because cloth bandages are reusable

they are washable, and with proper care and safekeeping, they can be used over and over again without losing its elasticity

they allow for good compression while allowing the skin to breath, unlike plastic wraps

they can be heated so that they can be applied warm to the skin enhancing the detoxifying effects of the treatment, and

they can be soaked in a body wrap formula liquid formula, which is an advantage if you don't want to apply clays or muds directly on your skin.
Elastic bandages also have a fair share of drawbacks which are listed below:
First time users may find these types of bandages hard to manipulate, most especially when rolling them around the trunk and reaching out to the back area.

These bandages also create the need for washing and drying after a wrap - something that could seem a chore for those who just want to spend a lazy day after the treatment.
On Wrapping Using Cloth/Elastic Bandages
In a large pot or any heating unit, soak the bandages in water and liquid formula according to specified proportions. If you're not using a liquid body wrap formula, just put in enough water to cover all your bandages.

Heat the solution to 50 degrees Celsius for 30 minutes to allow the bandages to be saturated.

Use tongs to remove the bandages one at a time from the pot and wait until it is tolerable to touch. Wing out the excess water, and you're ready to apply the wraps!
On Caring for your Cloth/Elastic Bandages
Wash them in fragrance-free liquid soap or borax or machine-wash with warm water on a gentle cycle. Hang to dry. Re-roll them and store until your next home wrap.
Bandage Type # 2 - Plastic Wraps
Another type of wrap that can be used for body wrapping is the Plastic Wrap. Yes, the very same plastic wrap you have in your pantry! Some people prefer this wrap because:
They are easy to apply. They stick together effortlessly which means less trouble especially when wrapping around the back.

There is no need to clean them and prepare them for the next use; just easily toss them into your garbage bin, and you're done!
However, there are also reasons why you'd think twice about using plastic wraps:
They cannot be soaked in hot water, so they don't give that extra warmth needed to enhance detoxification and inch loss.

Plastic wraps don't allow for proper skin ventilation unlike cloth wraps that have tiny spaces in between woven material.

Since you're throwing them away after every wrap, you'll have to keep purchasing them every time you want to do a body wrap at home.

You can only use plastic wraps when you're applying clay/mud/gel/cream directly over your skin. You can't use them if you want to use liquid body wrap solutions.
More Tips on Using Body Wrap Bandages
When wrapping, ensure total coverage of the area involved leaving no patch of skin exposed. Bandages should have a clean overlap - no bulges or tight areas that might be detrimental to the results of the Body Wrap.
Wrap snugly but not very tightly. By trying to save on the bandages, you might be tempted to try to cover as much skin as you can with a single bandage. You'll be saving on bandages, maybe, but you'll be sacrificing your results because of poor blood circulation.
Always wrap the area farthest from the heart going on towards the hear. It is ideal to start wrapping your ankle first going in an upward direction. Wrap from the outside of the body towards the front so as not to interrupt the blood circulation and wrap as high up your legs and as close to your groin as possible, then your abdomen, and up to your chest. Never leave any skin exposed!
Have you decided which type of body wrap bandage is best for you? Body Wrap Bandages can make or break your entire experience with the treatment, so don't skip on your task of establishing your goals for the body wrap and finding out what kind of bandages can support these goals. Choose wisely!