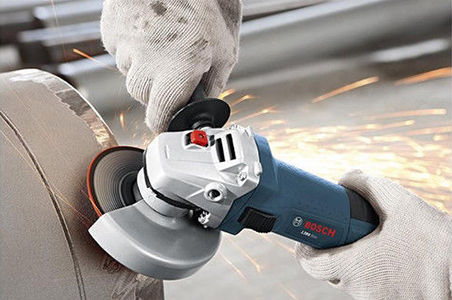 The angle grinder is an important tool for any handyperson to possess. This tool is capable of mechanising a variety of important functions such as grinding, polishing, and cutting. Knowing which type of angle grinder to use for a particular job or skill set is crucial to success. However, choosing the right angle grinder is no small task. It involves learning a bit about the sizes available as well as considering specific aspects of each unit in order to use this important power tool safely and effectively.
Angle grinder size
The basic structure of all angle grinders is the same; it is a hand-held power tool which includes a basic, sturdy handle and a spinning wheel. Whilst the wheel itself does the work, the size of the motor determines the efficiency at which it completes each job. Bigger is not necessarily always better.
When determining which size of an angle grinder to use, it is important to consider comfort as well as ability. Many polishing and precise grinding jobs don't rely on power as much as precision. In this case, a lighter, easy-to-grip angle grinder with a smaller, lightweight motor may be the best option.
Angle grinder wheels
The wheels or discs of the angle grinder are as important to consider as the structure of the tool itself. Different types of cutting discs not only perform different duties, but work better on specific surfaces. Considering which type of grinder wheel is best matched to a particular job is therefore important:
Aluminium oxide disc: Used for woodworking
Diamond cutting disc: Used to cut hard materials such as ceramic tile and concrete
Metal cutting disc: Used to cut through aluminium, copper, iron, and steel
Sanding Disc: Used to sand and prep both metal and wood surfaces, depending on the grit
Polishing disc or wire brush: Used to clean metal surfaces by removing rust and paint
It is easy to swap out the wheels of an angle grinder according to the job at hand. However, determining which wheel best suits a job is still important and anyone who routinely does the same type of work with an angle grinder, cutting tile for example, may want to look for a unit that is especially designed to handle and operate diamond cutting discs.
Angle grinder features
There are several additional features that each angle grinder unit offers its users that are worth considering. Some of these features come at a premium price, but the convenience and ability they offer makes completing a job easier and more efficient, and therefore worth the additional expense.
Corded or cordless units
In general, cordless power tools are far more convenient than corded power tools since they allow users the freedom to move about and get into tight spaces. However, users operating within a controlled workshop environment, near an outlet, and who need to use their angle grinder for long periods of time may find the inconvenience of charging and changing out the batteries of a cordless angle grinder not worth the additional cost.
Load speed
This manufacturer specification tells users how powerful an angle grinder's motor is, based on its rotations per minute or rpms. Some types of grinding jobs require higher rpms. However, lower-rated grinders are quieter and produce less heat when operating.
Soft start
For larger-sized angle grinders, the soft start system makes turning the unit on a gentler experience and gives the user more control. This feature also prevents wrenching or twisting of the grinder on start-up. However, the downside to a soft start is that it takes the grinder some extra time to reach the required speed for operation.
Safety features
Many angle grinders come with built-in safety and convenience features that are helpful for beginners as well as multiple users of the same unit. An adjustable handle allows users to switch the side position of the grinder's handle to make it left or right hand compatible. A plastic guard feature, which is also adjustable, protects users from shooting sparks or debris during the course of operation.
How to buy angle grinders on eBay
Regardless of the size of angle grinder you need or the type of disc that gets the job done, the sellers on eBay offer a great resource for this and other power tool purchases. Finding an angle grinder on eBay is easy. In addition to its extensive tool listings, which are easy to browse through, you simply need to enter the type or brand of angle grinder you want into the general search bar. For example, type in "DeWalt angle grinder" for a precise set of listings.