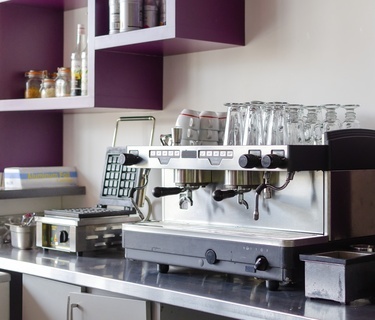 Each year, thousands of new restaurants and cafes open to the public, serving their unique cuisine. Having the right equipment may not be the difference between success and failure, but it plays a significant role in the business' operation, offering a high return with enormous tax benefits. Each cafe differs depending on the type of preparation, storage, and cooking the staff needs. Choosing the right equipment is paramount.
Types of Equipment
There are several different types of equipment that a cafe uses, each with their own special function. Each unit keeps the cafe operating on several levels including food storage, prep stations, cooking equipment, and computers.
Food Storage
The most important equipment centres on food storage. It is essential that the cafe staff maintain the proper temperatures of the food for safety reasons. Inadequate storage may lead to the spread of bacteria or food poisoning, which in turn, can be fatal.
Not every cafe uses the same type of food storage, but the purpose is the same: to eliminate the possibility of cross-contamination. These units must follow strict safety regulations, which include maintaining the food at a certain temperature. Cafe owners must choose the proper food storage equipment for the specific foods that they are serving, while meeting safety regulations established by their local council.
Prep Stations
If a cafe makes meals onsite, food preparation stations are necessary. They provide a sanitary location for staff to prepare goods for consumption that are easy to clean after each use. Stainless steel tables make great prep stations as they are non-porous and do not retain bacteria. Easy to clean, they come in different sizes, heights, and layouts. Ideally, cafe owners have a prep station for different food types including meats, fruits and vegetables, and cooked goods.
Cooking Equipment
Most cafes need cooking equipment such as cooktops, fryers, grills, and ovens. It is essential that the owners only purchase equipment that is necessary to prepare the offerings on the establishment's menu. Many cafes have a strong focus on coffee and hot beverages requiring special equipment such as coffee grinders and coffeemakers, as well as espresso and cappuccino machines. The cooking equipment must be in good condition and regularly maintained to ensure proper operation.
Computers and Cash Registers
Proper record keeping means having the right tools on hand. Computers keep track of all accounting records, including profit, expenses, payroll, and inventory. Cash registers and credit card machines make it easy for consumers and staff alike by streamlining the purchasing process. Top of the line equipment is not necessary in this instance, but all computers and cash registers should be fully functional.
Considerations
Cafe owners have several considerations when it comes to choosing the right equipment for their establishments. Space, budget, and necessity are three points that every cafe owner must keep in mind when making purchasing decisions.
Space
Space is a primary concern as the equipment needs to fit in the allotted space while still maintaining an open flow, allowing staff to easily move around. Prep stations, cooking gear, and food storage equipment come in different sizes. Taking accurate measurements and choosing the right size equipment will prevent headaches when the equipment arrives.
Budget
The most important consideration is undoubtedly the budget. A startup cafe may only be able to afford secondhand equipment as opposed to an established cafe with all of the latest technology. Prior to choosing and purchasing equipment, cafe owners must decide on a budget and allocate it accordingly. Startup cafes especially have to pay attention to the budget as every dollar counts.
Necessity
It is very easy for cafe owners to get caught up in the excitement of opening a new establishment and go a bit overboard when purchasing equipment. Making a list of the bare necessities and sticking to it prevents budget overages as well as unnecessary expenses.
How to Buy Cafe Equipment on eBay
eBay is a great place to find new and used cafe equipment whether you need small or large, just a few pieces, or the whole ensemble. Start your search for your cafe equipment by entering search terms such as 'coffeemaker' or 'walk-in freezer' in the search bar located on each eBay page. Refine your search results by clicking on a category relevant to your needs. Be sure to ask any questions that arise before purchasing by contacting the seller. Since cafe equipment is often large and heavy, searching for local sellers can help on shipping costs.