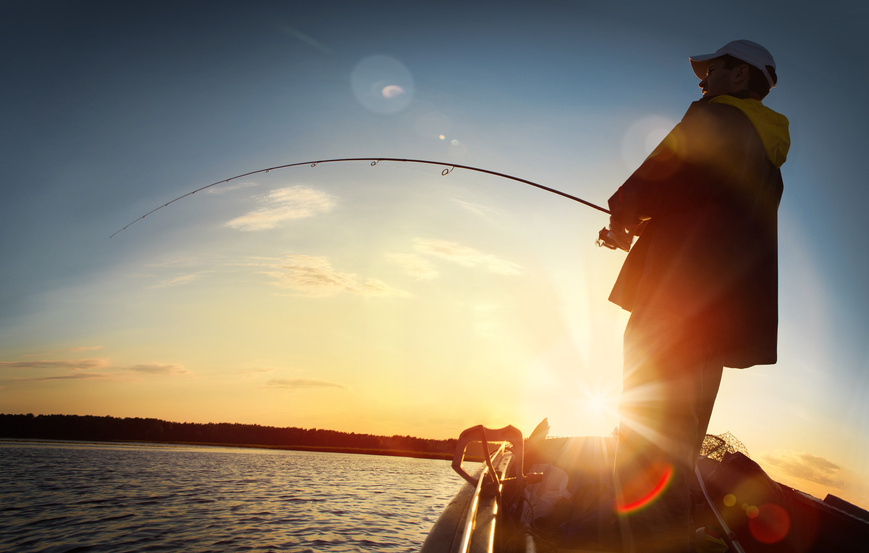 A serious fisherman knows the value of choosing the right fishing equipment. From bait to fishing rods, the options are endless. In fishing rods alone, there are a multitude of choices that need to be made, such as type, length, grip, power, and action. There are several factors in choosing the appropriate fishing rod length.
Fishing Rod Length
Fishing rod lengths are selected by the type of fishing one will be doing not by the size of one's body or arm length. Although personal choice plays a role, both lengths have advantages and are used for different fishing situations.
The most common length rod for fishing in a freshwater river, stream or lake start at about 165 centimetres and go up to 229 centimetres. The 165 centimetre rod is has different strengths and uses than the 229 centimetre rod, such as:
Longer Rods
allow longer casting
provide more fish control
harder hook sets can be used
provide power because they are heavier
more accurate for casting around obstacles
less cumbersome to transport
lure presentation in small streams is better
Shorter Rods
Owning both rod lengths will essentially prepare one to fish most anywhere.
Fishing Rod Types
Understanding fishing rod length is important, as well as understanding the different types of rods that are available before selections are made.
Spinning: A spinning rod is used mostly for commercial fishing. It employs a fixed spool reel with a mechanical fishing line retrieval.
Fly casting: Fly casting rods allow the fisherman several types of casting methods and focuses on the fishing line more than the lure. The most common casting method in fly casting is the forward cast.
Spin-casting: Spin-casting is often used by inexperienced anglers who are not familiar with casting. It allows the user to toss and drop the line rather than use a more sophisticated casting method.
Baitcasting: The baitcasting rod can be used for several types of fishing. Because of this, there are several options within this group, such as anti-reverse handles.
Trolling: This type of rod is used for a specific type of angling, where the fishing line that uses hook-rigged lures are dragged behind a slowly-moving boat to attempt to lure the fish into biting.
The following list provides additional options that one will find when choosing fishing rods.
Fishing Rod Terms
Basic fishing rod terms are often used by those who are actively a part of the sport, such as sales people and other anglers.
Action and Power: Fishing rods come in degrees of fast, medium, and moderate action, which refers to how much of the rod bends when pressure is put on the tip, like when a large fish is caught.
Taper: Similar to action, taper refers to the thickness of the rod and the blank itself. (Note: A fishing rod blank is the rod itself without all of the fishing pole add-ons.)
Power: Power is just as it sounds. It refers to how much lifting power the rod has, which is very important for fish of a certain size. Power generally comes in degrees of light, medium, and heavy. Each rod has line limits printed on the rod, which should not be exceeded, or the line could snap.
Graphite and Fibreglass: Graphite has become the standard for fishing rod material and is known for durability and action. Fibreglass rods are also popular, but they are not as sensitive as graphite rods.
Fishing Reel Terms
For best performance, the fishing reel should be balanced with the rod. If the reel weighs too much, there may be casting problems. Learning the following terms will help select the right reel for the rod.
Anti-Reverse: This function ensures the handle does not turn backward when there is a fish or something else on the line.
Ball Bearings: All reels include ball bearings or bushings that help the reel operate without a hitch.
Drag: This is the feature that allows tension to be set. The tension is applied to the reel, much like a braking system.
Bait-casting Controls: This type of reel includes built-in casting controls, which will help set how fast or slow the spool spins when casting.
Finding Fishing Rods and Supplies on eBay
Finding a wide selection of fishing rods and supplies on eBay is efficient as it can save both time and money. The most convenient and direct way to locate fishing equipment on eBay is to select the Sporting Goods category. Within that category, there are several subcategories such as the Rods, Reels, and Tackle & Accessories categories. Knowing where to look help buyers locate fishing rods, reels, and supplies quickly,
It is always prudent to scan sellers' reviews and ratings to ensure they have had successful transactions. Shipping details are also worth checking prior to purchasing. Some sellers include shipping in the cost and other do not. Checking will provide more accurate price comparisons.