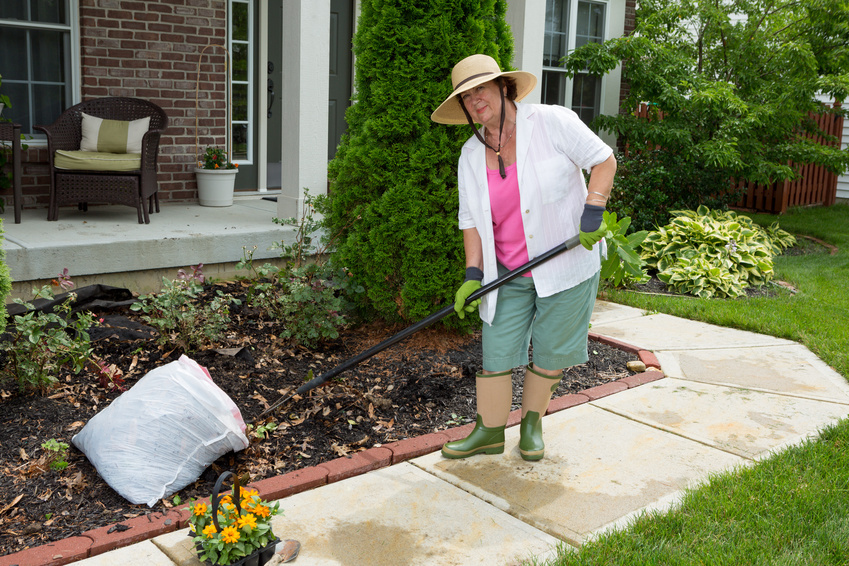 With all of the different varieties of mulch available, it can be overwhelming to figure out which type to use. Organic and inorganic mulch, and even existing garden materials, are just some of the many choices available. Some gardeners even go as far as avoiding mulch altogether, since it is such a difficult choice. However, mulch has great benefits for the garden. Choosing the right mulch, and in the right amounts, prepares the garden for potential challenges.
Types of mulch
Mulch is any sort of material laid down in flower beds or garden areas to protect plants from the elements. When looking for mulch, gardeners should understand the different types available and how they work in the garden. There are two main types of mulch: organic and inorganic.
Organic
Organic mulch is any type of mulch made from natural plant material that breaks down as it is exposed to the elements. Many types of organic mulch are readily available from the existing materials in the yard, but all sorts of organic material work well. Some types of organic mulches to consider include:
Hay or straw
Pine needles
Composted grass clippings
Leaves
Wood bark
Buckwheat
Cocoa bean hulls
Seaweed
Sugar cane
Inorganic
Inorganic mulch does not break down over time. This is either natural or made from manmade items. Inorganic mulch tends to be heavier than organic mulch, so it does not blow away in windy conditions. Some inorganic types of mulch include:
Lava rock
Glass pebbles
Ground rubber
Benefits of mulch
Adding mulch to the garden does much more than just improving the aesthetics of the flower beds. Mulch helps to ensure that current and future plants have healthy soil, and it can even help to repel pests. Part of choosing the right mulch involves considering the end result desired beforehand.
Weed control
Mulch helps to control weeds because a thick layer smothers the majority of them. If weeds do get through, it is easier to pull them out because they have not had time to grow strong roots. Organic mulches in particular often produce components when they break down that help to kill off weeds.
Healthier soil
As organic mulch breaks down, it adds nutrients to the soil that leave it healthier for the next planting. Gardeners can often use less fertiliser, making organic mulch an attractive option. Options such as cocoa beans, buckwheat hulls, and seaweed are very high in nutrients for the soil and plants.
Moisture protection
Both organic and inorganic mulch helps to protect soil from evaporation. Water is able to absorb into the soil and stay there until plants need it. Organic mulches hold onto water, and release it slowly into the soil below, helping plants to receive water when they need it. Inorganic mulch protects the soil from erosion and wind damage.
Choosing mulch
Often choosing the right mulch is more difficult than it at first appears. Some mulch is more budget-friendly than others, while another type, such as tumbled glass, might be the most attractive option. Choosing the right type is a balancing act for homeowners, between the needs of the garden, the budget, and the aesthetics.
Calculate the amount of mulch needed
Mulch is measured in cubic metres, which is calculated by multiplying the width by the length and depth of the area to be mulched. Most gardeners prefer spreading mulch layers from 1/2 metre to 1 metre in depth for the best results. For larger areas, home gardeners should add in a few extra cubic metres of mulch.
Plan a budget
Home gardeners should start by fully calculating the budget for their mulch purchase. If they already have a grand total in mind, then it is easier to stay within those boundaries. The budget may rule out the most expensive types of mulch first, helping to narrow down choices.
Assess the garden's needs
Home gardeners should ask themselves what the garden needs. If the area is typically windy, a heavier inorganic type would help to hold the soil in place. If the garden is meant to be a showcase, mulches such as glass pebbles or granite pieces can help further highlight the plants.
How to buy garden mulch on eBay
Once you know how much mulch you need, and which type you prefer, it is time to place an order. For mulch you can create yourself, look for items such as mulching mowers or wood chippers to make the job easier. Type the name of the item you need in the search box found on any eBay page. If you have questions about the product in question, the knowledgeable sellers on eBay can help answer them for you.