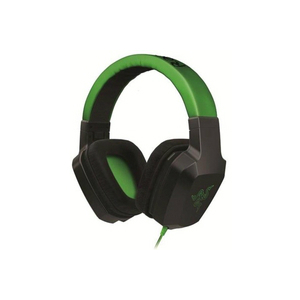 Video gaming is a billion dollar industry that sees players enjoying games on consoles as well as online. Hundreds of thousands of video games are sold everyday, covering a wide array of genres that nearly anyone can enjoy. While video games are based on a visual appeal that draws the player into the action, having high quality and realistic sound is one of the more important aspects to enjoying the total game experience. A quality gaming headphone set can help a player enjoy all the life-like sounds that are built into popular gaming titles.
Players who are looking for the ideal set of headphones for gaming can benefit from understanding the different elements that make a quality headset. Additionally, it is helpful to know how to go about finding and buying them at conventional electronics stores or by using the powerful shopping tools available on eBay.
More Than Just a Headset
There is more to a set of gaming headphones than just a normal headset one uses to listen to music. A gaming headset features a microphone attached to the set that the player can utilise to communicate with other players while gaming online. Another important difference in a gaming headphone set is positional audio technology that places the player at the centre of the sound action within the game and gives him a life-like sound experience. Positional audio creates three-dimensional gaming sounds, such as bullets whistling by a player's head in a shooting game or monsters and demons lurking all around in a horror adventure game.
A quality set of headphones can dramatically improve the player's ability to hear the more subtle sounds produced within the game. A high-quality gaming headset has the ability to reproduce precision bass levels that are vital to the overall sound performance of the game. Another advantage of gaming headphones is that they allow users to totally immerse themselves into the game experience at any volume level without disturbing those around them. This is important for gamers who are active when others are normally asleep.
Types of Sound Output
The type of sound that gaming headphones produce is one of the more important considerations a buyer should make prior to finalising a purchase decision. Three types of sound output are common to quality gaming headphones, and the choice of the level purchased depends on the requirements of the user. Headphones that have higher-quality sound reproduction usually are priced higher, but they deliver more realistic sound experience.
Stereo
The first level of headphone sound is stereo. Stereo headphones produce sound that gives the sense of emanating from one point and moving in a specific direction to another point. Stereo allows individuals to identify a movement to the sound they are hearing between left and right channels, which is especially helpful in gaming platforms. All high-quality headphones are based on stereo sound, but the more economical versions feature only stereo sound as opposed to more expensive headphone versions that support stereo surround sound.
Surround Sound
Surround sound is an enhancement of stereo sound that provides additional sound channels, allowing the sound to appear to move all around the player rather than just emanating from one side and moving to the other. Surround sound allows a 360-degree sound experience because it exploits sound location, which translates to a player's ability to identify the origin of a sound in terms of distance and direction. In a gaming situation, this means that if a player is shot at by another player, the direction that the shot came from can be identified so that the player can respond in fashion. This creates a truly realistic experience within the game that helps to immerse the player into a nearly life-like scenario.
5.1 Surround
5.1 surround sound is a multichannel system that incorporates five full bandwidth channels and one low-frequency effects channel. In a home speaker system, 5.1 surround places main speakers on the left, right, and centre of the room, along with a subwoofer and two surround speakers placed strategically in places to create a three-dimensional sound quality. 5.1 surround gaming headphones incorporate all of these channels into the headphones to create a real sound environment.
7.1 Surround
7.1 surround gaming headphones incorporate newer technology with two extra audio channels. 7.1 surround creates a broader surround experience than 5.1 through the two additional channels.
What to Look For in Headphones for Gaming
When individuals consider what type of gaming headphones to purchase, they should take into account the various features that are incorporated into a quality headset. Not all headsets have the same features, so the buyer should select gaming headphones with the more important features based on specific needs.
Item

Description

Unidirectional Mic

Allows input only from the direction of the user's mouth

Eliminates all external noises that can interfere with gaming performance

Comfortable Headband

Headphones are worn for long periods of time, so comfort is critical

Well-padded and shaped headbands allow comfort during continual use

Soft Ear Covers

Soft ear covers promote comfort over prolonged usage

Ear covers should be larger and well shaped to cover the entire ear

Well-designed ear covers insulate against external sounds

Moveable Microphone

Allows the user to rotate the microphone up and out of the way when not in use

Lightweight

Lighter headphones are more comfortable over long periods of use

Lighter weight can reduce muscle strain over time

Cord Length

Longer cords allow users to be further away from gaming consoles

Volume Control

Volume control at speaker allows user to adjust volume as necessary without interrupting the game

Important for games that have extreme volume fluctuations

Compatibility

Most gaming headphones are compatible with all gaming platforms, but buyers should make sure of this prior to purchase

Wired or Wireless

Wireless allows usage without a cord

Much more convenient but more expensive

Ideal for use where cords can be a nuisance
Some or all of these features might be important to a player's enjoyment of a game. The more features incorporated into headphones, the more expensive they can be.
How to Buy Headphones for Gaming on eBay
Once you have decided to purchase a new set of gaming headphones to elevate your gaming enjoyment, the next step is to utilise the search tools on eBay to find the right set to fit your needs. Begin your search at the eBay home page by entering a keyword, such as "gaming headphones", into the search box or search through deals on electronics. Listings for a number of headphones are then displayed for you to search through until you find what you are looking for. You can also select from the various subcategories that can help narrow the search results based on criteria that are important to you. If you already know what you are looking for, enter that information directly into the search box, and eBay displays only those products that relate to the specific keywords you entered.
Conclusion
Video games have become part of a worldwide culture and is a large part of the entertainment industry. Video games allow people to practise escapism that previous generations could only find in books and movies. Gamers can experience different types of situations and events that they cannot encounter in their real lives, all from the safety of a dark room. Headphones that are specifically designed for gaming applications have become a large part of an increasingly realistic gaming experience because of the life-like environment they help create. Gamers who want to take their gaming experience to the next level are well advised to look into a set of gaming headphones. One can find a wide variety of headphones at different price levels on eBay. The powerful shopping tools on the website make it easy to find the right set of headphones at a great price.
Gaming Headphones|Stereo Headphones|Headphones|Used Gaming Headphones|Portable Electronics