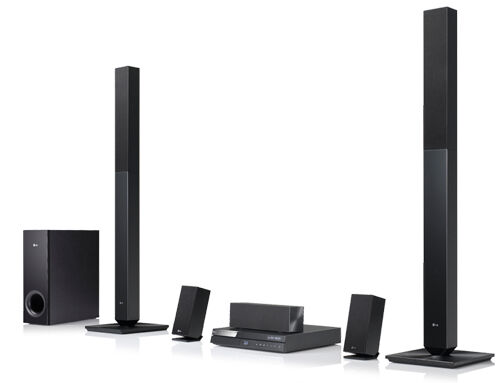 Premium sound quality is one of the most important components of a home theatre. Knowing which surround speakers are right for a preferred setup will not only maximize home enjoyment, it can save savvy buyers a wad (or two) of cash.
When making the decision of which speakers to go with, there is more to assess than simply cost. What the system is used for (whether it be music, televised tennis matches, or action films … or all three), as well as room, the preferred compression type, and other setup specifics allfactor in to the final decision. In addition, cost will not necessarily determine quality. One false buyer assumption is, "the more expensive the setup, the higher the audio quality." Here's how to smartly judge which setup is best for anyone's particular situation.
Types of Speakers and Audio Compression Types
Orb Speakers, lightweight and versatile, can be easily moved and removed. They are usually less expensive and their sound quality is better suited to watching sports. Bookshelf Speakers are, as their name suggests, are usually stayed on shelves or stands. Floor Speakers are the largest of the three and better suited for large rooms, and usually deliver the deepest and most realistic sound.
Small letters can be seen on speaker. The three compression types lend themselves to different media experiences. Digital Theater Sound (DTS) is best for DVDs and standard-definition TV, using 5.1 speakers (2 front speakers, center speaker, 2 surround speakers and a subwoofer). Dolby Digital is great for watching HD-TV as well as DVDs and also uses the 5.1 speaker setup. THX is the best home movie watching option and can come with up to 7.1 speakers (two surround back and two surround side speakers).
Assess the Room
Wires or no wires? Wired setups are the more traditional route, and comply with orb and bookshelf speakers. Installation usually requires drilling into the walls to feed wires through so as to hide them, which can involve additional costs, although keeping exposed wires in the room is an option. For the sleekest look, opt for in-wall surround speakers. However, in-wall speakers require cutting a speaker-sized hole into the wall or drywall. Messy free wires can also be obscured with a Cablebox or kept hidden along the baseboard or under carpeting. If upgrading an existing wired setup, with wires already in place around the room, go ahead with this option. The benefit of a wired system is a more reliable sound quality.
Wireless speakers are usually controlled through a control box. Some wireless options are finicky, with interruptions from infrared and wi-fi, but the added convenience is worth it for many: these speakers do need to be plugged into a power outlet, and they eliminate the need to stretch speaker cables from the front and back of the particular room. The Sonor Playbar allows for two wireless speakers, as well as the Sonos SUB wireless subwoofer. This means full surround sound, without the cable clutter. This is the preferable option for when immediate and easy installation is important, say, when setting up the day before a State of Origin or World Cup viewing party.
Surround speaker sets come with anywhere from one to four speakers. The size of the room and desired use of setup will determine the number of necessary speakers. The maximum number of surround speakers, four, in a small room will obviously seem crammed and excessive, and may risk a feedback or echo when all placed within ten feet of one another. Unless the goal is mimicking an arena, reduce the number of speakers to as few as possible.
Speaker Position
After deciding on the ideal number of speakers for the room, speaker placement options are pretty set, with some room for negotiation. To reproduce a sports arena, place the speakers facing forward, toward the television; otherwise have them facing in, toward the seating area.
How to Buy Surround Speakers on eBay
Once the room, number of speakers, and speaker output are set, eBay makes the buying process easy and straightforward, not to mention quite a bit more affordable than retail. From the electronics page, it is easy for shoppers to choose by brand and price. Buyers should always be sure to check the feedback and rating for sellers they are considering purchasing from. It is also advisable to check the shipping and return policy details. After taking care of those details, buyers can place bids and prepare for premium home theatre quality.