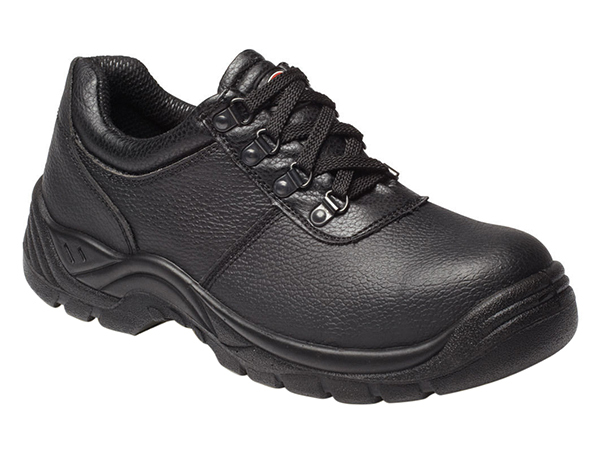 Not only do work boots keep feet safe and comfortable over extended periods in demanding situations, but they have to keep at it day after day, because no worker wants to spend their paycheck on boots too often. Workers therefore need to choose their boots with care. In order to pick the right boots for the job, workers must consider the weather conditions the boots will endure, the terrain, the risk of impact, abrasion, or chemical exposure, and of course what kind of activity the job demands.
Boots for different weather
Boots that keep feet warm in freezing cold weather are generally too warm to wear in the dog days of summer. Conversely, lighter-weight summertime boots do not keep feet warm enough to be safe and comfortable for outdoor work in the winter. It is important to choose boots that are appropriate for each season.
Hot weather
In hot conditions, workers should avoid tall, heavily insulated work boots, and try something cut lower and made with thinner, breathable leather or synthetic uppers. Shoes or boots that stop at the ankle are a good choice. Dickies Clifton safety work shoes are a good example of sturdy, protective footwear that are not likely to overheat the wearer.
Cold weather
For stomping through snow or for extended stays in refrigerated warehouse compartments, tall, padded, waterproof, insulated work boots are the way to go. Timberland Trapper Pro S3 safety boots are an outstanding selection for wintry conditions, featuring three layers of Thinsulate lining, a waterproof membrane, non-metal toe cap and eyelets, reflective piping, and tough water and abrasion-resistant construction all around.
Boots for different terrain
Most decent work boots have a deep, ground-gripping tread to their soles, and offer some ankle support for slogging over sand and gravel. Workers whose jobs frequently require wading through water or deep mud might consider wellies or muckers. For extra traction on icy terrain, standard winter work boots with additional external slip-on grippers or cleats such as Yaktrax Walker or Ergodyne Trex are a good idea.
Protection from impact and chemicals
Alongside comfort and support, protection is another key characteristic of any worthwhile work boot. Steel-toed boots are essential for most types of construction work where heavy equipment and materials are frequently dropped. Many work sites also present numerous liquid hazards, such as:
Oil
Petrol
Detergents
Acids
Lubricants
Paint, dyes, finishes
Anyone working around any of these potentially harmful fluids should take care to outfit themselves in the right protective footwear. Oliver and Steel Blue are two brands of boot manufacturer that offer various options for heavy-duty chemical-resistant work boots. Thorogood is another brand of work boots that offer particularly robust foot protection.
Boots for different activities
Not every boot-intensive job requires workers to dodge tumbling cinderblocks or wade through flooded drainage systems. Some involve poles, ladders, and scaffolding, some require lots of walking, and some require shoes to be removed from time to time. Workers should consider the nature of the activity when purchasing boots.
Entering private residences
Cable and utility repair people, plumbers, electricians, and other contractors often need to enter people's homes. Some slip covers over their muddy boots before entering, while some might prefer to remove their boots entirely. In the latter case, slip-on boots with side zippers or elastic gussets are ideal for easy removal when entering a residence. Oliver, Blundstone, Rossi, Redback, Steel Blue, and many other boot-makers offer solid choices for slip-on work boots.
Running or hiking
Workers that have to hustle on the job or tromp through wooded areas benefit from hiking boots. There is plenty of overlap in features between hiking and work boots, so shoppers need not get hung up on labels when deciding between the two. A good example of boots that straddle the divide include the Amblers Steel line, particularly their FS110 steel-toe hiking-style work boots, which offer plenty of protection without too much bulk.
How to buy work boots on eBay
For long-lasting boots that protect your feet, enter the terms "work boots" into the search window at the top of any page on eBay. Narrow the results by adding terms related to the season or features you require, such as "winter" or "steel toe". Examine any included photos for a sense of the colour and style of the item. Read each item description for information on features, sizing, and materials. Also review the feedback scores of any seller prior to making a purchase.