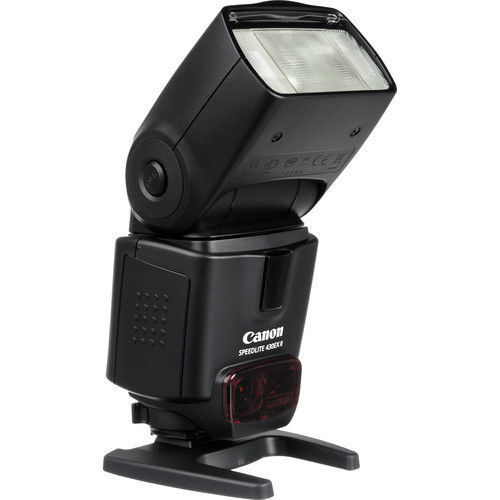 A well-lit subject or scene is essential in photography. As such, photographers generally need to incorporate additional light from a flash into their set-up. When working with a Canon EOS camera, photographers naturally turn to the extensive range of external flashes produced for EOS cameras known as Canon Speedlites. These flashes run the gamut from entry level to advanced, pro-grade models. By taking the time to assess needs, skill level, and familiarity with features of a Canon Speedlite flash, photographers can easily select the right Speedlite for their needs.
Getting to know the Canon Speedlite product line
As a first step, photographers should familiarise themselves with the essential features of each flash series within the Canon Speedlite product line. The series begins with the mini 90 series and run up to the more advanced 600 series.
90 series
Designed specifically for the Canon EOS M, the Canon Speedlite 90EX flash is a miniature, battery-operated flash. In some instances, it comes packaged with the EOS M camera. Its main advantage is its compact size and lightweight form factor.
200 series
The 200 series of Canon Speedlite flashes, including the Canon Speedlite 270EX and the Canon Speedlite 270EX II, are designed as entry-level options for users with starter DSLR cameras. Both the 270EX and the 270EX II feature zoom heads, but only the latter model offers wireless slave capabilities.
300 series
A bridge between entry-level models in the Canon Speedlite lineup and more advanced systems, the 300 series offers some marquee features to photographers. The Canon Speedlite 320EX is the main offering from the series and includes an LED light that photographers can use to pre-light subjects.
400 series
Considered a mid-range option in the Canon Speedlite collection, the 400 series features a range of advanced intermediate and pro-grade features. The Canon Speedlite 420EX features tilt and swivel technology, as well as slave capabilities. Later models include the 430EX and the 430EX II. Both external flashes deliver 180-degree swivel and can function as wireless slave units in tandem with the Canon Speedlite ST-E2 transmitter. The upgraded Canon Speedlite 430EX II offers a stronger foot, in-camera controls, and faster recycling times.
500 and 600 series
Flashes included in the 500 and 600 series are top-of-the-line offerings from the Canon Speedlite product line. The Canon Speedlite 550EX can function as the controller of other slave flashes, while the 580EX II offers enhanced features such as an integrated PC terminal and a water-resistant form factor. The pro-grade Canon Speedlite 600EX-RT offers a wide range of advanced features, including a radio wave-based system for controlling up to five slave flashes that is compatible with the Canon Speedlite ST-E3-RT transmitter.
Criteria for choosing a Canon Speedlite
Those in search of a Canon Speedlite can use various criteria to help narrow their selection. The best approach is to select a model based on skill level, camera type, or by the type of photography an individual engages in.
Skill level
Those with novice photography skills may want to begin with the 200 and 300 series. These entry-level flashes are generally within the knowledge set of DSLR photographers who are just starting out. Intermediate and advanced photographers can explore the 400, 500, and 600 series flashes.
Camera type
Some Canon Speedlite flashes, such as the 90EX, are designed to work with a particular camera model. In other instances, photographers want to match a flash to the size of their camera. Small cameras can be overwhelmed by large flashes and are better suited to smaller 200 series flashes. Photographers should keep in mind that some advanced flash systems such as the 600EX-RT are often only compatible with later model EOS cameras.
Type of photography
Those who like to use a DSLR camera to shoot video as well as capture photos may enjoy the double-duty flash and LED video light on the Canon Speedlite 320EX. Photographers engaging in long photo shoots may prefer a mid-range model from the 400 series, since these flashes offer advanced features without adding too much bulk.
How to buy camera flashes and accessories on eBay
You can find an array of Canon Speedlite flashes on eBay. Begin your search by using the search bar located on any eBay page. You can run a keyword search with a general term such as "Canon Speedlite" to see all available options, or for more specific results search for a particular model. Canon Speedlites are effective flashes that replicate natural, mid-day sun and offer a range of features. Whether a beginner or a pro, you can find the perfect match for your Canon EOS camera from the Canon Speedlite line.