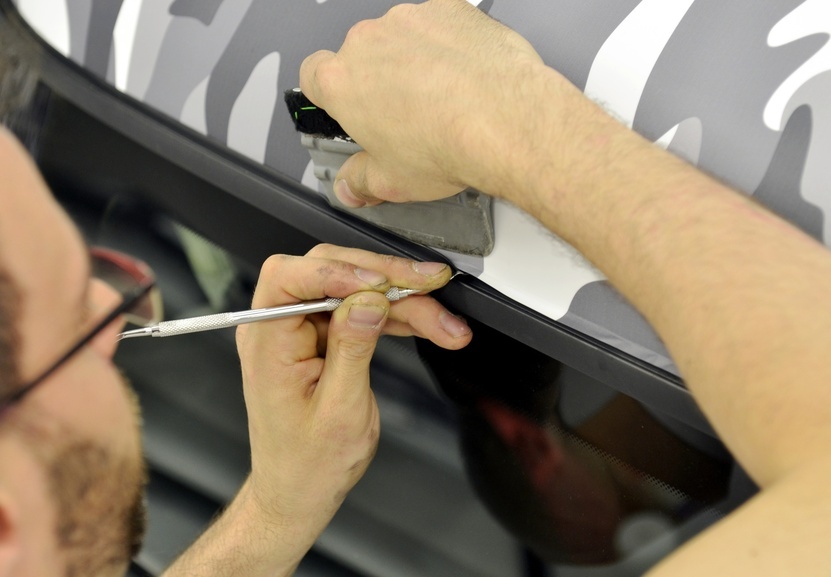 Car-wrapping first became popular as a cost-effective way for businesses to advertise their services on company vans, trucks and cars. Nowadays, more and more everyday drivers are choosing to wrap their car for several reasons. A primary reason is that improvements in vinyl quality have allowed wraps to look similar to paint, if not better. Additionally, vinyl is now incredibly durable, and many wraps can adhere to a car firmly and without deteriorating for over eight years. Another main reason is that vinyl wraps form an effective protective barrier between factory paint and the outside elements. Those planning to wrap their car should first learn the process of choosing the wrap. This will aid in wrapping the car properly and getting the desired look and protection.
Determine How Much Car Wrap Is Needed
The correct way to do this is to measure every part of the car that is to be covered, such as the roof and sides, and totalling those measurements. There are some general guidelines to make it easier, though. For small vehicles, like a Hyundai Elantra, 15 metres of vinyl should be enough. For mid size sedans, such as a Toyota Camry, 18.5 metres is sufficient. For full-size sedans, 23 metres is enough. And for SUVs, minivans and trucks, get at least 30 metres. Remember that more is better than less, as extra vinyl is needed to overlap seams, which prevents paint from being exposed underneath. Also, be aware that vinyl is often sold at sign shops and online in sheets of pre-cut sizes (1 metre x 1.5 metres, for instance); factor in the shape of the car and the overall area of large spaces like the hood when selecting a pre-cut vinyl sheet size.
Establish a Car Wrap Budget
Car owners should plan to spend anywhere from $640 AUD to $6409 AUD or more. Price depends a lot on the type of wrap used, how much wrap is needed and whether or not a certified installer does it. Unless hiring a professional and using custom wrap of the highest quality, wrapping is more cost effective than painting. Setting a budget simplifies the process of selecting a car wrap, as certain ones that are too cheap or too expensive can be eliminated immediately.
Select a Type of Car Wrap
The first decision to make here is between cast vinyl and calendered vinyl wrap. It should be simple, as cast vinyl stretches better, conforms better with complex curves, holds its place better and can be removed cleanly. Calendered vinyl is much cheaper, and should only be considered if the wrap is being used temporarily and on a flat-surfaced vehicle, as it tends to snap back to its former state when stretched and simply lacks the ability to conform with various shapes; calendered vinyl also bubbles quite easily and letters and designs often. The next decision is between digitally printed wraps and pre-cured ones; both are fine choices. Those who wish to customise the car wrap should choose a digitally printed wrap, as these are styled using computer software and then printed. Pre-cured ones still offer an abundance of choices, with everything from solid colours like metallic blue and matte white to textured films like gloss black carbon fibre and silver snake skin available.
Decide on a Style and Design
This is the fun part, and this is why vinyl wraps are more attractive than painting. There are simply more options. Get a blood red vinyl wrap or get one in chrome gold. It's not all solid colours, though the wide array of metallic and matte colours that can be chosen are enticing. Go with an anime, pirate or zombie theme if desired. Splash flames or racing stripes along the side. Camouflage, animal and psychedelic designs are an option, too.
Consider Warranty and Brand
Manufacturers typically offer warranties of three to five years for car wraps -- sometimes less and sometimes more. Prior to choosing any wrap, make sure the warranty is of satisfactory length. Also, always look at the brand; industry leaders include companies like 3M and Avery. Read reviews from both experts and customers when deciding whether or not to buy a certain brand, especially if not too familiar with that company. Remember that not all vinyl wraps are made equal, and that priority should be placed on adhesive ability, stability, strength and flexibility of the material. Also, note that, when buying vinyl wrap online, feedback from other users can aid in determining the quality of certain vinyl wraps.