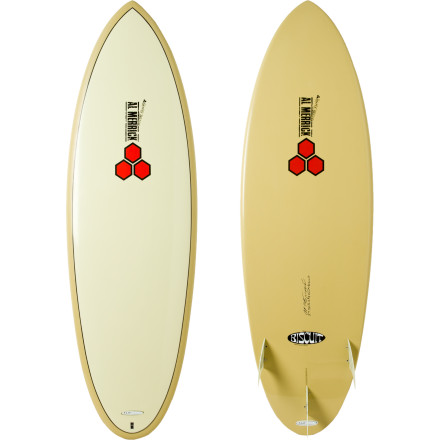 A surfer is nothing without their board, and ensuring that a board of the best possible quality is purchased is key to a lifetime of great surfing. Channel Islands Surfboards have been creating boards since 1969, and their innovative boards are designed by Al Merrick, one of the greatest names in boardshaping. Offering a range of funky designs combined with high performance, they are one of the world's most popular brands of surfboards.
Shopping for a Channel Islands Surfboard online is easy thanks to the wide range available on websites such as eBay. It is even possible to find used surfboards at a very affordable price compared to buying a new board, and new Channel Islands boards are available at a competitive price on eBay compared to buying from a surfing store.
Types of Surfboards Available
There are many different types of surfboards available, and the type of board purchased will depend not only on budget, but also on whether the surfer is a novice, intermediate or advanced. The weight of the individual should also be taken into consideration. Here are the various types of surfboard available:
Longboards
Fish
Gun
Foamboard
Bodyboard or 'Boogie Board'
The type of board chosen will depend on the individual surfer, with the shortboard being the most commonly used board for competitions – these are designed for advanced surfers. A funboard is the best choice for less experienced surfers looking to surf in all conditions. Channel Islands produce a range of boards but specialize in shortboards, with a selection of longboards and paddle boards also available.
Brands of Surfboards Available
There are many popular brands of surfboard available to choose from and eBay has a wide selection. Here are some of the most popular brands around:
Malibu
Al Merrick
Famous Wax
The brand chosen is a personal decision that will depend on the individual's available budget, level of surfing experience, type of board required and the desired design. Some brands specialize in colorful designs, whereas others create plainer, more functional boards.
Why Choose Channel Islands Surfboards?
Channel Islands Surfboards produce some of the world's best shortboards, ideal for advanced and professional surfers competing worldwide. High performance combined with personalized designs means that these surfboards will not let surfers down, no matter what the conditions. With their focus on high quality and innovative design, the company has been making surfboards since the 1960s, so they are experienced in the industry.
Channel Islands surfboards come in a wide range of models and designs, and they manufacture longboards and paddle boards as well as shortboards. It is possible to find Channel Islands boards in new or used condition for a great price on eBay.
Models of Channel Islands Surfboards Available
Channel Islands produce hundreds of models of shortboard as well as longboards and paddle boards. Here are some of the most popular models they produce, some of which can be found for a reasonable price on eBay:
| | | |
| --- | --- | --- |
| Shortboards | Specialty Boards | Longboards |
| T-Low | Single Fin | The Waterhog |
| New Flyer | Motor Boat Too | The Quong |
| | Weirdo Ripper | The Strange |
| Semi Pro 12 | The Gravy | The H4000 |
| The Dagger | The Dumpster Diver | The Performer |
| The Remix | The Robber | The Performer 2 |
| The Cheese Stick | The Neck Beard | |
| The Warp | Sperm Whale | |
| Proton Step Up | MTF Altered | |
| | The Biscuit | |
These models all vary in price, but a great deal on surfboards can be found on eBay, whether buying a used or new model. Whether to buy a shortboard, longboard or specialty board will depend on the individual surfer's level of experience in the sport, their body weight and their style of surfing. It is easy to find shortboards such as the Fred Rubble or the Semi Pro online for a great price.
Should you Buy a New or Used Channel Islands Surfboard?
Deciding whether to buy a new or used Channel Islands Surfboard is a personal decision, which will depend on the preferences of the buyer and their budget. If looking for a specific model or design of board, it can often be more affordable to buy a used board, particularly if the individual already has a surfboard and is looking for a spare. For those new to surfing, buying a new board can be a big investment, so it may be a good idea to purchase a used surfboard at a reasonable price, saving for a new board once they have decided if the sport is for them.
When buying a used surfboard on eBay, it is important that buyers read the listing carefully, as any defects or issues with the board will be detailed here. This way the buyer knows exactly what condition the item is in before deciding to make a purchase.
How to Choose the Best Channel Islands Surfboard for You
Choosing the best Channel Islands Surfboard does not have to be difficult. By considering the following factors, it is easy to find the perfect board:
Level of experience – is the surfer at novice, intermediate or advanced level?
Body weight – this will affect the type and model of board chosen
Design – what style and design is desired?
Budget – what is the available budget and does this mean a new board is affordable, or will a used board require to be purchased?
What models are available to choose from?
Colour – what colour is desired?
What will the board be used for? For example will it be used for professional competitions or training?
By considering all of the above factors, it should be easy to find the best surfboard to suit the surfer's needs. It is important that the board is not only right for the buyer, but also an affordable price. By opting for a used board, a Channel Islands Surfboard will be within budget for most people.
How Buy a Channel Islands Surfboard on eBay
eBay is the perfect place to visit for those looking for a Channel Islands Surfboard at an affordable price. Click on the drop-down menu 'Shop by Category' at the top left of the page next to the main eBay logo. A category list will open up - click on Sports & Recreation. This will bring up a list of all the available categories. Scroll down to Sporting Goods and click on 'more'. From here select Surfing. From the left-hand menu, select Boards and then Surfboards. Then click 'See All' next to the Brands category and click on Channel Islands from the list of available brands.
A search can be narrowed using a certain term, if looking for something specific. Just type the words related to the search, such as 'Channel Islands Flyer' into the search bar, and a list of available items will appear.
Conclusion
Channel Islands Surfboards are great for experienced surfers and those looking to take part in competitions. With such a wide range of high performance short and longboards, it can be difficult to know where to start when shopping for a new board.
eBay has a wide range of Channel Islands boards to choose from, whether looking for a Fred Rubble shortboard or a Semi Pro shortboard. It is easy to search for both used and new boards and find a bargain, so surfers can save money whilst finding the perfect board for them.