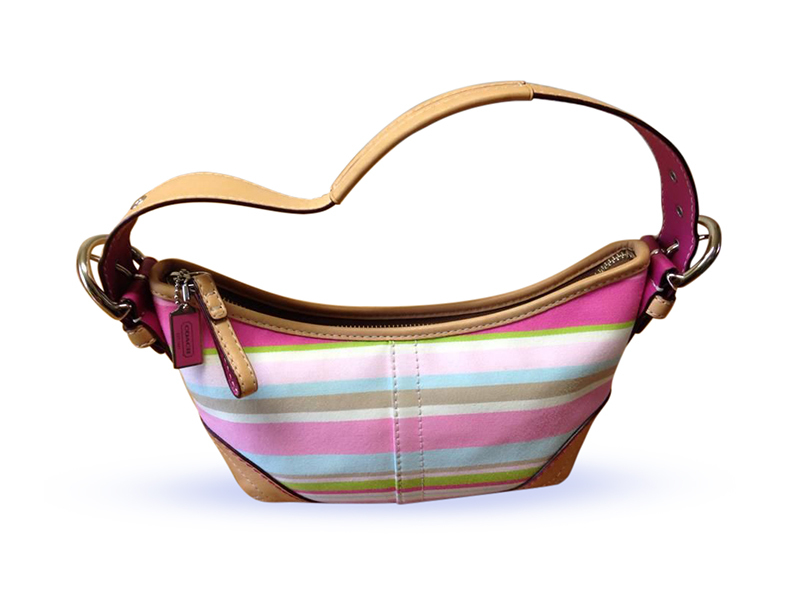 Handbags are must-have items for women, for both practical and styling purposes. A well-chosen handbag can elevate simple outfits to new heights and give any outfit a more sophisticated edge. The Coach brand is one of the most impressive, with a history that dates back to the 1940s. While Coach makes many leather products, including wallets and briefcases, it is most well-known for its array of sleek, stylish handbags.
Types of Coach Handbags
Handbags come in a number of different sizes and styles. While there is a lot of crossover in terms of use, some bags are better suited to particular purposes or occasions than others. Coach uses many terms and styles to describe their high-end handbags.
Type of Handbag

Description

Shoulder Bag

A bag with one or two shoulder straps

Satchel

Structured bag with a wide, flat bottom

Usually comes with double handles

Bag with a long strap that goes across the body to free the hands

Tote

Medium to large bag with double handles

Single compartment, usually open at the top

Common amongst shoppers

Messenger Bag

Rectangular bag with a long, thick strap for wearing across the shoulder

Characterised by a large front flap that closes with the help of buckle straps

Clutch

Small, rectangular evening bag

Usually comes without straps or handles

Large bag with multiple compartments to hold items for babies

Usually come with both straps and handles to use as convenient

Backpack

Lies across the back

Requires two shoulder straps for support
Depending on lifestyle, personal requirements, and taste, different bags will appeal to different women. The factors each woman considers are generally different, making choosing a handbag a personal process.
Factors to Consider When Choosing a Coach Handbag
A stay-at-home mother who makes regular trips to the supermarket with a baby in tow has very different requirements for a handbag than a woman who works in a corporate office. Additionally, things like size and colour are dependent on personal taste. It is important for women to consider all factors that could impact the efficacy of a purse.
Occasion
Not all handbags are made for every occasion. For regular, everyday use, small to medium-sized shoulder bags are both convenient and stylish. Satchels, on the other hand, are great for students and working professionals, while baby bags, with compartments and pouches for nappies, bottles, and pacifiers, are better suited for women with babies to attend to. Totes are good for carrying a large number of items, and therefore good for shopping trips, beach outings, and picnics. Clutches work well with dresses and gowns, and are ideal for nights out, while backpacks and crossbody bags are good choices for use during travel.
Personal Taste
Personal taste plays a big part in choosing handbags. Some women prefer small bags, while those with a need to be prepared for any occasion prefer the convenience of larger bags. Some women do not mind carrying bags by their handles, while others absolutely require shoulder straps. Other women prefer to have their hands free and choose bags that they can sling across their shoulders or backs. As it is important to feel comfortable with a handbag that the customer is likely to use for a long while, it makes sense for shoppers to choose bags according to taste.
When it comes to colour, women who prefer using the same handbag with all outfits can choose a classic hue like black, brown, or beige. The more adventurous customers can try seasonal colours for different parts of the year, or simply pick a favourite colour for use all year round.
Cost
Most designer bags are usually above the budget of the average shopper and therefore, cost becomes a major factor when choosing a suitable handbag. New Coach handbags can range anywhere from $100 and up. Picking a design and colour that one can use for multiple occasions and with different outfits is important for those looking to get the most for their money. Used handbags can also make for good purchases, as long as customers are aware of what to look out for.
How to Buy Coach Handbags on eBay
The reliable sellers on eBay provide a range of new and used Coach handbags for instant purchase. If you are looking to browse through a general listing of all the different kinds of Coach handbags available, simply type a generic search term like 'Coach handbag' into the search box on any eBay page and filter further based on specific requirements related to size, colour, and style. If, on the other hand, you already have a specific bag in mind, type in a more defined search term like 'Coach red backpack' to skip a few steps and browse through fewer items.