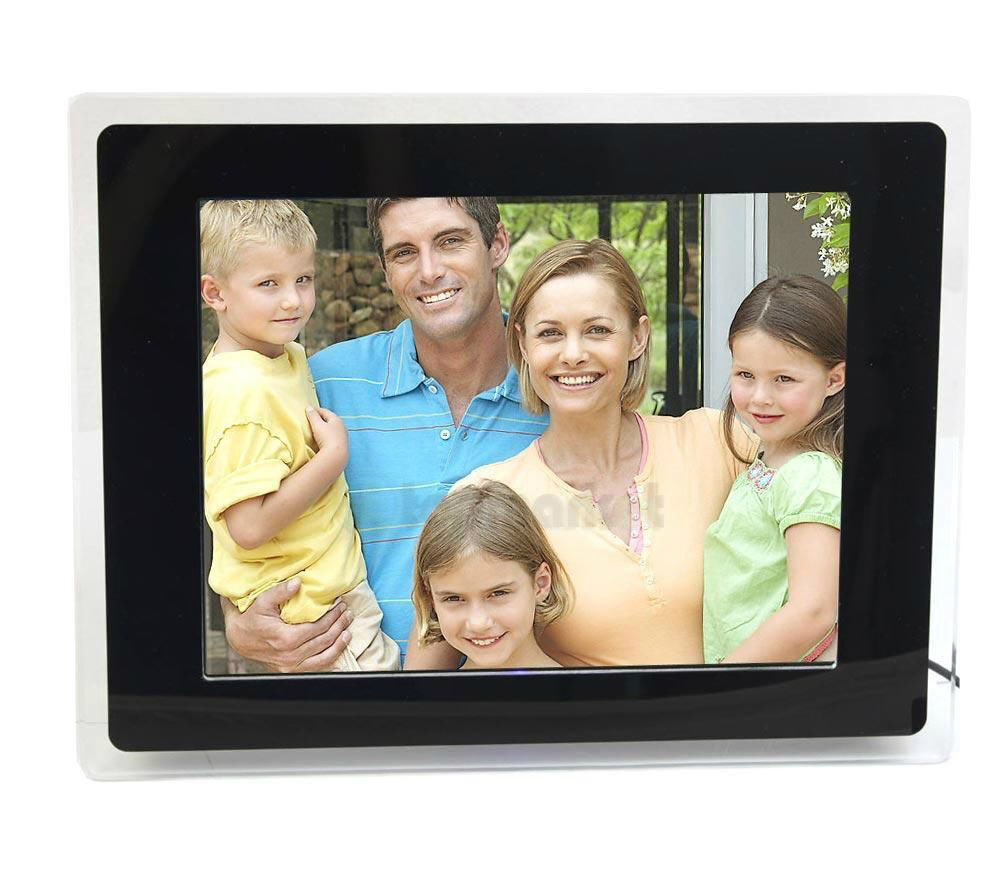 According to PC World Magazine, digital cameras first outsold traditional cameras to both professional photographers and consumers in 2003. Since then, point-and-shoot digital cameras and camera phones have evolved to take increasingly excellent photos with ease, and the desire to view these photos in a more convenient and larger format has spurred a renaissance in digital photo frames. When shopping for an ideal digital photo frame, shoppers should consider the display size, connectivity options, image resolution, and which non-photo-related features a frame may also provide.
Display size
Digital photo frames are essentially like small computer monitors, and therefore, unlike their traditional photo-holding counterparts, they are measured on the diagonal, rather than by height and width. However, much akin to the traditional frame, some size commandingly for wall-mounting and viewing from across the room, while others fit tidily on office desks, shelves, or even keychains.
Small smiles
The Curtis Sylvania DPF247 2.4-inch LCD Photo Frame is only about 60 mm diagonal, which makes it a lovely uncluttered addition to the modern desk. It receives both images and power through the same USB port; therefore, it can remain plugged into a computer for easy image refreshing and never require battery replacements. However, it can also run on AAA batteries if an attached cord is a nuisance.
Epic views
At a certain point, it starts to make more sense to invest in a large-screen TV or monitor for a truly enormous window-size display. Nixplay is one of the leaders in high-end digital photo frames, and its W18A Original is a crisp, feature-rich, and expansive canvas for detailed images. Almost 470 mm across, it is a fitting visual environment for panoramas and landscapes, festive group portraits, and fine art photography.
Connectivity
One of the most exciting features of any digital picture frame is the ease with which it is loaded with pictures. Unlike traditional frames, which hold only one or a few photos at a time and have to be physically disassembled to exchange them, digital frames can potentially display an unlimited number of photos and are updated through connections that make the task either simple or completely automatic.
Cloud-based convenience
Pix-Star and Nixplay are two manufacturers with various sizes of Wi-Fi-enabled, cloud-connected digital photo frames on the market. Both brands of cloud photo frames receive images wirelessly through email, smartphone apps, or online storage services and social networks, such as Facebook, Dropbox, Instagram, Picasa, and more, either on command or automatically. This is particularly convenient for older viewers that live far away and may not be savvy enough to update frames on their own.
Offline ease
In some cases, there are fees associated with cloud-based photo services, whereas after the initial investment of a memory card or USB device, offline interactions are free and almost as simple. All frames offer some means of connecting directly either to cameras, computers, smartphones, flash drives, or memory cards.
Image resolution
Just like TVs and laptops, digital photo frames are offering even higher-definition imagery. As technology advances and pixels shrink, screen resolutions grow sharper and digital family photos look better.
Best in show
There are plenty of options for digital photo frames that offer 4:3 ratio, or 800x600 pixel resolution, which is more than adequate, particularly for smaller frames. Nixplay comes out ahead once again with the Nixplay Edge, which offers a full HD IPS display of 1080p resolution on top of a full suite of other advanced features and connectivity options.
Advanced features
Some digital photo frames go above and beyond the call of displaying photos. People with limited desk or wall space, or who simply enjoy a multitasking gadget, should consider which additional functions a digital frame has to offer.
The best of bells and whistles
Pix-Star frames lead the pack when it comes to handy add-ons. Aside from receiving photos through the Web, they also forward them onto any email address a user inputs directly into the UI of the frame itself. They play stored music and radio and contain games, like Sudoku and Minesweeper, and display weather reports. They also have built-in calendars that provide reminders for scheduled events, such as birthdays and anniversaries.
How to buy a digital photo frame on eBay
For a digital stroll down memory lane that is not too much of a drain on your wallet, simply enter "digital photo frame" into the search bar located on any eBay page. Read each item description for details on the size, resolution, features, and other functions of the frame for sale. You should examine any included photos for a sense of the frame's appearance. Also, be sure to check the feedback ratings of any seller prior to engaging in a transaction.