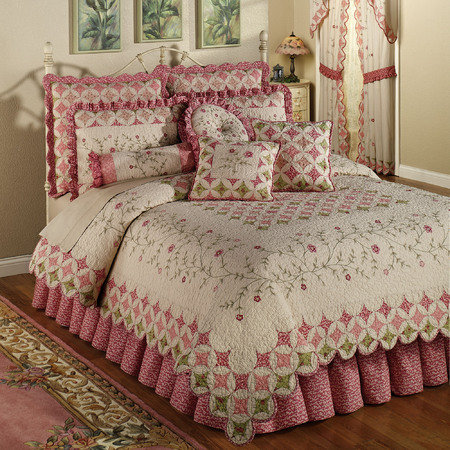 A do uble quilt cover is necessary for anyone who would like to use either a doona or an old quilt on a double bed. Double quilt covers go over the duvet to protect it, and sometimes make a room look more stylish. Buyers can choose a double quilt cover for either of these reasons, but picking the right one is important as quilt covers often last for years. Setting a budget, choosing a style, choosing a new or used quilt cover , and deciding where to purchase the cover are all important decisions. Buyers can shop in brick and mortar stores or on eBay. Learning the features of quilt covers, including material and size, may help buyers make an informed decision.
Measure the Quilt
The first step to purchasing a double quilt cover is to measure the duvet or quilt. It is important because it not only ensures that the quilt is in fact a double but also ensures that it is a standard size rather than a long or wide measurement. Australia's standard measurement for a double quilt cover is 140 by 190 cm for the mattress, and the bedding has to be usually larger.
| | | |
| --- | --- | --- |
| Double Quilt Size | Centimetres | Inches |
| | 180 by 210 | 71 by 83 |
| Queen | 210 by 210 | 82 by 82 |
| Ikea Double | 200 by 200 | 79 by 79 |
Importantly, the wide double is the same size as a queen quilt cover. The standard double also uses the same size quilt cover as the king single, which is also very popular in Australia. Buyers can choose the right sized cover based on the exact measurements of their quilt. Anyone who does not already have the duvet can look for any size they like based on the measurements of the bed.
Consider Buying Used
Some shops, especially online marketplaces, have second-hand double quilt covers available. While not everyone is interested in a used quilt cover, it can be a great way to save money. Buyers looking for a more expensive or more durable cover for less money usually consider buying higher-end used bedding. Purchasing second-hand covers requires the buyer to pay more attention to what they are buying, especially when it comes to condition. Buyers who want a bargain, but would prefer new bedding, can consider looking for deals on double quilt covers.
Consider Quilt Cover Style and Material
After considering the condition and size of a quilt cover, most buyers should think about colours, patterns, and fabric types. Making these decisions before looking for a quilt cover can help with narrowing down choices so that buying goes faster. Shopping online means having to choose from thousands of options, so making an exact decision before shopping can save a great deal of valuable time.
Quilt Cover Fabric
Fabric matters more than most people think because the type not only affects the look and feel of the quilt cover but also its warmth and care options. For example, silk quilt covers are popular because they are very soft. However, they usually have care issues including that they cannot go in the dryer, and that silk cannot be stored in sunlight. Cotton quilt covers are very common because they are affordable, have no care issues, and are very durable. Most cotton quilt covers are also good for all seasons, which also makes them popular. Wool, velvet, and fleece are popular as well, but are mostly only good for colder months as the fabrics are quite warm in the summer.
Buyers can usually choose a fabric based on personal preference although most choose cotton because it is versatile, affordable, and easy to care for. However, there are plenty of choices available and buyers can pick whatever they want. Most people choose fabrics based on personal preference rather than thickness, especially considering that the duvet inside of the cover is responsible for most of the warmth.
Quilt Cover Prints and Patterns
The print and pattern on the quilt cover is important because it affects the entire appearance of the room. Most people consider a specific pattern, colour, or style because it directly matches the room, but professional stylists usually go with a similar pattern or similar colour so that it adds to the appearance of the room rather than matching it. Brick and mortar stores typically have a few different colour options available, while eBay usually has hundreds of different colours and patterns. Quilt effect, patchwork, solid colour, floral, and striped quilt covers are all very popular, as are those with photos and large image embroidery. Any of these styles are appropriate for most homes as long as the style of the bedding complements the style of the room.
Quilt Cover Closures
Buyers can also choose the type of closure on their quilt cover. Double quilt covers usually fold over the ends to simply cover the duvet or quilt. Some options also feature a zipper, velcro, or buttons, which are useful for someone who tends to toss and turn in their sleep. The closure helps to keep the quilt inside of the cover so that it requires less fixing.
How to Buy a Double Quilt Cover on eBay
Buyers can choose to look for a double quilt cover on eBay where sellers might offer new and used options. The online shop has a huge range of different patterns and styles, which makes it an excellent place to look for something specific. eBay also has deals on bedding including quilt covers of all sizes, so buyers can find their cover at a great price in the eBay Deals section. Important factors to keep in mind when buying include the budget, the exact size, the quality, and the pattern and colour. For example, anyone buying on eBay has to pay attention to measurements as international sizes can vary but still have the same size label.